Department of Defense:
Actions Needed to Improve Accounting of Intradepartmental Transactions
GAO-21-84
Published: Jan 14, 2021. Publicly Released: Jan 14, 2021.
When the Department of Defense prepares its financial statements each year, transactions that occur between two DOD components (like Army and Navy) must be eliminated from the department-wide statements. For years, auditors have found that the DOD cannot adequately account for between-component transactions—including in its most recent audits for FY2019 and FY2020.
The DOD has a long-term plan to address this longstanding auditor-identified weakness, but doesn't have a clear overall strategy for the short term. Our 5 recommendations include that the DOD develop a strategy to identify short-term solutions and update applicable guidance.
Skip to Highlights
What GAO Found
The Department of Defense (DOD) has a long-standing material weakness related to intradepartmental transactions. Intradepartmental transactions occur when trading partners within the same department engage in business activities—such as the Department of the Army as a seller and the Department of the Navy as a buyer within DOD. As part of the standard process of preparing department-wide financial statements, intradepartmental transaction amounts are eliminated to avoid overstating accounts for DOD. For the fourth quarter of fiscal year 2019, DOD eliminated approximately $451 billion of net intradepartmental activity. Auditors continue to report a material weakness related to DOD's processes for recording and reconciling intradepartmental transaction amounts that are necessary to eliminate the transactions and prepare reliable consolidated financial statements.
DOD has identified implementation of the Government Invoicing (G-Invoicing) system as its long-term solution to account for and support its intradepartmental activities. In fiscal year 2020, DOD issued a policy requiring all DOD components to use G-Invoicing's General Terms and Conditions (GT&C) functionality for initiating and approving GT&C agreements—a necessary step for using subsequent G-Invoicing functionalities (see figure). GAO found the use of this functionality varied among selected DOD components because of issues such as inconsistency in DOD policies and numerous changes to G-Invoicing system specifications. If DOD components do not implement the GT&C functionality, there is an increased risk of delay in full implementation of G-Invoicing to help remediate the intradepartmental eliminations material weakness.
General Terms and Conditions Agreement Process in Government Invoicing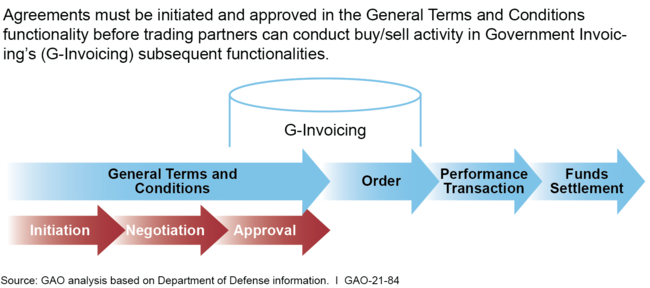 Although DOD has identified G-Invoicing as its long-term solution, GAO found that DOD has not implemented an overall department-wide strategy to address its intradepartmental eliminations material weakness in the short term. Further, GAO found that while DOD issued a department-wide policy in May 2019 with new requirements for reconciling intradepartmental transactions, the Defense Finance and Accounting Service and selected DOD components have not updated their policies or implemented several of the new requirements. Without a short-term strategy that includes identifying the causes of issues and consistently implementing department-wide policies across DOD, DOD's efforts to resolve differences in intradepartmental transaction amounts—including its efforts in the long term—will likely be inefficient and ineffective.
Why GAO Did This Study
Since 1995, GAO has designated DOD financial management as high risk because of pervasive weaknesses in its financial management systems, controls, and reporting. DOD's long-standing intradepartmental eliminations material weakness reflects DOD's inability to adequately record and reconcile its intradepartmental transactions, and has affected DOD's ability to prepare auditable financial statements.
GAO was asked to evaluate DOD's process for performing intradepartmental eliminations. This report examines the extent to which DOD has (1) identified and taken steps to address issues related to intradepartmental eliminations and (2) established and implemented policies and procedures related to intradepartmental eliminations.
GAO interviewed DOD officials about intradepartmental eliminations processes and reviewed DOD policies and procedures to identify the extent to which procedures have been implemented to record and reconcile intradepartmental transactions.
Skip to Recommendations
Recommendations
GAO is making five recommendations to DOD, including that DOD should (1) take actions to ensure that its components follow its policy for using G-Invoicing's GT&C functionality and (2) develop short-term solutions that address causes for trading partner differences before G-Invoicing is fully implemented. DOD agreed with all five recommendations and cited actions to address them.
Recommendations for Executive Action
Agency Affected
Recommendation
Status
Department of Defense
The Under Secretary of Defense (Comptroller) should take actions to help ensure that all DOD components follow its policy requiring the use of G-Invoicing's GT&C functionality to initiate and approve GT&C agreements. (Recommendation 1)

Department of Defense
The Under Secretary of Defense (Comptroller), in conjunction with the Under Secretary of Defense (Acquisition & Sustainment), should update all applicable guidance, such as DOD Instruction 4000.19, to reflect the use of G-Invoicing and its GT&C functionality for initiating and approving GT&C agreements. (Recommendation 2)

Department of Defense

Priority Rec.

The Under Secretary of Defense (Comptroller) should develop a strategy to identify short-term solutions that can be implemented in advance of the full implementation of G-Invoicing to address the intradepartmental eliminations material weakness. Such solutions should include documented procedures to (1) identify the causes for intradepartmental differences, (2) monitor the results of action plans prepared by components, and (3) measure whether implemented action plans are effective in addressing the causes for intradepartmental differences. (Recommendation 3)

Department of Defense
The Under Secretary of Defense (Comptroller), in conjunction with the Director of DFAS, should ensure that DFAS and DOD components update their SOPs to include the requirements of OUSD (Comptroller)'s May 2019 policy memorandum, Financial Management Requirements for Trading Partner Eliminations, such as the removal of "seller-side rules" and "waived entity" language. (Recommendation 4)

Department of Defense
The Under Secretary of Defense (Comptroller), in conjunction with the Director of DFAS, should (1) update policies and procedures department-wide to require the performance of trading partner reconciliations at least monthly, where possible, to avoid large numbers of differences that need to be resolved at quarter end, and (2) for DOD components that are unable to perform monthly reconciliations because of system limitations, evaluate alternative methods to capture the data needed to perform trading partner reconciliations, such as buyer and seller trading partner codes and document identification numbers. (Recommendation 5)