Higher Education:
Office of Federal Student Aid Is Beginning to Identify and Address Its Workforce Needs
GAO-21-542R
Published: Aug 19, 2021. Publicly Released: Sep 20, 2021.
Staffing levels at the Office of Federal Student Aid—the largest consumer lender in the country—have not kept pace with its growing student loan portfolio. We found that from FYs 2010-2019 borrowers increased almost 150%, but the office's staff increased 6%.
In FY 2020, the office began its first formal workforce assessment and found it was understaffed. As a result, the office didn't complete about 20% of its workload that year. Before finishing the assessment, the office took immediate steps to address its staffing needs. For example, the office used hiring flexibilities that allowed it to hire more quickly than other government employers.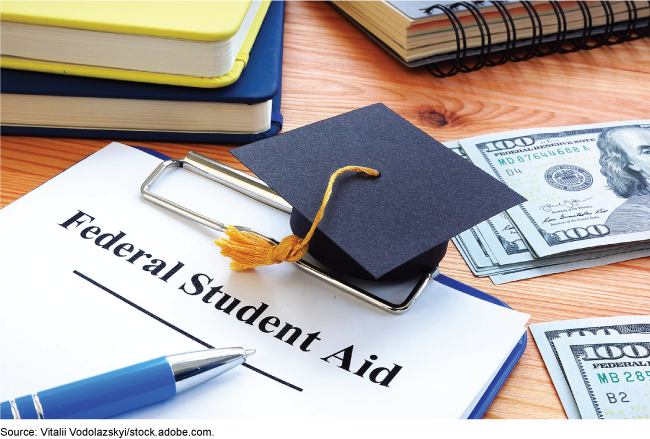 Skip to Highlights
What GAO Found
The Department of Education's Office of Federal Student Aid (FSA) recently began its first formal workforce review to identify staffing needs and skills gaps, according to officials. Without a workforce review, officials told GAO that FSA staffing levels and expertise had not sufficiently adjusted as student aid programs grew in size and complexity. GAO's analysis found that staffing remained relatively flat from fiscal year 2010 through 2019, and FSA officials said that staffing levels have not kept pace with loan portfolio growth. For example, FSA's Direct Loan volume increased approximately 450 percent and the number of borrowers increased almost 150 percent from fiscal years 2010 through 2019, while the number of FSA staff increased 6 percent.
In 2020, FSA began taking steps to review its workforce by identifying staffing needs and skills gaps. These steps included:
Workforce requirements assessment. FSA recently completed an assessment that compared the office's fiscal year 2020 staffing levels to its employees' workload. According to the assessment, FSA is understaffed in many of its program and operational offices. Consequently, staff did not complete almost 20 percent of FSA's workload in fiscal year 2020, despite staff working overtime and supervisors completing extra work. In fiscal year 2021, FSA plans to begin incorporating information from the workforce requirements assessment into its staffing process and plans to update each office's staffing requirements annually.
Skills gaps assessment. FSA is currently assessing the capabilities of its workforce to identify gaps in existing staff's skills. Preliminary FSA recommendations from analyses of five offices focus on increasing training and improving staff's leadership, technical skills, and soft skills. According to officials, the results will be used to inform future staff training.
GAO did not independently evaluate the findings and recommendations identified through FSA's workforce assessment activities.
While conducting its workforce review, FSA took more immediate steps to address indications that staff lacked certain skills and some offices were understaffed, including:
Prioritized hiring. FSA program offices worked with the Human Capital Group to prioritize hiring certain positions in critical areas in fiscal year 2020 which, according to officials, eased workload distribution across the organization.
Increased hiring. FSA increased hiring in fiscal year 2020 by 17 percent compared to the previous fiscal year to 1,462 employees, according to FSA data, and primarily relied on staffing flexibilities unique to FSA to fill those positions.
Reorganized the agency. On March 29, 2020, FSA reorganized to meet current workforce needs and create a more agile organization, according to officials. Officials said the reorganization was also intended to address staff concerns about having more work than they could handle.
Why GAO Did This Study
FSA manages all federal student aid programs authorized under Title IV of the Higher Education Act of 1965, as amended. FSA's responsibilities have grown significantly in recent years and its loan portfolio now exceeds $1.5 trillion, making it the largest consumer lender in the country. However, little is known about how FSA has adjusted the size and composition of its workforce in response to the office's increased responsibilities.
To examine how FSA has identified and addressed its staffing needs, GAO interviewed FSA officials who develop staffing policies and manage the staffing process, and conducted two group interviews with Human Capital staff who implement staffing policies. In addition, GAO reviewed documentation on FSA's workforce assessment efforts and hiring, recruitment, and retention activities. GAO also analyzed FSA human capital data on FSA's federal employees from fiscal years 2010 through 2020, and determined it to be reliable for our purposes.
For more information, contact Melissa Emrey-Arras at (617) 788-0534 or emreyarrasm@gao.gov.