DHS Office of Inspector General:
Actions Needed to Address Long-Standing Management Weaknesses
Fast Facts
The Department of Homeland Security's (DHS) Office of Inspector General has faced work quality concerns, high leadership turnover, and more. This office is critical for ensuring independent and objective oversight of DHS.
Our work on the management and operations of this office identified long-standing management weaknesses, including:
It has operated for 4 of the last 6 years, including 2020, without a strategic plan.
It has not established roles and responsibilities for an organization-wide quality assurance program.
The time it takes to complete reports increased over the 4 fiscal years we assessed.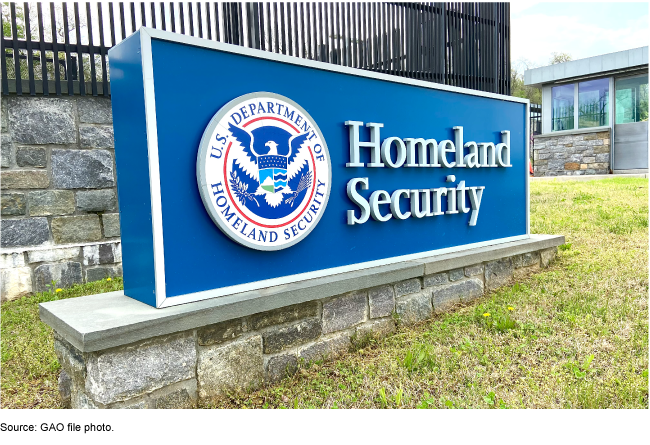 Skip to Highlights
Highlights
What GAO Found
Since fiscal year 2015, the Department of Homeland Security (DHS) Office of Inspector General (OIG) has not adhered to a number of professional standards for federal OIGs and key practices for effective management. Frequent leadership turnover and associated shifts in leadership priorities have contributed to DHS OIG's long-standing management and operational weaknesses and impeded efforts to address them. DHS OIG senior leaders acknowledge that various challenges have contributed to these weaknesses, and have taken steps to begin to address some of them, as follows:
Organizational performance management: DHS OIG has operated for 4 of the past 6 years without a strategic plan. This limits its ability to implement other organizational performance management activities, such as annual planning and performance assessment. In the absence of a strategic plan, GAO found that DHS OIG staff may not understand its oversight priorities and goals, which can negatively affect operations and staff performance. In 2020, DHS OIG contracted with a nonprofit academy of government experts to develop a strategic plan for fiscal years 2021–2025, with expected completion in June 2021.
Quality assurance: DHS OIG has not developed or implemented organization-wide roles and responsibilities for quality assurance. DHS OIG retracted some reports in recent years because they did not adhere to professional standards. Because there is no overarching system of internal quality assurance for audit, inspection, evaluation, and other work, DHS OIG cannot know if its internal processes ensure that its work (1) adheres to its policies and (2) meets established standards of performance.
Report timeliness: Project time frames have increased in recent years, and DHS OIG has not taken steps to understand the causes of such increases or determine how to address them. For example, in the Office of Audits, eight of 102 projects completed in fiscal year 2017 took more than 18 months, compared to more than half (35 of 67) of projects completed in fiscal year 2020. Without timely DHS OIG reports, DHS's ability to respond to such oversight efforts and Congress's ability to conduct effective oversight of DHS operations are limited.
Coordination with DHS: DHS OIG does not have a consistent process for coordinating with DHS components to receive and respond to technical and management comments on DHS OIG audit, inspection, and evaluation work. Further, DHS officials do not have confidence in DHS OIG's processes to (1) correct factual errors before finalizing reports and (2) redact sensitive but unclassified information before publicly issuing reports. As a result, the process by which DHS OIG resolves DHS's comments is at risk of miscommunication and misunderstandings.
These and additional weaknesses GAO identified are of particular concern given that OIGs need to maintain high standards of professionalism and integrity in light of their mission, according to quality standards for federal OIGs. Without addressing these and other long-standing management and operational weaknesses, DHS OIG is not well positioned to fulfill its oversight mission.
Why GAO Did This Study
DHS OIG plays a critical role in overseeing DHS, which encompasses multiple components and programs and has tens of billions of dollars in annual budgetary resources. However, DHS OIG has faced a number of long-standing management and operational challenges that have affected its ability to carry out its oversight mission effectively.
GAO was asked to review DHS OIG's management and operations. This report addresses the extent to which DHS OIG adheres to professional standards and key practices in its management and operations, among other objectives.
GAO reviewed DHS OIG management and operations from fiscal year 2015 through fiscal year 2020. GAO evaluated DHS OIG's processes against quality standards for federal OIGs, relevant federal standards for internal control, and human capital and organizational change leading practices. To do so, GAO reviewed DHS OIG documents, interviewed officials, and analyzed DHS OIG data and published reports.
Skip to Recommendations
Recommendations
GAO is making 21 recommendations to DHS OIG to address management and operational weaknesses related to performance management, quality assurance, reporting timeliness, and coordination with DHS, among others.
DHS OIG concurred with each of GAO's 21 recommendations.
Recommendations for Executive Action
| Agency Affected | Recommendation | Status |
| --- | --- | --- |
| DHS Office of Inspector General | The Inspector General should follow key organizational transformation practices when implementing any future changes in its organizational structure. (Recommendation 1) | Open |
| DHS Office of Inspector General | The Inspector General should develop and implement a process to assess the nature, scope, and inherent risks of DHS programs as part of a risk-based planning system and to serve as the basis for its annual work plans and organizational performance management processes. (Recommendation 2) | Open – Partially Addressed |
| DHS Office of Inspector General | The Inspector General should develop and implement an annual work planning process, as part of a risk-based planning system, that identifies the activities to audit, inspect, or evaluate. (Recommendation 3) | Open |
| DHS Office of Inspector General | The Inspector General should implement organizational performance management processes that are consistent with professional standards and leading practices. Such processes should include (1) developing a strategic plan that documents goals, objectives, and performance measures; (2) developing annual performance plans that translate strategic priorities into outcome-related goals, objectives, and performance measures; and (3) collecting and using data to assess progress as well as identify areas for improvements or corrective actions. (Recommendation 4) | Open – Partially Addressed |
| DHS Office of Inspector General | The Inspector General should develop and implement a workforce plan that translates DHS OIG's strategic priorities into skill sets and competencies and identifies strategies for meeting those workforce needs. (Recommendation 5) | Open |
| DHS Office of Inspector General | The Inspector General should develop and implement a process to allocate human capital resources based on the organization's current and emerging strategic objectives and priorities, once DHS OIG establishes them in its strategic plan. (Recommendation 6) | Open |
| DHS Office of Inspector General | The Inspector General should develop and implement a process to develop succession plans to determine how critical leadership roles will be filled in the event of planned and unplanned vacancies. (Recommendation 7) | Open |
| DHS Office of Inspector General | The Inspector General should develop and implement an updated performance management policy. (Recommendation 8) | Closed – Implemented |
| DHS Office of Inspector General | The Inspector General should develop and implement a process to provide regular training and support for staff and supervisors so that they can consistently apply the organization's performance management policy, once DHS OIG develops and implements an updated performance management policy. (Recommendation 9) | Closed – Implemented |
| DHS Office of Inspector General | The Inspector General should evaluate the structure of the organization and clearly define the responsibilities of each division and program office to ensure they are aligned with the OIG's strategic objectives and priorities, once DHS OIG establishes them in its strategic plan. (Recommendation 10) | Open – Partially Addressed |
| DHS Office of Inspector General | The Inspector General should implement a process to identify, analyze, and determine the appropriate response to risks—that is, the internal and external risks to achieving the organization's goals and objectives—once DHS OIG establishes them in its strategic plan. (Recommendation 11) | Open |
| DHS Office of Inspector General | The Inspector General should implement a process for developing, reviewing, approving, and managing its organizational policies. (Recommendation 12) | Closed – Implemented |
| DHS Office of Inspector General | The Inspector General should develop and implement a process to ensure that all DHS OIG reports include a compliance statement that identifies the appropriate professional standards to which the work in that report adhered. (Recommendation 13) | Closed – Implemented |
| DHS Office of Inspector General | The Inspector General should develop and implement guidance to govern how Office of Audits or Office of Special Reviews and Evaluations work that does not adhere to (1) government auditing standards for audits or (2) CIGIE standards for inspections and evaluations is to be planned, completed, and reported. This guidance should describe how DHS OIG ensures that such work adheres to federal OIG standards of independence, due professional care, and quality assurance. (Recommendation 14) | Closed – Implemented |
| DHS Office of Inspector General | The Inspector General should develop and implement an organization-wide quality assurance program, including establishing a structure, responsibility, and authority for implementing quality assurance in all DHS OIG work. (Recommendation 15) | Open |
| DHS Office of Inspector General | The Inspector General should develop and implement a process to ensure that DHS OIG's internal quality assurance reviews are comprehensive and that these reviews regularly assess Office of Audits and Office of Special Reviews and Evaluations work that is conducted according to each of (1) audit; (2) inspection and evaluation; and (3) other standards or authorities. (Recommendation 16) | Open |
| DHS Office of Inspector General | The Inspector General should develop and implement a process for assessing actual time frames against planned and target time frames for Office of Audits and Office of Special Reviews and Evaluations work. (Recommendation 17) | Open – Partially Addressed |
| DHS Office of Inspector General | The Inspector General should develop and implement a process to ensure that program offices consistently use DHS OIG's data system to track project milestones. (Recommendation 18) | Closed – Implemented |
| DHS Office of Inspector General | The Inspector General should update its report review directive, including reviewer roles, responsibilities, and time frames, for draft and final reviews of Office of Audits and Office of Special Reviews and Evaluations work. (Recommendation 19) | Closed – Implemented |
| DHS Office of Inspector General | The Inspector General should develop and implement a consistent process for DHS OIG program offices to coordinate with DHS to receive and respond to technical and management comments about Office of Audit and Office of Special Reviews and Evaluations work. (Recommendation 20) | Open – Partially Addressed |
| DHS Office of Inspector General | As the Inspector General takes steps to implement recommendations in this report—and in doing so, transform the organization's management and operations—the Inspector General should follow key organizational transformation practices. These practices include (1) ensuring top leadership drives the transformation, (2) setting implementation goals and a timeline, (3) dedicating an implementation team to manage the transformation process, and (4) involving employees to obtain their ideas and gain their ownership for the transformation. (Recommendation 21) | Open – Partially Addressed |
GAO Contacts
Office of Public Affairs
Topics
Agency evaluations
Agency missions
Attrition rates
Best practices
Compliance oversight
Government auditing standards
Human capital management
Inspectors general
Internal controls
Organizational transformation
Performance management
Policies and procedures
Professional standards
Quality assurance
Quality standards