Military Depots:
Army and Marine Corps Need to Improve Efforts to Address Challenges in Measuring Performance and Planning Maintenance Work
GAO-20-401
Published: Jul 16, 2020. Publicly Released: Jul 16, 2020.
The Army and Marine Corps operate large industrial depots to maintain, overhaul, and upgrade weapon systems and equipment. Delays at depots reduce the available time for operations and training with tanks, radars, and other weapons and equipment.
Both services reported largely meeting depot maintenance goals in recent years. We found ways they could improve depot performance measures and efficiency. The Army, for example, could do more to better plan the flow of work to depots.
We made 4 recommendations to the Army and 1 to the Marine Corps, including ways to more comprehensively assess depot performance and address weaknesses.
A tracked vehicle is worked on at the Anniston Army Depot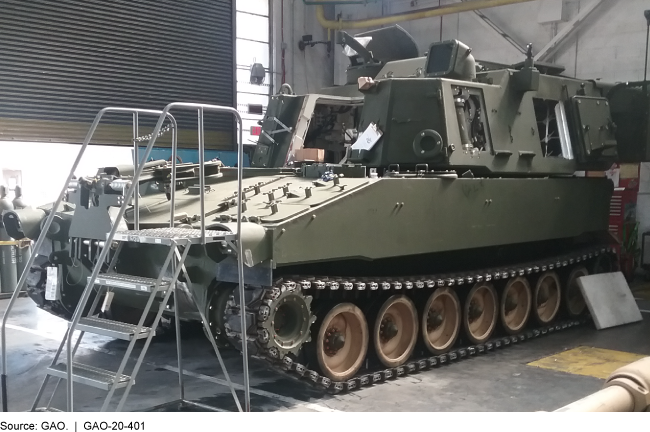 Military vehicle
Skip to Highlights
What GAO Found
The Army reported that it met its goals for about 91 percent of the systems on which it planned to complete maintenance for its customers in fiscal years 2018 and 2019, but its key performance metric has some limitations. Recognizing these limitations, Army Materiel Command (AMC), which oversees the Army depots, has begun assessing performance against monthly (adjusted) and annual (baseline) goals (see figure). AMC also began an effort to improve its performance metrics, but depot officials involved in the effort whom GAO interviewed are uncertain how AMC will incorporate their input. Without AMC procedures to ensure that it will incorporate depot input, as called for by Army guidance on effective teamwork, AMC cannot be assured that it is developing metrics that are beneficial at all levels for assessing depot performance.
Percent Variance from Goal for Average Adjusted and Baselined Depot Performance across Army Depots for Fiscal Year 2019

The Army identified a key challenge to meeting the depots' maintenance goals in fiscal years 2018 and 2019, but it has not fully addressed this challenge. During this time the Army experienced schedule changes to more than half of its planned maintenance work. GAO found that most of this variability was caused by changing customer needs and identified two key shortcomings in the Army's approach to minimizing such changes. First, the Army does not have guidance establishing time frames for depot customers to submit their needs during depot planning, resulting in millions of dollars in unplanned work. Without such guidance, depots will continue to experience workload variability. Second, AMC has not systematically analyzed why depot customers have changes, resulting in incomplete information about causes and potential solutions. Without such analysis, the Army will be poorly positioned to address longstanding maintenance challenges.
For fiscal years 2015 through 2019, the Marine Corps reported generally meeting its yearly depot maintenance goals, but GAO found that the Marine Corps has not yet included all its planned work in its baseline schedule for a key performance metric. The Marine Corps also experienced monthly variability in fiscal year 2019 for a variety of reasons, including parts shortages, lack of asset availability, and changing customer needs, and it is undertaking several initiatives to minimize such changes. However, developing a complete baseline will allow the Marine Corps to better assess its performance against its planned maintenance work and better identify and mitigate the causes and effects of any unfavorable performance.
Why GAO Did This Study
The Army and Marine Corps operate large industrial depots to maintain, overhaul, and upgrade numerous weapon systems and equipment. The depots play a key role in sustaining readiness by completing maintenance on time and returning refurbished equipment to warfighting customers.
The Senate Armed Services Committee, in a report accompanying a bill for the National Defense Authorization Act for Fiscal Year 2019, included a provision for GAO to review Army and Marine Corps depots. GAO evaluated the extent to which (1) the Army met its planned maintenance goals and addressed any challenges in measuring depot performance; (2) the Army identified and addressed any key challenges in completing planned maintenance; and (3) the Marine Corps completed its planned maintenance and addressed associated challenges. GAO reviewed depot planning processes; analyzed maintenance goals and data for fiscal years 2018 and 2019 for the Army and fiscal years 2015 through 2019 for the Marine Corps; and met with Army and Marine Corps headquarters, command, and depot officials.
Skip to Recommendations
Recommendations
GAO is making five recommendations, including that the Army develop procedures to ensure depot input on metrics, develop guidance for depot customers, and analyze the causes of maintenance changes; and that the Marine Corps develop a complete baseline. DOD concurred with all five recommendations.
Recommendations for Executive Action
| Agency Affected | Recommendation | Status |
| --- | --- | --- |
| Department of the Army | The Secretary of the Army should ensure that the Commander, Army Materiel Command, develops procedures to help ensure that it will incorporate depot stakeholder input into the new metrics framework for the Army's organic industrial base through iterative and ongoing processes. (Recommendation 1) | |
| United States Marine Corps | The Commandant of the Marine Corps should ensure that the Marine Corps Logistics Command establishes a complete baseline schedule, which includes all planned depot maintenance work for the fiscal year, against which to measure performance. (Recommendation 2) | |
| Department of the Army | The Secretary of the Army should ensure that the Commander, Army Materiel Command, develops guidance that synchronizes the Army's timelines for required inputs from Army depot maintenance customers who use funds from the Procurement; Research, Development, Test, and Evaluation; and Operations and Maintenance budgets with the depots' timelines for development of their finalized budget estimate submissions to AMC. (Recommendation 3) | |
| Department of the Army | The Secretary of the Army should ensure that the Commander, Army Materiel Command, provides its non-Army customers with guidance that will help ensure that the depots have all updated maintenance needs in sufficient detail from non-Army customers prior to the depots' finalized budget estimate submissions to AMC. (Recommendation 4) | |
| Department of the Army | The Secretary of the Army should ensure that the Army Organic Industrial Base Corporate Board oversees a study that includes a recurring, comprehensive, and systematic analysis of Army depot data to identify trends and causes behind changes in depot maintenance schedules; and that it uses this analysis to recommend actions to reduce unplanned maintenance work, as appropriate and necessary. (Recommendation 5) | |