K-12 Education:
Education Needs to Address Significant Quality Issues with its Restraint and Seclusion Data
Fast Facts
The Department of Education requires public school districts to biennially report incidents of restraint (restricting a student's movement) and seclusion (confining a student to a space alone).
Education's data quality checks may not catch misreporting or statistical outliers:
70% of districts reported 0 incidents of restraint and seclusion, but Education's quality check only applies to fewer than 100 large districts
Education doesn't have a quality check for districts reporting relatively high incident rates like one that reported an average of 71 restraint incidents per student per year
Our recommendations are to improve data quality
Seclusion Room in a Classroom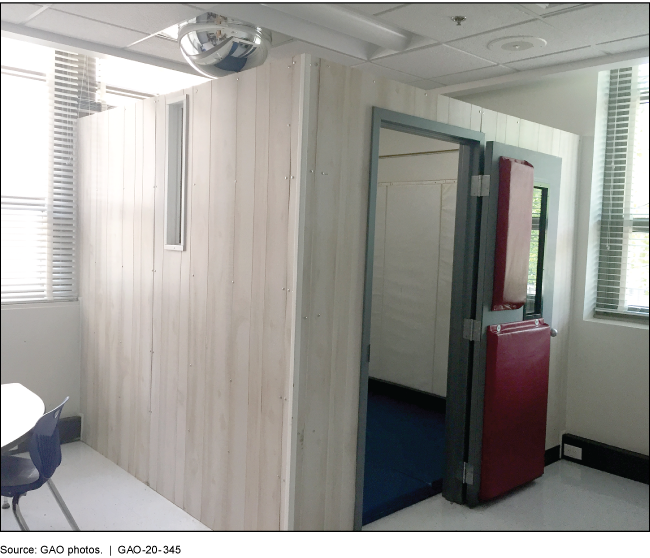 Walled area with padded door, small windows, round mirror to see in
Skip to Highlights
Highlights
What GAO Found
The Department of Education's (Education) quality control processes for data it collects from public school districts on incidents of restraint and seclusion are largely ineffective or do not exist, according to GAO's analysis of school year 2015-16 federal restraint and seclusion data—the most recent available. Specifically, Education's data quality control processes were insufficient to detect problematic data in its Civil Rights Data Collection (CRDC)—data Education uses in its efforts to enforce federal civil rights laws (see figure). For example, one rule Education used to check the quality of data submitted only applied to very large school districts, although GAO and Education's own analyses found erroneous reporting in districts of all sizes. Education also had no rules that flagged outliers that might warrant further exploration, such as districts reporting relatively low or high rates of restraint or seclusion. GAO tested for these outliers and found patterns in some school districts of relatively low and high rates of restraint or seclusion. Absent more effective rules to improve data quality, determining the frequency and prevalence of restraint and seclusion will remain difficult. Further, Education will continue to lack information that could help it enforce various federal civil rights laws prohibiting discrimination.
Data Quality Issues GAO Identified in Department of Education 2015-16 CRDC Restraint and Seclusion Data

Note: All analyses used public-use file, except illogical data, which used a restricted-use file.
Officials in the nine school districts GAO visited lacked a common understanding of the CRDC's restraint and seclusion definitions. Similarly, officials GAO interviewed in all three state educational agencies (Kentucky, Washington, and Wisconsin) and all seven stakeholder groups expressed similar concerns about the clarity of these definitions. For example, officials inconsistently interpreted the word alone in the definition of seclusion and, therefore, on whether to count an incident if a teacher was in the room. Absent clearer definitions, Education will continue to lack quality information on restraint and seclusion in public schools.
Officials in school districts GAO visited identified several benefits to collecting these data, including identifying patterns in student behavior and developing interventions that can reduce the need for restraint and seclusion. Officials also said that analyzing their data helped them identify needs for additional staff training and student support services.
Why GAO Did This Study
Every 2 years, Education requires nearly all school districts to report incidents of restraint and seclusion. Generally, restraint is restricting a student's ability to move, and seclusion is confining them alone in a space they cannot leave.
The House Committee on Appropriations' explanatory statement accompanying the Consolidated Appropriations Act of 2018 included a provision for GAO to evaluate the CRDC's restraint and seclusion data. This report examines (1) the effectiveness of CRDC data quality control procedures, (2) selected districts' interpretation of CRDC's restraint and seclusion definitions, and (3) selected districts' use of data. GAO analyzed CRDC's quality control processes for school year 2015-16, and interviewed officials from seven stakeholder groups and over 50 school and district officials in three states. GAO selected states, districts, and schools to obtain a range of perspectives on using restraint and seclusion data and interpreting CRDC definitions of restraint and seclusion. Selection criteria included changes in reported incidents year to year and laws requiring districts to report incidents to states.
Skip to Recommendations
Recommendations
GAO made six recommendations, including that Education expand its CRDC business rules to cover all districts, develop additional quality controls to address misreporting, address factors underlying misreporting, and refine and clarify its definitions. Education agreed with these recommendations.
Recommendations for Executive Action
Agency Affected
Recommendation
Status
Office for Civil Rights for the Department of Education
The Assistant Secretary for the Office for Civil Rights should revise its CRDC business rule to require that every school district reporting zeros, regardless of district size or numbers of students with disabilities, affirm the zeros are correct during the CRDC data submission process. (Recommendation 1)

Closed – Implemented

Office for Civil Rights for the Department of Education

Priority Rec.

The Assistant Secretary for the Office for Civil Rights should develop and implement a CRDC business rule that targets schools and school districts that report very low numbers of incidents and set data-driven thresholds to detect such incidents. (Recommendation 2)

Closed – Implemented

Office for Civil Rights for the Department of Education

Priority Rec.

The Assistant Secretary for the Office for Civil Rights should develop and implement a CRDC business rule that targets schools and schools districts that report very high number of incidents and set data-driven thresholds to detect such incidents. (Recommendation 3)

Closed – Implemented

Office for Civil Rights for the Department of Education
The Assistant Secretary for the Office for Civil Rights should apply the CRDC business rule targeting illogical data at the school level to all schools, regardless of the number of incidents reported. (Recommendation 4)

Closed – Implemented

Office for Civil Rights for the Department of Education

Priority Rec.

The Assistant Secretary for the Office for Civil Rights should identify the factors that cause underreporting and misreporting of restraint and seclusion and take steps to help school districts overcome these issues. (Recommendation 5)

Open

Office for Civil Rights for the Department of Education
The Assistant Secretary for the Office for Civil Rights should further refine and clarify federal restraint and seclusion definitions and take steps to ensure that this information is conveyed to school districts. This could include providing common classroom scenarios that highlight the differences between a restraint and an escort, and a time out and a seclusion. (Recommendation 6)

Closed – Implemented
GAO Contacts
Office of Public Affairs
Topics
Civil rights
Data collection
Data quality
Education
Elementary education
Public schools
Quality control
School districts
Schools
Students
Students with disabilities
Teachers
Physical disabilities
Educational standards