Navy Shipbuilding:
Increasing Focus on Sustainment Early in the Acquisition Process Could Save Billions
GAO-20-2
Published: Mar 24, 2020. Publicly Released: Mar 24, 2020.
About 70% of a ship's lifecycle costs are operations and maintenance costs.
Maintaining the Navy's new ships will cost $130 billion more than planned.
We investigated every class of ships the Navy recently built and found 150 examples of systemic maintenance problems. Sailors showed us things like failed engines, faulty electronics, and clogged toilets.
These problems might have been prevented with some attention to future maintenance concerns when designing and building the ships.
We made 11 recommendations to help the Navy focus on maintenance concerns earlier. We suggested that Congress consider enhancing its oversight in this area.
Protective Coating Falling Off a Virginia Class Submarine (missing coating colored red for emphasis)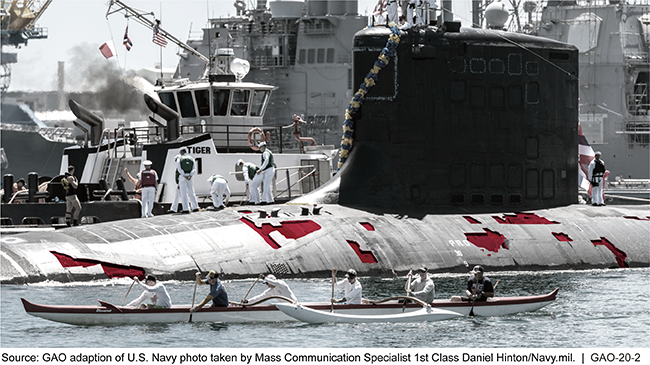 Navy servicemembes working on a submarine floating on the surface of the water
Skip to Highlights
What GAO Found
The Navy has delivered warships—such as aircraft carriers, destroyers, and submarines—to its fleet over the past 10 years that require more effort to sustain than initially planned. In assessing how these classes of ships are sustained, GAO found 150 examples of class-wide problems, such as unreliable ship systems. These problems stemmed from shipbuilding programs not identifying, evaluating, or mitigating sustainment risks during the acquisition process. GAO found that it would cost the Navy $4.2 billion to correct just the 30 percent of these problems for which the Navy had data on estimated repair costs.
Problems Requiring More Sustainment Effort than Planned Across Multiple Ships in a Class
GAO found that shipbuilding programs' requirements for sustainment reflect weaknesses with how Department of Defense (DOD) policy defines these requirements for ships. Sustainment requirements should influence acquisition decisions that determine the sustainability of a ship class, such as the ship's design. However, the Navy's sustainment requirements do not provide key information on how reliable and maintainable mission-critical systems should be and, therefore, cannot adequately inform acquisition decisions.
GAO also found that shipbuilding programs did not consistently address sustainment risks in acquisition planning documents. For example, the operating and support costs included in cost estimates did not capture all sustainment risks that could affect costs or evaluate sensitivity to changing sustainment assumptions, contrary to DOD and Navy cost estimating guidance. As a result, for six shipbuilding programs whose costs GAO could assess, the Navy had underestimated sustainment costs by $130 billion, as shown below.
Operating and Support Cost Estimate Growth for Six Ship Classes

The Navy has begun making some changes to its acquisition oversight process, such as developing sustainment program baselines and adding a sustainment oversight review. While positive, these changes focus on considering sustainment after key decisions are made early in the acquisition process. GAO also found that DOD is not required to provide detailed information about shipbuilding programs' sustainment cost growth to Congress. As such, Congress does not have full insight into the extent of shipbuilding programs' cost growth and why such growth occurred.
Why GAO Did This Study
The U.S. Navy requested over $40 billion each of the last 3 years to build, operate, and sustain its fleet. Acquisition decisions made as ships are developed and built can have a long-term effect on sustainment costs and ship quality.
GAO was asked to assess the extent to which DOD considers and plans for sustainment when acquiring weapons. Among other objectives, this report assesses the extent to which: (1) Navy ship programs deliver ships to the fleet that can be sustained as planned; (2) the Navy develops and uses effective sustainment requirements during acquisition; (3) ship programs are effectively identifying and evaluating sustainment risks in planning documents; and (4) leadership considers programs' sustainment planning and outcomes. GAO reviewed DOD and Navy acquisition policy and guidance, evaluated acquisition plans, collected sustainment metrics, and conducted interviews with more than 100 organizations, including program office and fleet units. GAO assessed 11 classes of shipbuilding programs (all nine that delivered warships during the last 10 years, as well as two newer classes of ships).
Skip to Recommendations
Recommendations
GAO is making one matter for Congressional consideration to enhance oversight and 11 recommendations to help DOD and Navy improve ship sustainment. DOD concurred with 8 and partially concurred with 3 recommendations but did not describe specific actions, which GAO believes are necessary to improve sustainment outcomes.
Matter for Congressional Consideration
| Matter | Status | Comments |
| --- | --- | --- |
| Congress should consider developing an oversight mechanism for evaluating shipbuilding programs' sustainment cost estimate growth during the acquisition process, with requirements for the Navy to: (1) report sustainment cost estimate growth information to Congress and (2) reassess shipbuilding programs that are experiencing a high level of sustainment cost estimate growth. | | In January 2021, Congress passed the William H. (Mac) Thornberry National Defense Authorization Act (NDAA) for fiscal year 2021 which set forth several changes to planning, execution, and oversight of life cycle sustainment activities (Pub L. No. 116-283, ? 802, 134 Stat. 3388, 3731 (Jan. 1, 2021)). Among other things, the NDAA requires all covered systems to have an approved life cycle sustainment plan with performance goals, a product support strategy, and affordability constraints on each covered programs' operating and support costs. The NDAA also established critical cost growth parameters of 25 and 50 percent that, if surpassed, will require the program to develop a remediation plan. The NDAA provides the oversight mechanism that will, along with other services, require the Navy to evaluate and report on sustainment cost growth. |
Recommendations for Executive Action
Agency Affected
Recommendation
Status
Department of Defense

Priority Rec.

The Secretary of Defense should change its definition for setting operational availability for ships in its Joint Capabilities Integration and Development System policy by adding information that defines the operational availability requirement by mission area in addition to the ship level and includes all equipment failures that affect the ability of a ship to perform primary missions. (Recommendation 1)

Department of Defense
The Secretary of Defense should change its definition for setting materiel availability for ships in its Joint Capabilities Integration and Development System requirements policy to include all factors that could result in a ship being unavailable for operations, such as unplanned maintenance, unplanned losses, and training. (Recommendation 2)

Department of the Navy
The Secretary of the Navy should direct the ASN (RD&A) and the CNO, once DOD requirements setting policy is revised, to update existing operational availability requirements for ongoing shipbuilding programs. When revising these requirements, the Navy should set operational availability requirements that: (1) are based on failures that affect the ability of a ship to perform primary missions and (2) are set at the mission level instead of ship level. (Recommendation 3)

Department of the Navy
The Secretary of the Navy should direct the ASN (RD&A) and the CNO, once DOD requirements setting policy is revised, to update the materiel availability requirements for ongoing shipbuilding programs. When developing or revising these requirements, the Navy should set materiel availability requirements that fully capture all factors that could preclude a ship from being ready when needed. (Recommendation 4)

Department of the Navy
The Secretary of the Navy should direct the ASN (RD&A) and the CNO, once the Navy revises its sustainment requirements, to ensure that shipbuilding programs report operational availability and materiel availability requirements in Selected Acquisition Reports, and alternatives to the Selected Acquisition Reports, for Congress. (Recommendation 5)

Department of the Navy
The Secretary of the Navy should direct the Commander of Naval Sea Systems Command to ensure that cost estimators follow current guidance and GAO-identified best practices and conduct sensitivity analyses and other analyses to improve their assessment of cost risk in the O&S costs in shipbuilding programs' life-cycle cost estimates. (Recommendation 6)

Department of the Navy

Priority Rec.

The Secretary of the Navy should direct the ASN (RD&A) to ensure all shipbuilding programs develop and update LCSPs, in accordance with DOD policy, that demonstrate how a ship class can be affordably operated and maintained while meeting sustainment requirements, including associated business case analyses and identifying sustainment risk. (Recommendation 7)

Department of the Navy
The Secretary of the Navy should direct the Commander of Naval Sea Systems Command to evaluate and implement changes to the ILA in order to position the ILA to effectively identify key sustainment risks and make recommendations for risk mitigation, which may include existing Navy proposals to change the ILA process. (Recommendation 8)

Department of the Navy
The Secretary of the Navy should direct the ASN (RD&A) and the CNO to ensure sustainment-related briefing topics prescribed by the Navy's acquisition policy are consistently discussed at Gate reviews. (Recommendation 9)

Department of the Navy
The Secretary of the Navy should direct the ASN (RD&A) and the CNO to implement the sustainment program baseline initiative for shipbuilding programs and, in so doing, develop a mechanism that ensures that sustainment outcomes are a factor in shipbuilding programs' decision-making during the acquisition process. (Recommendation 10)

Department of the Navy
The Secretary of the Navy should revise SECNAVINST 5000.2 and other associated guidance to ensure PSMs are assigned to shipbuilding program offices in time to inform early acquisition decisions, including development of the program's sustainment requirements and LCSPs. (Recommendation 11)