Supplemental Nutrition Assistance Program:
More Complete and Accurate Information Needed on Employment and Training Programs
Fast Facts
To be eligible for benefits, some Supplemental Nutrition Assistance Program (SNAP) recipients must comply with work requirements, which may include participating in a state's SNAP Employment and Training program. These programs are intended to help recipients become self-sufficient.
We found that only a small number of SNAP recipients participated in these programs—less than 1% per month on average in 2016. However, USDA has limited data on these programs, so it can't monitor whether recipients are still eligible to receive benefits, or are achieving self-sufficiency.
We recommended that USDA collect better data on these programs.
Resource Center for Participants in a SNAP Employment and Training Program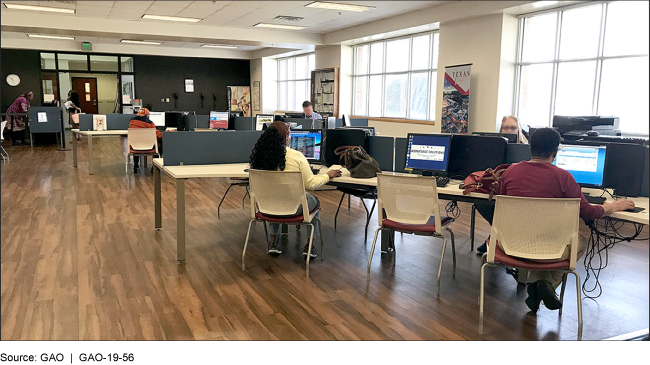 Photo of people working at computers.
Skip to Highlights
Highlights
What GAO Found
The Supplemental Nutrition Assistance Program's (SNAP) Employment and Training (E&T) programs, which are overseen by the U.S. Department of Agriculture (USDA) and administered by states, have served a small percentage of SNAP recipients over time, and information on participant characteristics and outcomes is limited. In an average month of fiscal year 2016, SNAP E&T served about 0.5 percent of the 43.5 million SNAP recipients. Further, since 2008, the percentage of SNAP recipients served by SNAP E&T has declined. Participation in SNAP E&T may be low, in part, because most SNAP recipients were exempt from work requirements, according to USDA data. In addition, SNAP recipients may participate in other activities to comply with work requirements. Although data on the number of recipients served in SNAP E&T are generally reliable, USDA lacks reliable data on participant characteristics and outcomes because of imprecise instructions on data collection forms and staff confusion at the state level. USDA has taken some steps to address these issues, but data reliability issues persist. As a result, USDA's ability to assess whether agency goals are being met through the SNAP E&T program is limited, as is the department's ability to monitor states' implementation of work requirements and ensure program integrity.
Supplemental Nutrition Assistance Program (SNAP) Recipients Subject to Work Requirements and Participating in SNAP Employment and Training (E&T) Programs in an Average Month of Fiscal Year 2016
In fiscal year 2018, most state SNAP agencies partnered with workforce development system entities, such as community colleges and workforce agencies, to provide services to SNAP E&T participants, according to USDA data. Regional and state officials reported that state SNAP agencies often have used these partnerships to leverage non-federal funding sources and provide additional capacity and expertise to help expand SNAP E&T services. However, 3 states operated their own SNAP E&T programs without partnering with any other program, and a total of 20 states lacked partnerships with workforce agencies, according to USDA data for fiscal year 2018. Federal regulations require that SNAP E&T services be delivered through the state's workforce development system unless the services are not available locally through this system. USDA and state officials described challenges to forming effective partnerships with workforce agencies, including perceived disincentives to serving SNAP recipients. However, states that are not fully leveraging resources available through the workforce development system may miss opportunities to provide a wider variety of services to SNAP E&T participants and serve a greater number of SNAP recipients through SNAP E&T.
Why GAO Did This Study
SNAP is the nation's largest federally funded nutrition assistance program. In fiscal year 2017, it provided about $64 billion in benefits. To maintain eligibility for benefits, certain SNAP recipients must comply with the program's work requirements, which may include participating in a state's SNAP E&T program if required by the state.
This report examines (1) what is known about SNAP E&T program participants and outcomes over time and (2) the extent to which state SNAP E&T programs have partnered with other programs offering similar services. GAO reviewed relevant federal laws, regulations, and guidance; analyzed USDA data on SNAP recipients, work registrants, and SNAP E&T participants from fiscal years 2008 through 2016, the most recent data available; reviewed states' fiscal year 2017 SNAP E&T plans and outcome reports; and interviewed USDA officials and state officials in five states selected, in part, to reflect a range of SNAP E&T program characteristics.
Skip to Recommendations
Recommendations
GAO is making four recommendations, including that USDA take additional steps to address SNAP E&T data reliability issues and to help states leverage available workforce development system resources. USDA officials generally agreed with our recommendations.
Recommendations for Executive Action
| Agency Affected | Recommendation | Status |
| --- | --- | --- |
| Food and Nutrition Service | The Administrator of the Food and Nutrition Service (FNS) should identify and disseminate strategies to states and service providers for increasing the participation of SNAP recipients referred to the SNAP E&T program. (Recommendation 1) | Closed – Implemented |
| Food and Nutrition Service | The Administrator of FNS should take additional steps to address data reliability issues in the state-reported data on SNAP E&T participant characteristics and outcomes, including steps to address imprecise instructions on data collection forms and staff confusion at the state level. (Recommendation 2) | Closed – Implemented |
| Food and Nutrition Service | The Administrator of FNS should determine and communicate to states how the agency will use newly reported outcome and participant characteristics data to assess the effectiveness of state SNAP E&T programs. (Recommendation 3) | Closed – Implemented |
| Food and Nutrition Service | The Administrator of FNS should take additional steps to assist states in leveraging available workforce development system resources. Such steps should include ensuring that state SNAP E&T plans provide the agency with sufficient information to verify that states have assessed available workforce development system providers. (Recommendation 4) | Closed – Implemented |
GAO Contacts
Office of Public Affairs
Topics
Adults
Community colleges
Data collection
Data reliability
Employment and training programs
Internal controls
Job searching
Labor force
Nutrition assistance
Workforce development