Homeland Security:
Research & Development Coordination Has Improved, but Additional Actions Needed to Track and Evaluate Projects
Fast Facts
The Department of Homeland Security's Science and Technology Directorate is required to coordinate research and development (R&D) across the department, which helps to prevent duplicative efforts.
We found that the department's R&D project information is stored in various disparate sources (e.g., reports, data systems, etc.)—which makes it difficult to identify and track. By developing a method to align these sources, the directorate can better compile and analyze R&D project information.
We recommended that it do so.
One R&D project connects border security teams to each other in real-time.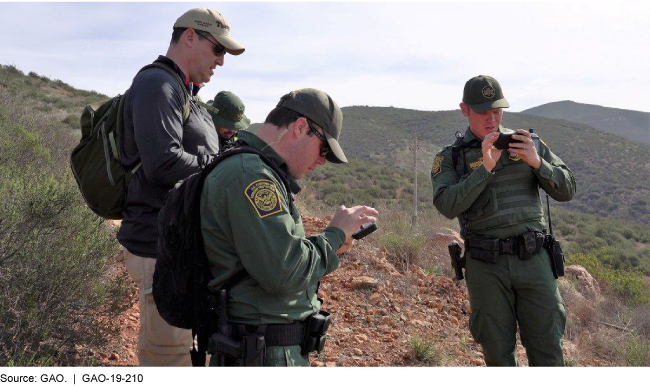 A photo of border security agents using R&D technology.
Skip to Highlights
Highlights
What GAO Found
The Department of Homeland Security (DHS) obligated more than $10 billion for research and development (R&D) from fiscal years 2010 through 2017. Seven DHS components have budget authority to conduct R&D, and the Science and Technology Directorate (S&T) obligated nearly 80 percent of all DHS R&D funds during this time period. These components conduct a wide range of R&D, from cybersecurity to border security projects. S&T generally leads or funds R&D projects by providing technology and knowledge products to support four homeland security mission areas:
Disaster resilience. Improving community resilience to natural disasters through technology and tools;
Critical incidents. Improving response technological capabilities;
Border security. Improving the nation's ability to detect, interdict and prosecute illegal activity across air, land and sea.
Cybersecurity. Developing technologies and tools to secure systems and critical infrastructures against cyberattacks.
S&T strengthened its R&D coordination efforts across DHS, but some challenges remain. In 2015, DHS established an R&D coordination mechanism, to be led by S&T, and in 2017 issued R&D coordination-related guidance. Specifically, to improve coordination, DHS established an Integrated Product Team (IPT) process to serve as the key R&D coordination mechanism within DHS. All ten DHS components that GAO interviewed stated that the IPT process improved visibility into DHS R&D efforts. However, the component that obligated approximately 17 percent of DHS R&D funds in 2017, or $176 million, did not participate in the IPT process in 2018, as required. Nonparticipation poses a risk to R&D coordination efforts across DHS, including R&D project information not being shared among components. Furthermore, ensuring that all required components participate in the IPT process would help S&T maintain visibility of R&D projects in order to fulfill its statutory role of coordinating R&D, and mitigate the risk of potential duplication of effort.
S&T, in its coordination role for DHS, uses disparate information sources to identify and track R&D project information and faces challenges to track progress and other information for ongoing R&D projects. For example, R&D project information is stored in multiple information sources leading to difficulty in integrating complete R&D project information and resulting in reporting that is not comprehensive. By developing a mechanism to address these challenges, S&T can further improve its efforts to report and analyze R&D project information, and have improved visibility on R&D efforts across DHS. GAO also identified challenges in collecting information related to R&D performance. Among other things, DHS is not well positioned to integrate the results and share lessons learned because limited R&D customer feedback information is collected and analyzed. Of the seven DHS components with R&D budget authority, two reported having formal customer feedback mechanisms. As a result, DHS is unable to more fully understand its customers' perceptions and experience which would allow DHS to better assess the performance of its R&D efforts.
Why GAO Did This Study
Conducting R&D on technologies is vital to enhancing the security of the nation. The Homeland Security Act of 2002, as amended, designates S&T as responsible for coordinating all R&D activities of DHS. Questions have been raised about S&T's ability to demonstrate the impact of its R&D investments. Since DHS began operations in 2003, GAO has made recommendations to help improve DHS's efforts to coordinate and oversee R&D.
GAO was asked to review DHS's R&D efforts. This report examines (1) how much DHS has obligated for R&D and what types of R&D DHS conducts, (2) to what extent S&T coordinates R&D across DHS, and (3) how, if at all, DHS identifies and tracks R&D efforts.
GAO reviewed documentation from DHS related to the conduct, coordination, tracking, and evaluation of R&D projects. GAO interviewed DHS officials with responsibilities related to, among other things, R&D financial reporting, performance evaluation, and the IPT process, including officials from the 10 DHS components that participate in the IPTs. GAO also reviewed DHS R&D budget and obligation data from fiscal years 2010 through 2017.
Skip to Recommendations
Recommendations
GAO is making four recommendations, with which DHS concurred, including that DHS: 1) ensure all components participate in the IPT process, 2) develop a mechanism that aligns R&D project tracking sources, and 3) collect feedback from R&D customers.
Recommendations for Executive Action
| Agency Affected | Recommendation | Status |
| --- | --- | --- |
| Office of the Deputy Secretary | The Deputy Secretary of the Department of Homeland Security should ensure that all components adhere to IPT participation requirements, in accordance with the DHS directives. (Recommendation 1) | Closed – Implemented |
| Office of the Deputy Secretary | The Deputy Secretary of the Department of Homeland Security should develop a mechanism that aligns processes and information sources for collecting R&D project data from DHS components to ensure that the information can be collected, integrated and result in a comprehensive accounting of R&D projects DHS-wide. (Recommendation 2) | Closed – Implemented |
| Office of the Deputy Secretary | The Deputy Secretary of the Department of Homeland Security should direct Office of the Chief Financial Officer program officials to ensure that S&T take steps to more fully incorporate leading practices, such as those included in DHS's budget preparation guidance, into R&D milestones. (Recommendation 3) | Closed – Implemented |
| Office of the Deputy Secretary | The Deputy Secretary of the Department of Homeland Security should develop standard processes and procedures for collecting and analyzing customer feedback, applicable to components conducting R&D, for improving the usefulness of existing customer feedback mechanisms to assess R&D efforts and for implementing such mechanisms where absent. (Recommendation 4) | Closed – Implemented |
GAO Contacts
Office of Public Affairs
Topics
Budget justification
Budget obligations
Homeland security
Internal controls
Performance measurement
Project milestones
Research and development
Research and development budgets
Science and technology
Performance goals