Military Personnel:
Additional Actions Needed to Address Gaps in Military Physician Specialties
Skip to Highlights
Highlights
What GAO Found
The Department of Defense (DOD) has experienced gaps between its physician authorizations (i.e., funded positions) and end strengths (i.e., number of physicians). Its overall approach to address these gaps focuses on the individual service components relying on the scholarship program, University, and other programs to recruit and retain physicians. However, this approach does not include targeted and coordinated strategies to address key physician shortages. All of the components experienced gaps in a number of specialties; several of these were below 80 percent of authorized levels (see figure) and are in what are considered critically short wartime specialties. Until the services develop and implement strategies to alleviate these gaps, they could be at risk of not being able to provide medical care to servicemembers during wartime.
Number of Military Physician Specialties That Were Below Authorizations, Fiscal Year 2015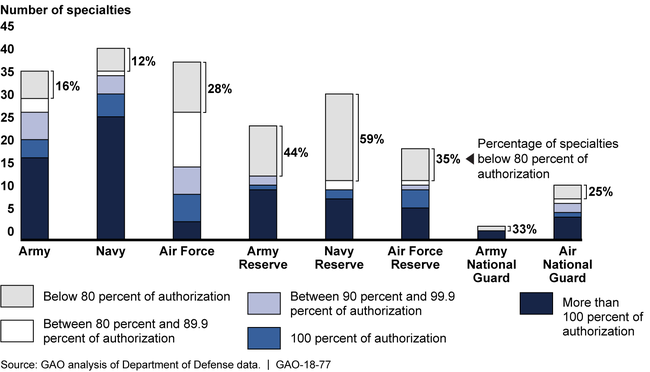 About 95 percent of scholarship- and University-enrolled medical students with reported qualification data met the services' or the University's minimum academic acceptance criteria in fiscal years 2011-2016. However, the services and the University generally did not consistently track performance data, such as licensing exam scores, specialty, and board certification. Further, the Army and the University used their available data to inform their programs, but the Navy and the Air Force did not. Until all the services track such data, the department will not have key information needed to continually improve programs.
The reported cost to the Army, Navy, and Air Force to educate the services' scholarship medical students has fluctuated over the past 6 years, ranging from $44 million to $59 million annually for each service. The costs to educate University medical students are not known. According to University officials, they were unable to determine the costs to educate medical students because their programs share resources. Developing a reliable method to accurately determine shared costs would enable DOD to gauge medical school costs and provide opportunities to enhance overall cost-effectiveness.
Why GAO Did This Study
Because of nationwide shortages and other challenges, DOD offers programs and incentives to attract and retain more than 16,000 military physicians. DOD's scholarship program, managed by the services, and its University (DOD's sponsored medical school), are the department's two primary programs for creating a pipeline of future military physicians.
Senate Report 114-255 included a provision for GAO to review the recruitment, accession, and retention of military health care professionals. GAO assessed the extent to which DOD (1) has experienced gaps between its military physician authorizations and end strengths, and has an approach to address key gaps; (2) has enrolled students who meet minimum qualifications, and tracked data to evaluate their performance; and (3) knows the costs of educating scholarship and University medical students. GAO compared authorizations to end strengths by specialty, analyzed student data and scholarship and University costs, and interviewed DOD and service officials.
Skip to Recommendations
Recommendations
GAO is making ten recommendations, including that the services develop targeted and coordinated strategies to alleviate military physician gaps; the services improve the tracking of medical student data, and the Navy and the Air Force use the data to continually improve their programs; and the University develop a method to accurately determine the costs to educate medical students. DOD did not provide comments on a draft of this report.
Recommendations for Executive Action
| Agency Affected | Recommendation | Status |
| --- | --- | --- |
| Department of Defense | The Secretary of the Army should develop targeted strategies for using its recruitment, training, and retention programs collectively to address key military physician gaps in a coordinated manner, and metrics that would monitor the effectiveness of its programs collectively in reducing gaps. (Recommendation 1) | Closed – Implemented |
| Department of Defense | The Secretary of the Navy should develop targeted strategies for using its recruitment, training, and retention programs collectively to address key military physician gaps in a coordinated manner, and metrics that would monitor the effectiveness of its programs collectively in reducing gaps. (Recommendation 2) | Open |
| Department of Defense | The Secretary of the Air Force should develop targeted strategies for using its recruitment, training, and retention programs collectively to address key military physician gaps in a coordinated manner, and metrics that would monitor the effectiveness of its programs collectively in reducing gaps. (Recommendation 3) | Closed – Implemented |
| Department of Defense | The Secretary of the Army should track complete, accurate, and accessible information on the qualifications, performance, and progress of Army Armed Forces Health Professions Scholarship Program (AFHPSP) medical students. (Recommendation 4) | Closed – Implemented |
| Department of Defense | The Secretary of the Navy should track complete, accurate, and accessible information on the qualifications, performance, and progress of Navy AFHPSP medical students. (Recommendation 5) | Closed – Implemented |
| Department of Defense | The Secretary of the Air Force should track complete, accurate, and accessible information on the qualifications, performance, and progress of Air Force AFHPSP medical students. (Recommendation 6) | Open |
| Department of Defense | The President of Uniformed Services University of the Health Sciences (USUHS) should track complete, accurate, and accessible information on the performance and progress of USUHS medical students. (Recommendation 7) | Open |
| Department of Defense | The Secretary of the Navy should use information on medical student performance to evaluate Navy accession programs. (Recommendation 8) | Open |
| Department of Defense | The Secretary of the Air Force should use information on medical student performance to evaluate Air Force accession programs. (Recommendation 9) | Open |
| Department of Defense | The Assistant Secretary of Health Affairs should require that the President of USUHS develop a reliable method to accurately determine the cost to educate its medical students. (Recommendation 10) | Closed – Implemented |
GAO Contacts
Office of Public Affairs
Topics
Cost effectiveness analysis
Cost sharing
Data collection
Education or training costs
Health care personnel
Health care professions
Medical education
Medical schools
Military personnel retention
Military physicians
Military recruiting
Scholarship programs
Students