National Preparedness:
FEMA Has Taken Steps to Strengthen Grant Management, But Challenges Remain in Assessing Capabilities
Skip to Highlights
Highlights
What GAO Found
In February 2012, GAO identified coordination challenges among Federal Emergency Management Agency (FEMA) grant programs that share similar goals and fund similar projects, which contribute to the risk of duplication among the programs. GAO recommended that FEMA take steps, as it develops its new grant management system, to collect project information with sufficient detail to identify potential duplication among the grant programs. FEMA has since addressed these recommendations. Specifically, in 2014, FEMA modified a legacy grants data system to capture more robust grant project-level data, and in fiscal year 2017, procured a software tool and developed a set of standard operating procedures to assist its staff in identifying potentially duplicative projects. These actions should help FEMA strengthen the administration and oversight of its grant programs. Furthermore, FEMA is also developing a new grants management modernization system to consolidate and better manage its grants. GAO is currently reviewing the system for this Committee and will report out next year.
State Homeland Security Grant Program and Urban Area Security Initiative: Annual Allocations, Fiscal Years 2003 through 2017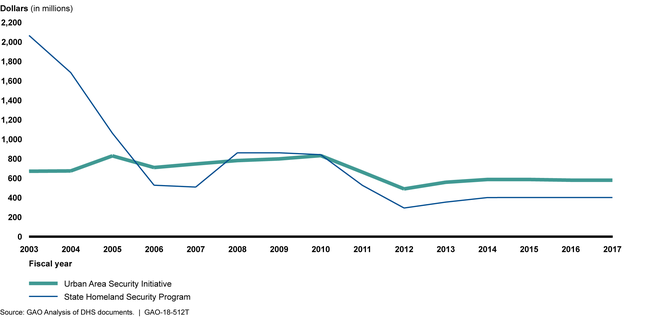 GAO reported in March 2011 on the need for FEMA to improve its oversight of preparedness grants by establishing a framework with measurable performance objectives for assessing urban area, state, territory, and tribal capabilities to identify gaps and prioritize investments. Specifically, GAO recommended that FEMA complete a national preparedness assessment of capability gaps at each level based on tiered, capability-specific performance objectives to enable prioritization of grant funding. FEMA has taken some steps to address GAO's prior recommendation. Specifically, in February 2018, FEMA reported developing capability-specific performance objectives that will enable a national preparedness assessment of capability gaps. However, FEMA plans to finalize these efforts in 2020 and it is too early to tell how this will impact grant allocations. Until these efforts are completed, GAO will not be able to determine the extent that they address past challenges and recommendations.
Why GAO Did This Study
The Department of Homeland Security (DHS), through FEMA, provides preparedness grants to state, local, tribal, and territorial governments to improve the nation's readiness in preventing, protecting against, responding to, recovering from and mitigating terrorist attacks, major disasters and other emergencies.
According to DHS, the department has awarded over $49 billion to a variety of DHS preparedness grant programs from fiscal years 2002 through 2017, to enhance the capabilities of grant recipients. For example, the State Homeland Security Program which awards grants to the nation's 56 states and territories, and the Urban Areas Security Initiative which awards grants to urban areas based on DHS's risk methodology, are the largest of the preparedness grant programs (see figure).
This statement addresses progress and challenges in FEMA's efforts to manage preparedness grants and GAO's prior recommendations to strengthen these programs. This statement is based on prior GAO reports issued from March 2011 through February 2016 and selected updates conducted in December 2017 through April 2018. To conduct the prior work and updates, GAO analyzed relevant FEMA data and documentation and interviewed relevant officials.
Skip to Recommendations
Recommendations
GAO has made prior recommendations designed to address the challenges discussed in this statement. FEMA has taken actions to address some but not all of these recommendations.
GAO Contacts
Office of Public Affairs
Topics
Compliance oversight
Disasters
Emergency management
Emergency preparedness
Federal assistance programs
Grant management
Grant programs
Homeland security
Hurricane Katrina
National preparedness