Defense Contracting:
Use by the Department of Defense of Indefinite-Delivery Contracts from Fiscal Years 2015 through 2017
GAO-18-412R
Published: May 10, 2018. Publicly Released: May 10, 2018.
Roughly 40 percent of DOD's contract obligations on orders from 2015 through 2017 were for indefinite-delivery contracts. These contracts allow DOD officials to order from a contractor once they know how much of a product or service they need and when they actually need it.
Nearly all of the indefinite-delivery contracts we reviewed had provisions that could reduce the number of contractors eligible to compete for orders, although they don't explicitly limit competition. The provisions were generally intended to provide best value to the government or serve other federal contracting goals, such as increasing opportunity for small businesses.
Comparison of DOD Indefinite-Delivery Contract Obligations with Total DOD Contract Obligations, Fiscal Years 2015 through 2017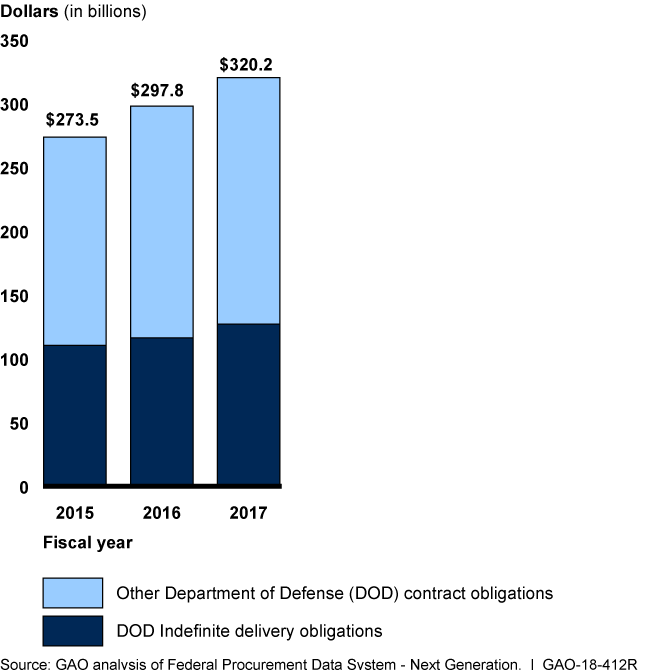 Bar chart showing indefinite-delivery contract obligations rising slightly each year but staying at about 40 percent of the total.
Skip to Highlights
What GAO Found
The Department of Defense (DOD) largely relies on subpart 16.5 of the Federal Acquisition Regulation (FAR) and subpart 216.5 of the Defense Federal Acquisition Regulation Supplement regarding indefinite-delivery contracts, with supporting guidance at the military department level.
Roughly 40 percent of DOD contract obligations in fiscal years 2015 through 2017 were on indefinite-delivery contracts. Of the DOD awards for the indefinite-delivery / indefinite-quantity (IDIQ) contract type during this period, about three-quarters were made to a single contractor, rather than multiple contractors.
In general, for the IDIQ contracts we reviewed, DOD included ordering provisions that contemplated competition among the contract holders for subsequent orders. However, nearly all of the contracts we reviewed contained provisions that, while not explicitly limiting competition, may have the potential, under certain circumstances, to reduce the number of contractors who are eligible to compete for the orders. Generally these provisions were in service of some other goal, such as increasing federal contracting opportunities for small businesses by setting aside certain task or delivery order competitions among these firms.
Why GAO Did This Study
The National Defense Authorization Act for 2017 contained a provision for GAO to report on DOD's use of indefinite-delivery contracts during fiscal years 2015 through 2017. This report identifies (1) policies and guidance DOD uses regarding indefinite-delivery contracts; (2) characteristics of DOD indefinite-delivery contracts for fiscal years 2015 through 2017, including the number of contracts, obligations on orders, and extent of competition; and (3) the extent to which selected DOD indefinite-delivery contracts may have limited future opportunities for competition.
For more information, contact William T. Woods at (202) 512-4841 or woodsw@gao.gov.