Commercial Fishing Vessels:
More Information Needed to Improve Classification Implementation
Fast Facts
To improve safety in commercial fishing, many boats are required to be built and maintained under rules set by organizations that certify them in a process called "classing." Another certification process, called "alternative-to-class," was introduced in 2016.
We examined costs and effectiveness of classing. Stakeholders agreed that classing increases costs, but there is limited data to quantify this or its effectiveness. They also said they were unclear about implementing the alternative approach.
We recommended that the Coast Guard, with others, gather reliable data and clarify the alternative approach.
Commercial Fishing Boat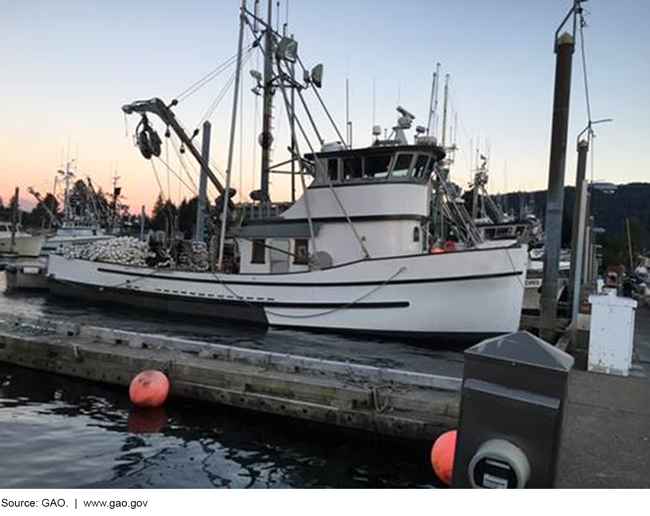 Photo of a commercial fishing boat
Skip to Highlights
Highlights
What GAO Found
The Coast Guard, the only military service within the Department of Homeland Security (DHS), investigated 2,101 commercial fishing vessel accidents between 2006 and 2015 that occurred in federal waters; however, because there are no reliable data on the total number of commercial fishing vessels that are actively fishing, rates of accidents, injuries, and fatalities cannot be determined. Agencies, such as the Coast Guard, keep records of accidents, but without reliable data on active vessels, trend information cannot be determined. The Coast Guard and the National Marine Fisheries Service have separate efforts to collect data that could be used to develop an estimate of active commercial fishing vessels, but each agency is taking a different approach to do so. These and other agencies agreed that it is important to calculate rates to assess commercial fishing vessel accidents, injuries, and fatalities. Establishing a mechanism—such as a working group—to coordinate efforts and collect reliable data on the number of active vessels and key characteristics, such as vessel age and length, would allow the agencies to do so in an efficient manner.
Commercial Fishing Vessel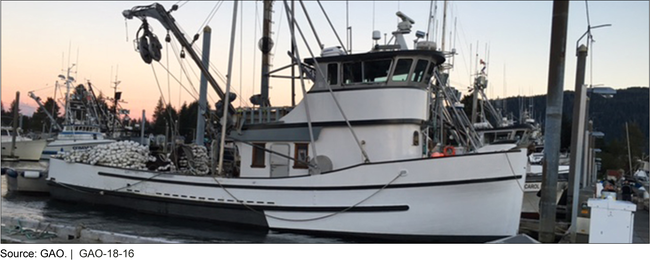 While data on the costs to design, construct, and maintain classed vessels are limited, vessel owners, builders, and classification societies agree that classification increases costs and told GAO that the perceived costs of classing may affect vessel owners' decisions to purchase new vessels to avoid classification requirements. However, they also agree that classification is one of many factors that contribute to safety.
The alternative-to-class approach is more flexible than classing—for example, in its use of marine surveyors to verify vessel construction. Industry stakeholders and GAO's analysis, however, identified numerous questions and uncertainties regarding implementation of the approach, including licensing requirements for naval engineers and architects. The Coast Guard has not issued regulations or guidance to address these issues on the alternative-to-class approach due, in part, to its ongoing efforts to issue regulations to implement safety-related legislation enacted in 2010 and 2012. However, without specific written procedures—either in the form of regulations or guidance—the Coast Guard cannot ensure consistent implementation of the alternative-to-class approach.
Why GAO Did This Study
Commercial fishing has one of the highest death rates of any industry in the United States. Fishing vessels that are at least 50 feet long and were built after 2013 are required by law to be built and maintained to rules developed by a classification society, a process known as classing. Congress created an alternative-to-class approach in 2016, allowing certain size vessels to be designed and built to equivalent standards in lieu of classing.
The Coast Guard Authorization Act of 2015 included a provision for GAO to review the costs and benefits of classing commercial fishing vessels. This report assesses (1) known numbers and rates of commercial fishing vessel accidents, injuries, and fatalities; (2) what is known about the costs, effects, and benefits of constructing and maintaining classed vessels; and (3) how the alternative-to-class approach compares with classing. GAO collected data on vessel accidents, injuries, and fatalities; interviewed vessel owners, builders, classification societies, Coast Guard, and other agencies; and studied classing costs.
Skip to Recommendations
Recommendations
Among GAO's recommendations, the Coast Guard and other agencies should form a working group to collect reliable data on the number of active fishing vessels. The Coast Guard should also issue regulations or guidance to address questions about the alternative-to-class approach. The agencies generally concurred with the recommendations, but DHS did not concur that the Coast Guard assess vessel accident rates. GAO revised this recommendation to allow the Coast Guard or another appropriate agency to do the assessment.
Recommendations for Executive Action
| Agency Affected | Recommendation | Status |
| --- | --- | --- |
| United States Coast Guard | The Coast Guard should ensure that the data it collects during commercial fishing vessel incident investigations, including the fishery in which the commercial fishing vessel is involved, is accurately captured. (Recommendation 1) | Closed – Implemented |
| United States Coast Guard | The Coast Guard should form a working group with National Institute for Occupational Safety and Health (NIOSH) and the National Marine Fisheries Service to determine an efficient means to establish a reliable estimate of the population of commercial fishing vessels actively fishing, landing, and selling their catch; the fishery in which a vessel operates; and key vessel characteristics including, but not limited to, vessel age and length. (Recommendation 2) | Closed – Implemented |
| United States Coast Guard | Once reliable data are available, the Coast Guard, or another agency identified by the working group, should assess the rates of commercial fishing vessel accidents, injuries, and fatalities to determine whether certain factors--including vessel length and region of operation, among other things--affect these rates. (Recommendation 3) | Closed – Implemented |
| United States Coast Guard | The Coast Guard should issue regulations or guidance to clarify and implement the alternative-to-class approach. (Recommendation 4) | Open |
| National Institute for Occupational Safety and Health | NIOSH should form a working group with the Coast Guard and the National Marine Fisheries Service to determine an efficient means to establish a reliable estimate of the population of commercial fishing vessels actively fishing, landing, and selling their catch; the fishery in which a vessel operates; and key vessel characteristics including, but not limited to, vessel age and length. (Recommendation 5) | Closed – Implemented |
| National Marine Fisheries Service | The National Marine Fisheries Service should form a working group with the Coast Guard and NIOSH to determine an efficient means to establish a reliable estimate of the population of commercial fishing vessels actively fishing, landing, and selling their catch; the fishery in which a vessel operates; and key vessel characteristics including, but not limited to, vessel age and length. (Recommendation 6) | Closed – Implemented |
GAO Contacts
Office of Public Affairs
Topics
Accident investigation
Commercial fishing
Data collection
Federal agencies
Fishing industry
Surveys
Industrial accidents
Laws and regulations
Legislation
Requirements definition
Safety
Transportation safety
Commercial vessels