Disaster Recovery:
Additional Actions Would Improve Data Quality and Timeliness of FEMA's Public Assistance Appeals Processing
GAO-18-143
Published: Dec 15, 2017. Publicly Released: Jan 16, 2018.
In both 2016 and 2017, 15 U.S. disasters resulted in losses exceeding $1 billion each. To help recover, state and local governments may apply to FEMA for grants for debris removal, public facility repairs, and similar activities.
Applicants have two chances to appeal grant decisions. However, we found that, from 2014 to July 2017, FEMA processed only 9% of first-level and 11% of second-level appeals within its 90-day limit.
Although FEMA has improved management of the appeals process in the last few years, it still faces challenges. Among other things, we recommended measures to more accurately track appeals and to develop FEMA's workforce.
Summary of FEMA's First- and Second-Level Public Assistance Appeals Process
This graphic summarizes the first- and second-level appeals process under FEMA's Public Assistance program.
Skip to Highlights
What GAO Found
Weaknesses in the quality of Federal Emergency Management Agency's (FEMA) Public Assistance (PA) appeals data limit its ability to oversee the appeals process. For example, FEMA's data are inaccurate and incomplete because regional offices do not consistently track first-level appeals and FEMA does not have processes to ensure data quality. When GAO discussed these weaknesses with FEMA officials, they acknowledged them and provided GAO with corrected data for January 2014 through July 2017. GAO's analyses of the corrected data show fluctuations in the appeal inventory from year to year depending on the number of disasters declared and delays in processing. For example, as shown in the figure, only 9 percent of first-level and 11 percent of second-level appeals were processed within the 90-day statutory timeframe.
Processing Times for Decided Appeals, Based on Appeals FEMA Received between January 2014 and July 2017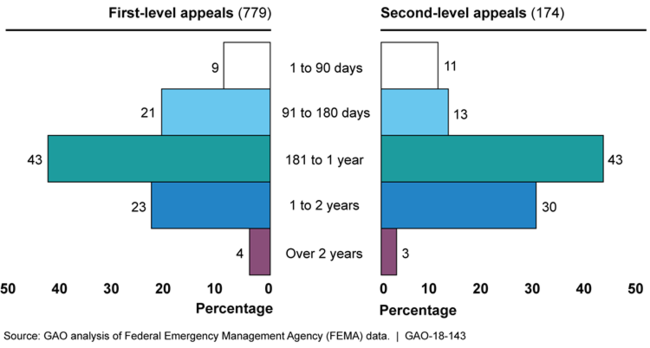 FEMA has taken steps to improve its management of the appeals process—including issues that GAO and the Department of Homeland Security's Office of Inspector General identified in 2008 and 2011. For example, FEMA increased its appeal staffing levels and developed standard operating procedures. Despite these efforts, FEMA continued to face a number of workforce challenges that contributed to processing delays, such as staff vacancies, staff turnover, and delays in training. FEMA has not developed a workforce staffing plan to identify hiring, training, and retention needs across its headquarters and regional offices, though FEMA officials acknowledge the potential benefits of having such a plan and stated that they are focused on filling vacancies. In the absence of a workforce plan, FEMA will continue to experience workforce challenges that could further contribute to delays in processing appeals.
FEMA has not established goals and measures for assessing first-level appeals processing performance, but has done so for second-level appeals. FEMA views establishing these first-level goals and measures as the responsibility of its regional offices. Without goals and measures, FEMA is limited in its ability to assess the efficiency and effectiveness of its overall appeals process and identify and address weaknesses that may lead to delays in making appeal decisions.
Why GAO Did This Study
In both 2016 and 2017, 15 separate U.S. disasters resulted in losses exceeding $1 billion each. FEMA provides PA grants to state and local governments to help communities recover from such disasters. If applicants disagree with FEMA's decision on their PA grant application, they have two chances to appeal: a first-level appeal to be decided by the relevant FEMA regional office and, if denied, a second-level appeal to be decided within FEMA's Recovery Directorate. Each is subject to a 90-day statutory processing timeframe.
GAO was asked to review FEMA's appeals process. This report examines: (1) the extent to which FEMA ensures the quality of its appeals data and what these data show about PA appeals inventory and timeliness; (2) what steps FEMA has taken to improve its management of the appeals process and what challenges, if any, remain; and (3) the extent to which FEMA developed goals and measures to assess program performance. GAO analyzed FEMA policies, procedures, and data on appeals and interviewed officials from headquarters and from regional offices with the highest number of pending appeals. GAO also spoke to state officials from the two states within each of the three regions with the highest number of pending appeals.
Skip to Recommendations
Recommendations
GAO is making four recommendations, including that FEMA implement a consistent approach for tracking appeals and ensuring data quality, develop a workforce plan, and develop measurable goals for processing first-level appeals. FEMA concurred with all four recommendations.
Recommendations for Executive Action
| Agency Affected | Recommendation | Status |
| --- | --- | --- |
| Federal Emergency Management Agency | The Assistant Administrator for Recovery should design and implement the necessary processes and procedures to ensure a uniform and consistent approach for tracking first-level appeals data to better integrate regional trackers with the Public Assistance Appeals and Audits Branch's (PAAB) own first-level appeals tracker. (Recommendation 1) | |
| Federal Emergency Management Agency | The Assistant Administrator for Recovery should design and implement the necessary controls to ensure the quality of the first-level appeals data collected at and reported from the regional offices to PAAB. (Recommendation 2) | |
| Federal Emergency Management Agency | The Assistant Administrator for Recovery should develop a detailed workforce plan that documents steps for hiring, training, and retaining key appeals staff. The plan should also address staff transitions resulting from deployments to disasters. (Recommendation 3) | |
| Federal Emergency Management Agency | The Assistant Administrator for Recovery should work with Regional Administrators in all 10 regional offices, to establish and use goals and measures for processing first-level PA appeals to monitor performance and report on progress. (Recommendation 4) | |