Bulk Fuel:
Actions Needed to Improve DOD's Fuel Consumption Budget Data
GAO-16-644
Published: Sep 12, 2016. Publicly Released: Sep 12, 2016.
Skip to Highlights
What GAO Found
The military services' total obligations for fuel consumption spending decreased from a high of about $13 billion in fiscal year 2012 to a low of about $10.1 billion in fiscal year 2015 but differed from budget estimates, which officials largely attributed to changes in operations and training that affected fuel consumption. Specifically, each of the military services either over- or underestimated its actual fuel consumption spending when compared to budget estimates (see figure).
Military Services' Reported Actual Versus Estimated Fuel Consumption Spending, Fiscal Years 2012 through 2015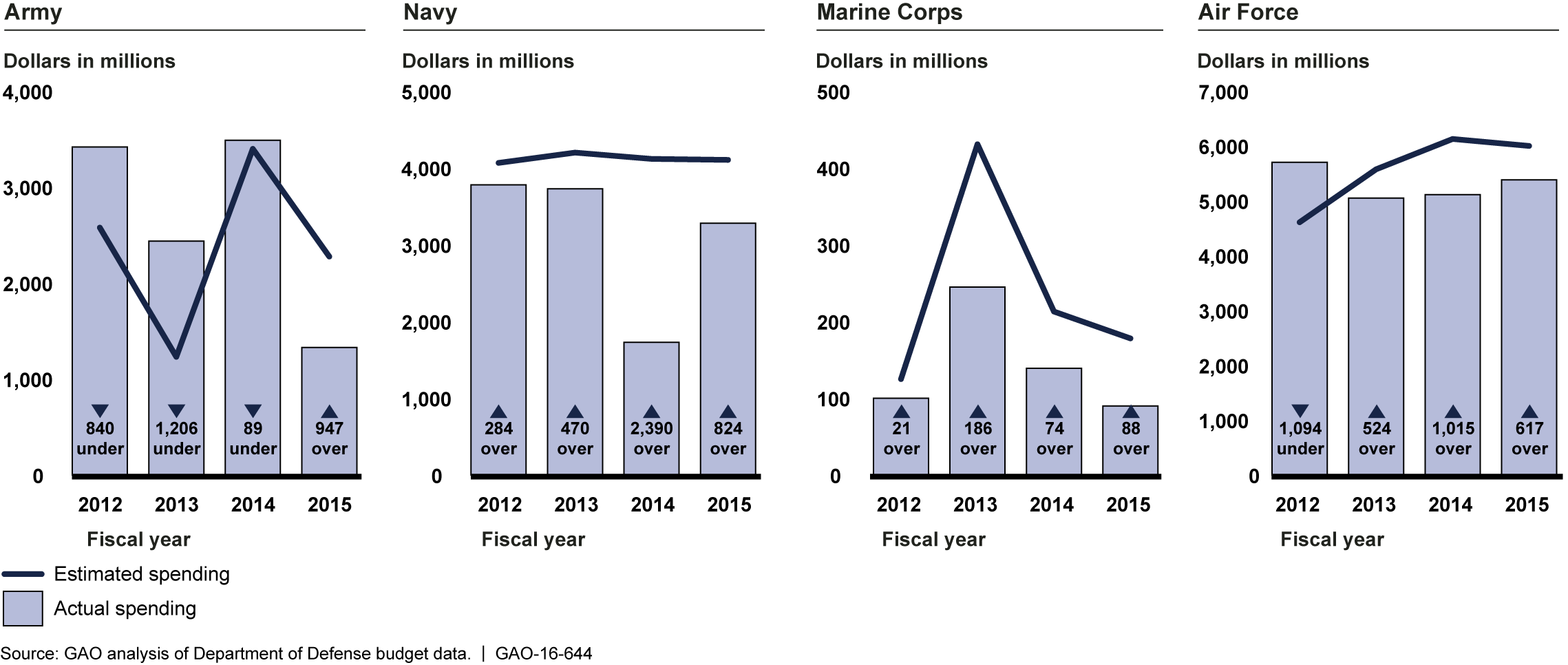 The Department of Defense (DOD) takes some steps to report fuel consumption data in annual budget requests, but it does not fully reconcile differences in the military services' reported actual fuel consumption data and does not include some fuel consumption data. For each budget request, DOD validates the military services' fuel consumption data by ensuring that the budget estimates align with DOD's funding priorities, among other steps. However, GAO's analysis found differences between the military services' reported fuel consumption spending and Defense Logistics Agency (DLA) data on fuel sales to them. For example, DOD reported that the Navy's actual obligations for fuel consumption spending in fiscal year 2014 were about $2.7 billion less than what DLA's fuel sales data show was sold. DOD had not established an approach to reconcile such differences. Having an approach to reconcile differences would provide DOD with a means to determine if any actions are needed to better assess the accuracy of the military services' reported fuel consumption data. Further, GAO's analysis found that DOD's budget requests for fuel did not include details in two areas that could be used by Congress to evaluate funding requests for fuel. First, the budget requests excluded fuel volume data that were collected during the budget development process. Fuel volume data would provide another measure of fuel consumption to justify DOD's funding requests. Second, the requests did not separate actual fuel consumption spending for day-to-day activities, such as training, from war-related spending, which has varied considerably from budget estimates. Without additional data in these two areas, Congress does not have full visibility over the amount of fuel volume the military services require for their activities or trends in fuel consumption spending for non-war-related purposes.
Why GAO Did This Study
DOD and the military services estimate total funding needs for fuel in annual budget requests by using planned consumption (measured in barrels of fuel) and a standard price per barrel set by DOD.
Senate Report 114-49, accompanying a bill for the National Defense Authorization Act for fiscal year 2016, included a provision for GAO to review DOD's approach to estimating fuel consumption. Among other objectives, this report (1) describes the military services' reported actual spending on fuel consumption compared to their budget estimates since 2012, and factors that were reported to have contributed to any differences, and (2) assesses the steps DOD takes to report accurate and complete fuel consumption data in annual budget requests. GAO analyzed DOD budget documents, including military service and DLA fuel data for fiscal years 2012 through 2015 and interviewed DOD officials responsible for preparing fuel consumption budget materials.
Skip to Recommendations
Recommendations
GAO recommends that DOD (1) develop an approach to reconcile the military services' and DLA fuel consumption data and (2) report more complete fuel consumption data to Congress. DOD concurred with the first recommendation and did not concur with the second recommendation, stating that providing additional fuel consumption information could be useful, but doing so would be difficult and labor intensive. GAO believes the recommendation remains valid to ensure that Congress has information to assess trends in fuel consumption, as discussed in the report.
Recommendations for Executive Action
| Agency Affected | Recommendation | Status |
| --- | --- | --- |
| Department of Defense | In order to improve the accuracy of the information included in the operation and maintenance (O&M) budget justification material submitted to Congress and provide complete information to review the military services' fuel consumption spending requests, the Secretary of Defense should direct the Under Secretary of Defense (Comptroller), in consultation with the military services and DLA, to develop an approach to reconcile data on fuel consumption reported by the military services and fuel sales to the military services reported by DLA and take any appropriate corrective actions to improve the accuracy of actual fuel consumption spending data. | |
| Department of Defense | In order to improve the accuracy of the information included in the O&M budget justification material submitted to Congress and provide complete information to review the military services' fuel consumption spending requests, the Secretary of Defense should direct the Under Secretary of Defense (Comptroller), in consultation with the military services and DLA, to report complete fuel consumption information to Congress, to include actual and estimated fuel volume and actual O&M base obligations for fuel consumption spending separate from O&M Overseas Contingency Operations obligations. This information could be provided as part of DOD's annual O&M budget justification materials, or through other reporting mechanisms. | |