DOD Education Benefits:
Action Is Needed to Ensure Evaluations of Postsecondary Schools Are Useful
GAO-14-855
Published: Sep 08, 2014. Publicly Released: Sep 08, 2014.
Skip to Highlights
What GAO Found
In fiscal year 2013, 571 Department of Defense (DOD) education advisors were available to provide information and educational support to the nearly 280,000 service members taking courses funded through the military Tuition Assistance Program. This program accommodates service members, who may regularly be reassigned to another location (including overseas), by allowing them to take classes online, directly on base, or at nearby schools. DOD advisors offer a range of services to service members such as helping them understand the types of degrees and courses schools offer and helping them develop educational goals and plans.
DOD used a contractor to conduct evaluations of schools participating in the Tuition Assistance Program, however, according to DOD, the evaluations did not provide the agency the information it needed to assess schools. This is because DOD lacked a specific plan to frame the evaluations, which according to federal standards, should clearly define the evaluation questions and methodology and address the collective knowledge, skills, and experience needed by the entity conducting the evaluations. According to DOD's contract, evaluations were to assess school quality, but the 15 areas DOD provided the contractor for evaluation were often not clearly defined and it was not clear what the contractor was to evaluate. For example, one of the areas was the "degree of congruence" among various entities involved in delivering educational services, which DOD provided the contractor without further specificity. Further, because DOD's contract did not specify all the skills needed by the contractor, DOD had to modify its contract to require such skills. However, still lacking information it needs, DOD recently decided not to renew the contract. DOD has suspended the evaluations and is exploring alternative options for evaluating schools, but does not yet have a plan to guide future efforts. Absent a plan, it will be difficult for DOD to have all of the information it needs to effectively evaluate schools.
A Participant in a DOD Education Program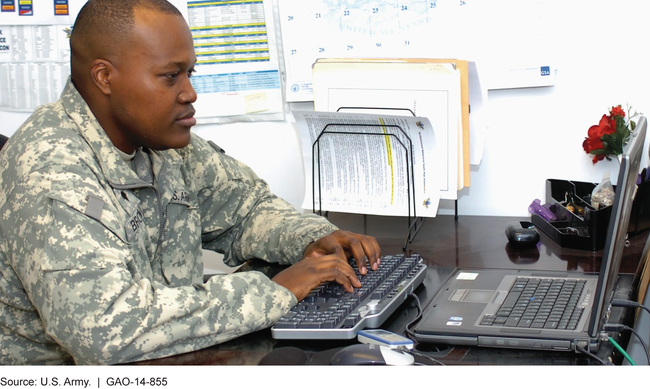 Why GAO Did This Study
DOD's military Tuition Assistance Program includes partnership agreements with about 3,000 schools through which service members can pursue a postsecondary education. Through this program, service members' tuition is paid directly to participating schools and in fiscal year 2013, the program spent $540 million. The program also provides service members with education advisors, and conducts evaluations of schools to assess quality. Congress mandated that GAO provide information on the role of these advisors and on the DOD contractor evaluations of schools participating in the program.
GAO examined (1) the number of advisors and the type of advice they provide, and (2) the information collected through evaluations of schools participating in the military Tuition Assistance Program. For this work, GAO analyzed DOD data on the program from fiscal year 2011 through 2013; reviewed all DOD contractor evaluations for fiscal years 2012 and 2013; and interviewed officials from DOD and the military services, contractor staff responsible for the evaluations, and advisors at Joint Base Andrews, Maryland. GAO visited this base because many of its service members participate in the program, and some of the participating schools were evaluated by DOD's contractor in 2013.
Skip to Recommendations
Recommendations
GAO recommends that DOD develop a plan for future school evaluations. DOD agreed with the recommendation.
View GAO-14-855.
Recommendations for Executive Action
| Agency Affected | Recommendation | Status |
| --- | --- | --- |
| Department of Defense | To improve the usefulness of information from school evaluations, the Secretary of Defense should direct the Undersecretary of Defense for Personnel and Readiness to develop a plan for future school evaluations that includes, among other things, clearly-defined evaluation questions and an assessment of the experience, expertise, and skills needed by the personnel from the entity or entities conducting the school evaluations. | |