Navy Ship Maintenance:
Action Needed to Maximize New Contracting Strategy's Potential Benefits
GAO-17-54:

Published: Nov 21, 2016. Publicly Released: Nov 21, 2016.
Additional Materials:
Highlights Page:
Full Report:
Accessible Version:
Contact:
The Navy invests millions of dollars each year to maintain its ships and will use a new contracting strategy for ship repair. This strategy has the potential to significantly control costs by using firm-fixed-price contracts, increasing opportunities for competition, and improving maintenance planning processes.
Although the Navy has taken a thoughtful approach in developing the strategy, it has not established a systematic process for determining whether it works. We recommend that when the strategy is implemented, the Navy should determine how well it achieves its stated cost, schedule, and quality objectives.
Navy Guided Missile Destroyer in Drydock for Repair and Maintenance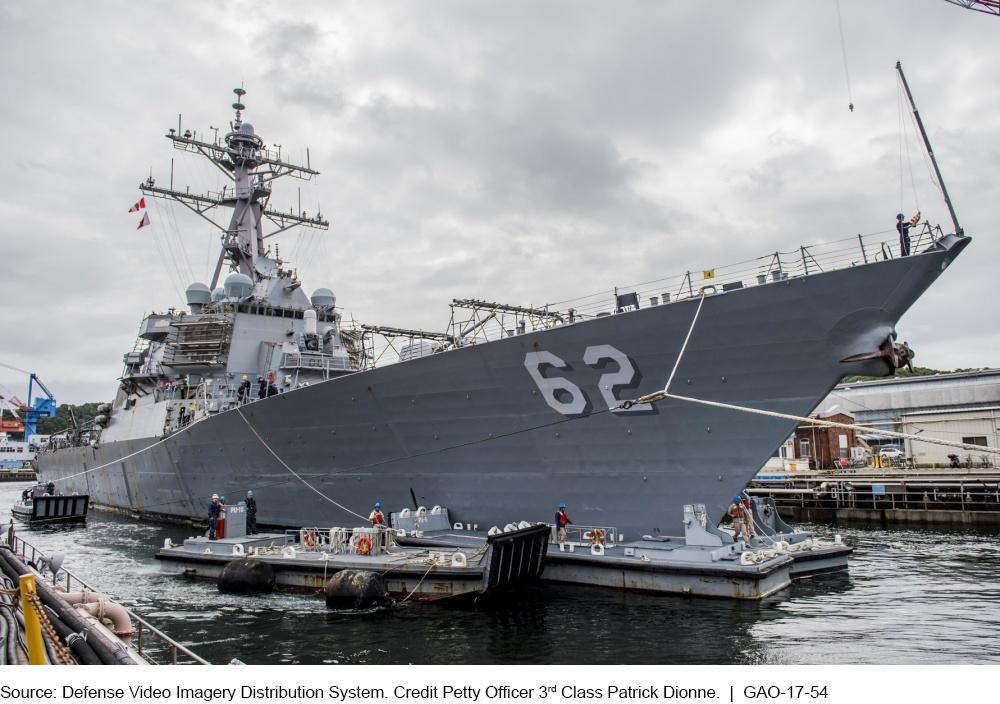 Photo of Navy ship undergoing repair and maintenance.
Additional Materials:
Highlights Page:
Full Report:
Accessible Version:
Contact:
What GAO Found
The Navy's Multiple Award Contract, Multi Order (MAC-MO) contracting strategy for ship repair offers a number of potential benefits compared to the former Multi Ship, Multi-Option (MSMO) contracting strategy, including increased competition. A key difference is that the MAC-MO strategy intends to control costs through the use of firm-fixed price contracts and the use of third-party planners, which could be cost-effective if the planner produces clearly defined work specifications for the repair contractor to price and execute. Prior to implementation of the new strategy, the Navy conducted market research and pilot-tested attributes of the strategy with pilot maintenance periods for a number of ships.
The Navy recognized several lessons learned from its pilot maintenance periods and has made subsequent process changes to address key lessons and support MAC-MO. These include a longer time frame for the planning process for finalizing work requirements (see figure). According to the Navy, this additional time is needed to promote stable requirements and, therefore, pricing.
Changes to Planning Milestones for Maintenance Periods under the Navy's New Strategy
The Navy is assessing outcomes of individual maintenance periods; however, it lacks a systematic process involving the fleet- and shore-based maintenance communities to assess overall implementation of MAC-MO. This is inconsistent with federal standards for internal control, which state that management should evaluate its response to risks and evaluate progress made toward program objectives. Not ensuring progress is systematically assessed—particularly in light of the many stakeholders involved—could undermine the Navy's ability to obtain the improved outcomes it seeks with the MAC-MO strategy.
The MAC-MO strategy will increase competition opportunities and set aside work for small businesses, but it is too soon to determine how these changes will impact the ship repair industrial base. Industry viewpoints GAO collected on MAC-MO varied both by shipyard location and contractor size. However, former MSMO contract holders reported that the uncertainty associated with the need to continually compete for work could result in decisions to reduce their workforce and facilities. Small businesses GAO spoke with have in the past mostly performed work as subcontractors to MSMO contract holders, but many expressed interest in competing as prime contractors under MAC-MO.
Why GAO Did This Study
The Navy has over 150 non-nuclear surface ships that it repairs, maintains, and modernizes using privately owned shipyards. The Navy concluded in 2010 that readiness of the surface ship force was below acceptable levels. This, in addition to the concerns of leadership about cost and schedule growth, led to a revised readiness strategy and, in 2015, introduction of a new contracting strategy for ship repair, referred to as MAC-MO.
House Report 114-102 accompanying the fiscal year 2016 National Defense Authorization Act included a provision for GAO to review the Navy's implementation of the MAC-MO strategy. This report assesses (1) the potential benefits of the MAC-MO contracting strategy, (2) process changes the Navy has made to address any challenges and to capitalize on anticipated benefits, and (3) how the strategy will potentially affect the Navy's ship repair industrial base.
GAO analyzed the Navy's acquisition planning documentation, lessons learned, and contracts. GAO interviewed Navy officials and visited regional maintenance centers in Norfolk, Va.; San Diego, Calif.; and Mayport, Fla. GAO also interviewed previous and prospective Navy ship maintenance contractors.
What GAO Recommends
GAO recommends the Navy assign responsibility to a single entity to systematically assess implementation of the MAC-MO strategy. DOD agreed with GAO's recommended action and plans to report biennially on strategy implementation.
For more information, contact Michele Mackin at (202) 512-4841 or mackinm@gao.gov.
Recommendation for Executive Action
Status: Open

Comments: In providing comments on this report, the agency concurred with this recommendation. Navy has since responded that it is in the process of preparing its first biennial report on its assessment of the MAC-MO contracting strategy and this report will address the elements of our recommendation. This first report is due by December 31, 2017. As of early August 2017, the Navy has completed its review of the completed availabilities under the MAC-MO contract and analyzed data.

Recommendation: In order to promote effective implementation of the MAC-MO contracting strategy, the Secretary of Defense should direct the Secretary of the Navy to complete the following action: Assign responsibility to a single entity comprised of representatives from the fleet and shore-based maintenance communities, such as Surface Team 1, to perform systematic assessments of MAC-MO's implementation that include the following: (1) Review of lessons learned and identification of changes to Navy processes, including staffing, needed to support the MAC-MO strategy, (2) Evaluation of performance against anticipated cost, schedule, and quality objectives, as outlined in the MAC-MO acquisition strategy, and (3) Input and recommendations from all Navy parties that participate in the scheduling, planning, budgeting, oversight, and policy development for the repair, maintenance, and modernization of non-nuclear surface ships.

Agency Affected: Department of Defense
Jul 19, 2018
Jul 16, 2018
Jun 25, 2018
Jun 21, 2018
Jun 20, 2018
Jun 18, 2018
Jun 13, 2018
Jun 6, 2018
May 31, 2018
Looking for more? Browse all our products here