Trying to Understand the President's Budget Proposal? Our Budget Glossary Can Help
Released today, the President's budget request to Congress spans thousands of pages across multiple volumes. While it is just a proposal, it is the starting point for allocating up to trillions of dollars in federal resources every year. It is a critically important document that includes funding level requests for federal programs for the upcoming fiscal year and, in some cases, future fiscal years. At times, however, some of the terms can be a bit hard to understand. If you're looking at the President's budget, then our one-volume budget glossary can be a helpful reading aid.
We developed A Glossary of Terms Used in the Federal Budget Process as a basic reference document for Congress, federal agencies, and others interested in the federal budget-making process. In fact, we are updating the budget glossary and would greatly appreciate your input. To provide feedback on the glossary or suggest changes, please email budgetglossary@gao.gov.
In the past, we've highlighted how to navigate the complexities of the federal budget, looked at the future of the federal budget, and focused on the 4 phases of the annual budget cycle. Today we focus on how the Budget Glossary can help you understand the President's budget.
Have a question about a term in the budget?
The budget glossary includes an alphabetized list of common terms used in the congressional and executive budget process, including "obligation," "program and financing schedule," and (you guessed it!) "budget."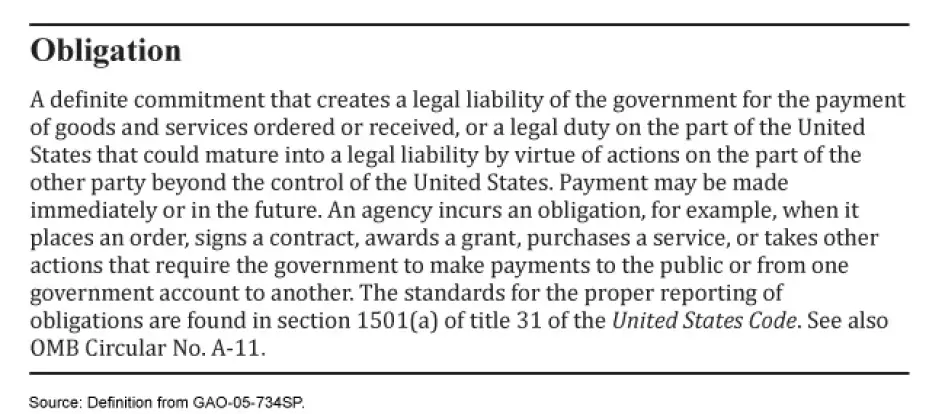 Want to learn more about the budget process?
Appendix I of the budget glossary provides an overview of the 4 phases of the federal budget process: executive budget formulation, the congressional budget process, budget execution and control, and audit and evaluation. Appendix II illustrates the federal budget formulation process.
Interested in how the government tracks funds?
Appendix III of the budget glossary compares and contrasts two methods used to ensure the financial accountability of the government: obligational accounting and proprietary accounting.
---