In the Next Pandemic Antiviral Drugs Could Be Key, But Are They Ready?
Posted on October 04, 2023
Scientists say another pandemic is likely and have even identified several viruses that could be a threat. But there are currently few approved drugs or treatments for these potential threats, nor is there much in the pipeline. 
When COVID-19 struck, a vaccine to combat it was created in record time. Even so, it wasn't fast enough to save millions who died. Antiviral drugs could be available before a vaccine in a future pandemic. These drugs can work on multiple viruses, meaning they could be ready before there is a specific threat.
Today's WatchBlog post looks at our new report that assesses the role antiviral drugs could play in the next pandemic and the status of technologies for antiviral drug development.
How antiviral drugs fight viruses
How could antivirals combat the next pandemic?
Unlike vaccines, which prime a person's immune system to fight a virus, antiviral drugs do the fighting after a person is already sick. For example, when one kind of antiviral drug enters an infected person, it interferes with the virus's ability to reproduce. That gives the immune system more time to rally and finish off the virus.
So why weren't antivirals used during the COVID-19 pandemic? They were, but initially only in small quantities, and those were difficult to administer to patients. There was (and still is) only one antiviral in pill form for use against the virus. It had to be developed from scratch and did not become available until almost 2 years into the pandemic. By then, vaccines were becoming available and served as the main weapon against COVID-19.
That delay in developing an antiviral likely also cost many peoples' lives, and it could happen again in the next pandemic.
No treatment for most high-risk viruses
One study puts the odds of experiencing a severe pandemic like COVID-19 during one's lifetime at about 38%. Seven viral families have a high potential to cause another pandemic, according to scientists in the federal government. But FDA-approved antiviral drugs only exist for two of these seven families. The graphic below shows the status of antiviral drug development for these seven viral families.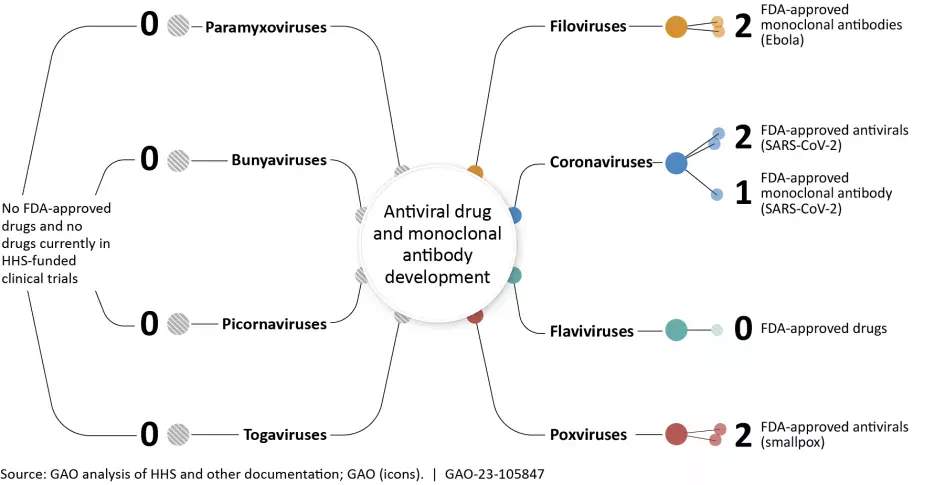 For our report, we interviewed experts about why more antiviral drugs haven't been developed. They told us a key reason is the lack of a current market for these drugs. Pandemic antivirals represent what economists call a "market failure"—prices do not reflect the benefit these drugs offer to society. While the federal government purchased millions of doses of vaccines, those vaccines were developed based on a known virus (a known problem). Antivirals for a potential pandemic would be developed based on an educated guess on the cause of that pandemic. Put another way, it's too risky for drug companies to invest in antivirals because those investments would only benefit people (and pay off for the companies) if there's another pandemic, which we all hope would be decades from now at the earliest.
The free market is not going to fix this on its own, the experts told us.
Economic incentives are a possible solution
So what can be done? We worked with the experts we interviewed to identify three policy actions that might help the U.S. develop antivirals for the next pandemic:
A national strategy could assess the public health and economic impact of viruses most likely to cause a pandemic, then develop a portfolio of antiviral drug candidates to target those viruses.
A single government entity could lead and coordinate efforts to develop antivirals, helping to ensure a more effective allocation of money and expertise.
Economic incentives could encourage companies to develop more antivirals and could spur new drug development technologies. These incentives could include research grants or a government commitment to purchase the drugs for a national stockpile.
Even if the nation takes all these steps, there is no guarantee they will produce antivirals that will blunt the next pandemic. Policymakers now face the unenviable task of deciding how best to prepare for another major outbreak, not knowing when or how it will strike. In our new report, we go in depth on these three policy options, on opportunities to bolster antiviral drug development to combat the next pandemic, and on some of the risks of not doing so. Check out our report to learn more.
---
GAO's fact-based, nonpartisan information helps Congress and federal agencies improve government. The WatchBlog lets us contextualize GAO's work a little more for the public. Check out more of our posts at GAO.gov/blog.