Risks and Benefits of Fintech Lending
Posted on January 23, 2019
Financial technology (fintech) refers to the use of technology and innovation to provide financial products and services—and fintech lending is a growing part of this field.
Fintech lenders are nonbank firms that operate online and may use "alternative data," including rental property or utility payments, to help determine borrowers' creditworthiness. Although using alternative data may make loans available to more people, there are risks as well as benefits to this use.
Today's WatchBlog explores our recent fintech report examining fintech lenders' use of alternative data and how federal agencies monitor lenders' use of this data.
Alternative data 101
Alternative data is generally defined as information not traditionally used by the national consumer reporting agencies in calculating a credit score. Some alternative data (such as on-time rent payments) are financial and similar to traditional data, while others are nonfinancial (such as a borrower's educational institution and degree). Some fintech lenders use alternative data to supplement traditional data used to make credit decisions or to detect potential fraud.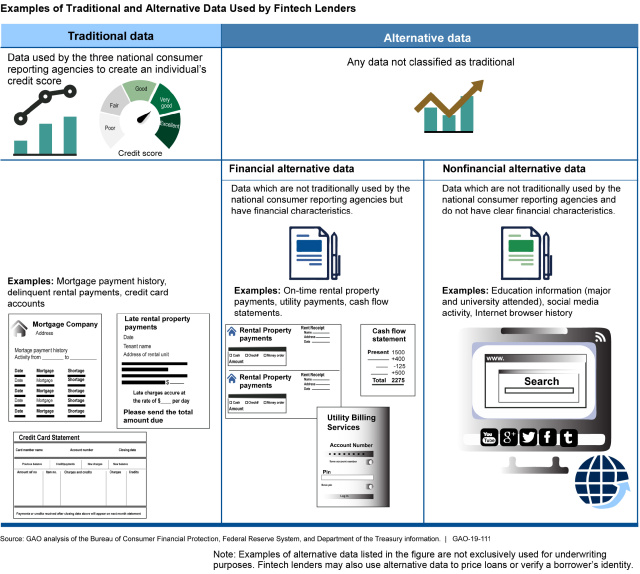 What are the potential risks and benefits of using alternative data?
The potential risks of using alternative data include:
Some types of alternative data, such as online social network information about living in disadvantaged areas, may be associated with characteristics protected by fair lending laws (e.g., laws that prohibit discrimination on the basis of race or national origin). Consequently, using alternative data in credit decisions raises concerns that borrowers who are part of these protected classes may be adversely affected.
Concerns also exist that there may be a lack of transparency about what alternative data is being used and how it is employed in the credit decision. The borrower may also be unable to dispute the information used.
Recent cybersecurity breaches show there is a potential for security risks. This may become a growing concern as lenders expand beyond using traditional borrower data.
Although there may be potential risks with using alternative data, there may also be potential benefits. For example:
Fintech lenders could offer loans to borrowers whose traditional credit history may have been insufficient to extend them credit.
Fintech lenders may be able to reach credit decisions more quickly than traditional banks and improve borrowers' convenience.
Fintech lenders can use alternative data to verify borrowers' identities, which helps prevent fraud.
How can federal regulators help lenders better manage the risk?
Fintech lenders said they need more specific information from the Consumer Financial Protection Bureau and federal banking regulators about the appropriate use of alternative data in making loan decisions. Specifically, additional information would be helpful to clarify steps they should take to ensure compliance with fair lending laws.
We recommended that CFPB, in coordination with the federal banking regulators, communicate in writing to fintech lenders about how to use alternative data.
To learn more, check out our full report.
---
Comments on GAO's WatchBlog? Contact blog@gao.gov.