GAO's Contracting and National Security Acquisitions Team
Posted on October 30, 2018
GAO's workforce is organized largely by subject area, with most employees working in 1 of 14 mission teams, many of which we have 
highlighted on the WatchBlog
. Today we'll be putting the spotlight on the Contracting and National Security Acquisitions (CNSA) team, dedicated to tracking the half a trillion dollars the federal government spends each year to buy goods and services.
Reports
CNSA reports cover how the Department of Defense (DOD), the Department of Homeland Security (DHS), the National Aeronautics and Space Administration (NASA), and other federal agencies use contracts and oversee contractors; design, budget for, and buy big ticket items—such as submarines, Coast Guard cutters, and space rockets; and protect sophisticated technologies critical to national security. Our work on these issues relates in part to four areas on GAO's High Risk list:
DOD Contract Management
,
DOD Weapon Systems Acquisition
,
NASA Acquisition Management
, and
Ensuring the Protection of Critical Technologies
.
CNSA Analyzes How Agencies Award and Manage Government Contracts
Our contracting work examines whether taxpayers are getting a good return on their investment when the government hires private contractors. We review contracts for purchasing goods, such as
medical supplies for Veterans' hospitals
, and obtaining vital services, such as restoring electricity to
hurricane-ravaged areas
. Because DOD is responsible for the lion's share of federal contracting dollars, we often focus on
military contracting practices
.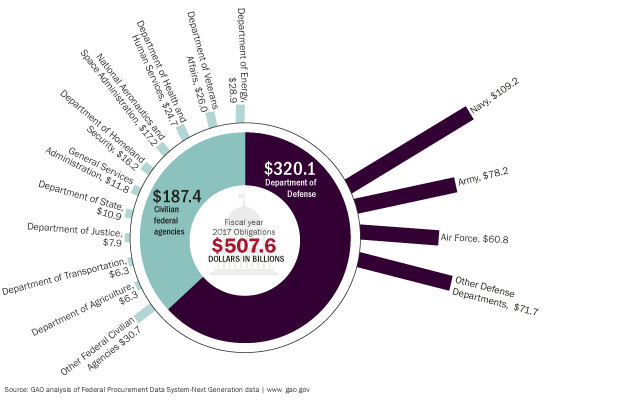 In addition, we monitor
government-wide contracting trends
, including how well agencies encourage competition and
take other steps to save money
. We also look at who federal agencies award contracts to—including
small businesses
or
minority- and women-owned firms
.
CNSA Reviews National Security Acquisitions
Every year, we issue three reports on major acquisition programs at
DOD
,
DHS
, and
NASA
. Through concise, 1- or 2-page, graphic-rich snapshots, we provide a "quick look" at the cost, schedule, and performance of over one hundred weapon systems, space systems, and other substantial investments. Listen to our podcast about the 2018 DOD Quick Look.
Navy Shipbuilding Plans: 
The Navy is embarking on an ambitious plan to increase the size of its fleet to the largest it has been in over 30 years, at a cost of hundreds of billions of dollars. We issued a report looking back at
the past decade of Navy shipbuilding
. Leveraging our large body of work on troubled programs like the
Ford Class nuclear aircraft carrier
and the
Littoral Combat Ship
, this report shows how the Navy's shipbuilding efforts have resulted in $11 billion in cost overruns, many years of schedule delays, and ships that do not perform as expected. Watch our
Cuppa GAO interview
discussing some of the challenges and opportunities for the Navy to improve how it builds its ships.
Homeland Security Acquisition Plans: 
Our reports on
U.S. Coast Guard acquisitions
have revealed a short-sighted budget process that has resulted in a wave of near-term acquisitions that exceed available funding. The Coast Guard is scrambling to extend the service lives of some aging Medium Endurance Cutters and its one remaining
polar ice breaker
until newer ships are ready to replace them. We have made a number of recommendations in recent years to help the Coast Guard improve its acquisition planning.
Read more about
 DHS's major acquisitions
in our blog.
Other National Security Acquisition Programs: 
Many CNSA reports inform Congress about the progress and challenges of other high-dollar defense programs, such as the
F-35 Joint Strike Fighter
—DOD's costliest acquisition to date—and the expansive
Ballistic Missile Defense System
. Listen to our podcast about Missile Defense.
Major NASA Projects: 
Our work on NASA's major projects explores the space agency's highly complex and expensive
human space exploration
programs. These programs include the Orion crew vehicle, the Space Launch System, and Exploration Ground Systems. We are also monitoring NASA's
Commercial Crew program
, in which Boeing and SpaceX are competing to build rockets powerful enough to propel astronauts to the International Space Station, deep space, and eventually to Mars. We keep an eye on NASA's unmanned programs as well, such as its cutting-edge and costly
James Webb Space Telescope
. Listen to our podcast about NASA's Major Projects.
CNSA Evaluates Government Investments in Critical Technologies
Science and Technology Investments: 
We  look at how national security agencies manage their investments in science and technology compared to best practices from private tech companies—such as
encouraging innovation
,
using prototyping
before starting development, and
conducting detailed systems engineering
to ensure that program goals are realistic, given available resources.
Protecting Critical Technologies: 
Our team also tracks efforts to protect technologies that are critical to U.S. security and military strategy. Critical technologies may be targets for theft, espionage, reverse engineering, or illegal export and are
vulnerable to cyber-attack
. Many technologies may be transferred through
foreign investments in U.S. companies
or
sold to foreign allies
.
Listen to our podcast about weapon system cyber security.

The security of some critical technologies relies on a
shrinking industrial base
and suppliers that are
under threat from a number of risk factors
. For example, some of our critical technologies depend on
rare earth minerals
imported from other countries or
microelectronics
that must be manufactured only by trusted sources. You can see these and more key issues by checking the "Government Operations," "National Defense," or "Space" boxes on 
this page
.
Impact
In fiscal years 2017 through 2018, CNSA's work saved taxpayers more than $47 billion. In addition, in 2018, agencies enacted 90 of our recommendations to improve their policies and practices, such as by making them more effective, efficient, or transparent.
---