Our Annual "Quick Look" at Homeland Security's Major Acquisitions
Posted on August 21, 2018
To help it carry out its many missions, which include preventing terrorism and managing U.S. borders, the Department of Homeland Security makes major purchases like ships, air passenger screening equipment, and IT. In fact, DHS estimates it will invest more than $207.2 billion in its major acquisitions—its portfolio currently contains more than 70 such programs, which generally cost more than $300 million each. We took a look at how these acquisition programs are performing in our recently issued
fourth annual report
on DHS acquisitions. Today's WatchBlog explores.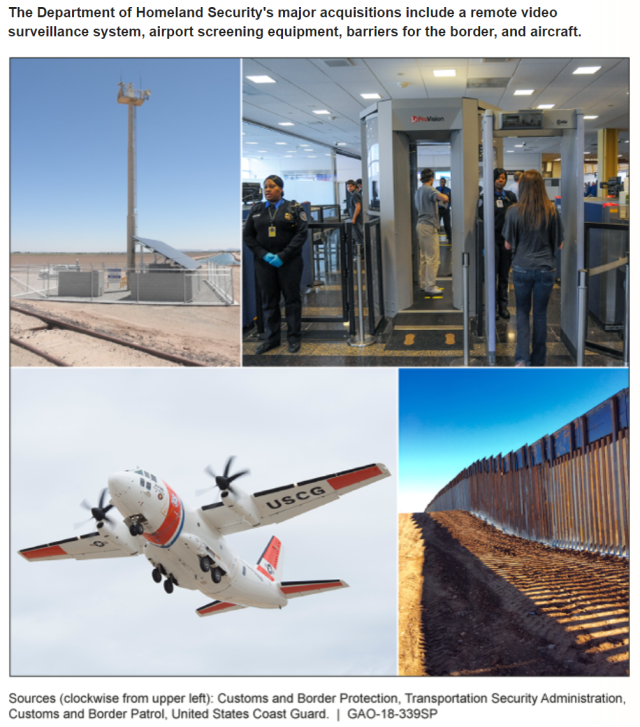 More programs are off track
This year, we found that 10 of the 24 major acquisitions we reviewed were on track to meet their cost and schedule goals. Of the other 14 programs, 6 had delays, 2 had cost increases, and 6 others had both delays and cost increases. That means more than half the programs will need more time and money than initially planned, an increase from
our last review
. Reasons for delays, increased cost, or changes in goals included
requirements for what the acquisition needs to be able to do changed
technical challenges
increases in contractor support
DHS could do more to share lessons learned across the department
We also found some improvements since our previous reviews in how DHS manages its portfolio of major acquisitions. For example, it has established policies in key areas that generally reflect GAO's best practices in program management. However, we found that DHS could do more to apply lessons learned from each program across its portfolio of programs. DHS acquisition programs conduct formal reviews 6 to 18 months after completion. The insights these reviews generate could better inform future investments across DHS. Currently, the information remains with the DHS component (such as Customs and Border Protection or the Coast Guard) overseeing each program. One of our two
recommendations
to DHS asked that they share these insights across the department.
GAO profiles of major DHS programs
Also included in our report are data-rich, two-page briefs on each program we reviewed, including some new, highly complex acquisitions like the southwest border wall and the Coast Guard's Heavy Polar Icebreaker. These are the places to look to see what DHS is developing, whether they are on budget, and how their testing is progressing.
For instance, the profile of the Multi-Role Enforcement Aircraft shows that the program is on track against its current plan, but may encounter challenges. This airplane, which is slated to replace three kinds of aircraft, can be configured to perform multiple missions. The current aircraft configuration has a maritime search radar and an electro-optical/infrared sensor for surveillance in the air, land and sea.
DHS plans to acquire 38 total aircraft of various configurations but has not yet defined what some of the aircraft are supposed to be capable of doing. We've found that capability requirements like this need to be defined early in the acquisition process to help avoid budget and schedule problems down the road. To learn more, check out
our report
.
---
Questions on the content of this post? Contact Marie Mak at makm@gao.gov
Comments on GAO's WatchBlog? Contact blog@gao.gov.