How Prepared is the Air Force?
Posted on October 11, 2018
Air Force readiness has declined steadily since the 1990s as its aircraft fleet has aged and become smaller. The Air Force is working to rebuild the readiness of its force but has also stated that it must grow significantly to meet future threats, which could take substantial resources.
We recently testified that as the Air Force grows, it must not overlook the health of its existing forces. Specifically, we identified a number of issues with how the Air Force manages its resources—especially its personnel and equipment—that it must resolve in order to be prepared for the future.
Today's WatchBlog explores how the Air Force can get back on track. Listen to our podcast then read on for more.
Personnel and training issues
The Air Force has had trouble finding enough people to fly and repair its aircraft. For example, we found that it's had progressively greater problems filling its fighter pilot positions between 2006 and 2017.
In addition to lacking pilots, between 2012 and 2016, the Air Force also didn't have enough aircraft ready or the training ranges it needed for pilots to meet their annual training requirements.
Equipment maintenance
From 2011 through 2016, we found that the Air Force was generally unable to keep some of its key aircraft available for missions—mostly due to aging aircraft, repair delays, and a lack of spare parts.
The Air Force plans to buy over 1,700 F-35 aircraft to replace some of its older planes. However, the F-35 is also experiencing significant maintenance challenges that limit its availability for missions.
Organization and Use
The Air Force's management of its limited force has made existing problems worse. For example, the Air Force depends on its small fleet of high-end F-22 fighter jets for fights against advanced adversaries, but the Air Force's organization of the fleet limits its availability. We found that in 2016, on average, only 80 of the Air Force's 186 F-22s were available for operations. Further, Air Force decisions on how the F-22 is used reduce opportunities for pilots to receive adequate training.
Organizational decisions affected F-22 availability (shown here with vapor as it performs a high-speed maneuver)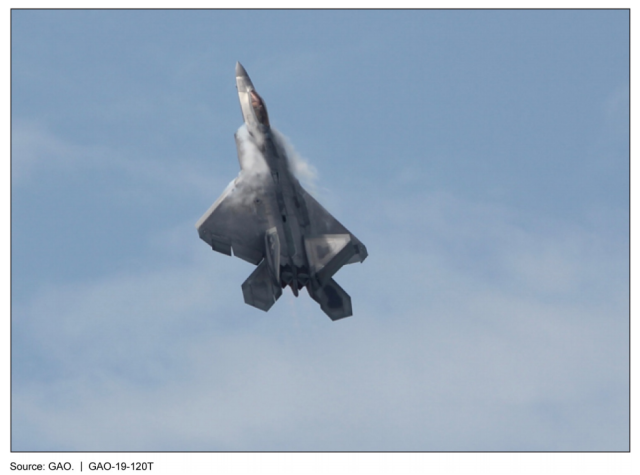 Looking to the future
Over the past 3 years we've recommended that the Air Force take 14 actions to address these and other issues, including updating policies for maintaining older aircraft and reevaluating fighter pilot workload. The Air Force agreed with most of our recommendations but has only implemented 1 of the 14 to date—developing a strategy for virtual training. Addressing all of our recommendations would help the Air Force meet its current and future needs.
To learn more about these challenges and their effects on the Air Force, check out our recent testimony.
---