Climate Change Adaptation at U.S. Military Bases around the World
The vast global network of bases used by the U.S. military faces significant risks from the weather effects associated with climate change. DOD has made efforts to adapt its overseas bases to these effects, but does it have the information and plans it needs?
Today's WatchBlog explores our report on DOD's efforts to adapt its overseas bases to the weather effects associated with climate change.
In every overseas region, DOD bases are vulnerable to extreme weather 
The U.S. military's almost 600 overseas sites, including many owned by host nations, are critical to maintaining the readiness of military forces. And they represent a massive investment. In 2014, DOD estimated the cost to replace these sites would be about $158 billion.
As we reported in 2014, DOD's infrastructure is vulnerable to the impacts of climate change (such as rising sea levels and rising temperatures), and to the expected impacts of weather effects associated with climate change (including flooding, wildfires, and extreme wind). That leads to two types of risks:
Budgetary risks, such as the cost of repairing facilities.
Operational risks, such as curtailed testing and training activities because of storms and fire.
To examine the impacts of these vulnerabilities, we contacted or visited 45 bases for our report. In each of DOD's six combatant commands—which together cover every region of the globe—we found examples of how the expected impacts of weather effects associated with climate change pose risks to DOD.
Personnel at a DOD base in Europe reported an increasing number of extreme wind storms damaging equipment and infrastructure, which means more frequent repair costs. They reported 11 years of these costs, totaling almost $7 million.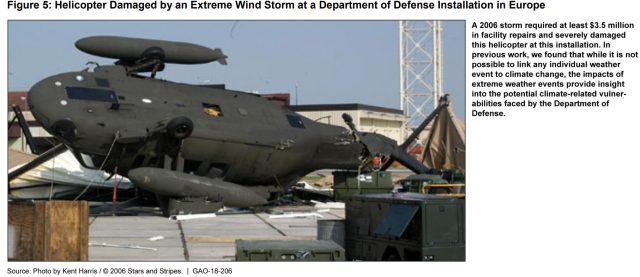 At another European DOD base, rapid erosion caused by flooding is threatening a communications system that supports a broad set of military missions. Base personnel estimated that erosion will reach the system's first satellite dish in 1 to 2 years, likely causing the dish to "fall off the face of the hill," with a replacement cost of approximately $70 million. (The most recent version of the base's infrastructure plan does address climate change, but the communications site was built before this version of the plan.)
At a DOD installation in Africa, high tides flood an area used for loading combat aircraft. The resulting erosion also threatens the base's security fence, potentially compromising measures aimed at preventing terrorism and protecting the base.
 We visited two DOD locations in the Pacific with planned host-nation-funded construction projects to repair seawalls protecting ammunition depots. However, DOD personnel explained these repair projects do not account for a potential increase in average sea levels, which may limit access to the ammunition depots during training and operations.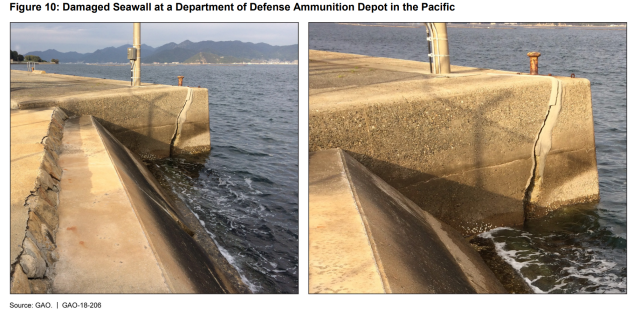 DOD lacks full information and plans for dealing with climate change adaptation
DOD has taken some steps to assess and plan for risks associated with climate change, but we've found:
DOD has incomplete data. Over the past several years, DOD surveyed its bases to determine the impacts of weather effects associated with climate change. But it did not survey all of its bases—more than half of the department's key overseas sites were not included. As a result, DOD is missing critical information.
Individual bases lack plans. We reviewed plans at individual bases for managing natural resources and building infrastructure. Approximately two-thirds of the bases in our sample had not integrated climate change adaptation into their plans. Further, designs of individual projects rarely included climate change adaptation.
Individual bases are not tracking costs. At a majority of the bases we contacted, DOD personnel were not systematically tracking costs from weather effects associated with climate change. As a result, DOD does not have a complete picture of the budgetary risks that climate change poses to infrastructure on its overseas bases.
Agreements with host nations lack climate change adaptation. In some of the allied nations that host U.S. military bases, DOD and allies share costs for construction. But DOD pays for the facilities' sustainment and maintenance— the types of costs often associated with climate change impacts. These facilities can last for 50 years or more. However, the processes through which DOD collaborates with these allied nations generally do not take into account climate change adaptation. As a result, DOD facilities built by host nations may be at risk of unplanned-for higher sustainment and maintenance costs for decades.
We recommended that DOD re-administer its vulnerability assessment survey to include all relevant sites; integrate climate change adaptation into relevant standards; require overseas bases to systematically track costs associated with climate impacts; and include climate change adaptation in host-nation agreements.
Check out our report to learn more.
---