Was your home built before 1978? If so, there's a chance that it contains some lead paint.
The Department of Housing and Urban Development estimates that roughly 35 percent of U.S. homes contain some lead-based paint.
So, what does this mean for you—and for your kids?
For National Healthy Homes Month, today's WatchBlog explores our new report on lead paint in housing.
Caution: Children at play
Lead paint hazards in houses are the most common source of lead exposure for U.S. children. Kids, especially infants and toddlers, are at a much greater risk of exposure to lead than adults because they crawl around floors that may contain lead dust, and frequently put items in their mouths.
The Centers for Disease Control and Prevention estimated that approximately half a million U.S. children have blood lead levels high enough for targeting prevention-related actions. The CDC also says that there is no safe level of lead in the blood.
Lead exposure also has more serious health impacts for kids than adults. When absorbed into the body, lead can damage the brain and nervous system, slow development and growth, and cause learning or behavioral problems.
Federal help
In 1978 the United States banned lead-based paint in housing but a significant amount of homes built before then may contain lead paint. Areas that have a high concentration of homes built before 1978, as well as high poverty rates, are most at risk of lead paint hazards.

HUD awards grants to state and local jurisdictions to help address lead paint hazards in low-income housing where young children are likely to live. Over the past 5 years, HUD awarded roughly $500 million in these grants—mostly to jurisdictions in the Northeast and Midwest, which are known to have a high prevalence of lead paint hazards.
Other areas with notable risk include the San Francisco Bay Area and the greater Los Angeles area. Check out our interactive map to learn more about areas of the country with lead-paint hazard risk.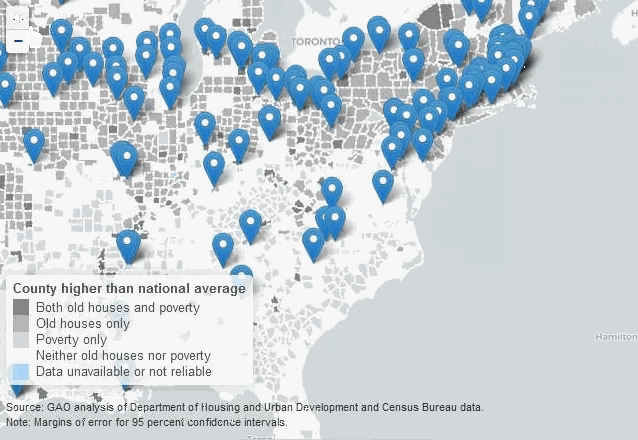 We took a look at these HUD grants, as well as other efforts by the department to ensure that housing with lead paint is safe for children, and recommended a number of additional actions. For example, HUD could strengthen its oversight of public housing authorities' compliance with lead paint regulations.
Find out more in our full report.
---