Bottom's Up to Clean Drinking Water!
In honor of World Water Day, today's WatchBlog takes a look at our recent work on efforts to keep drinking water free of lead and other contaminants in homes, businesses, and military installations.
Lead in Drinking Water
No level of lead is safe in drinking water. Lead accumulates in the body over time, causing long-lasting effects, particularly for children and pregnant women. Our recent video explains how lead can enter drinking water, and what you can do to reduce your risks.
Given how damaging lead is to the human body, what's being done to keep it out of your drinking water?
The Environmental Protection Agency's Lead and Copper Rule requires local water systems to monitor drinking water at locations where lead may be present and periodically obtain tap water samples. Single family homes are the highest priority. Where lead levels are too high, water systems are to take action to control corrosion, inform the public, and (in some cases) replace lead pipes. Some aspects of the rule are complex, and responsibilities for implementing it are generally shared by EPA, states and local water systems.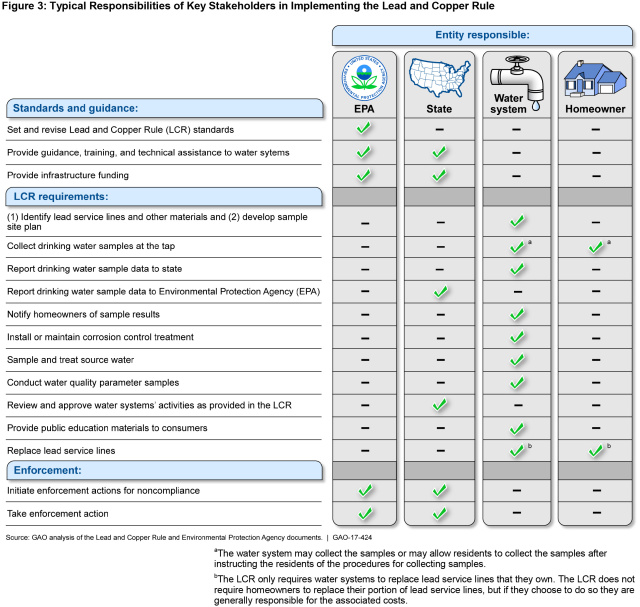 Although the rule requires water systems to test in high-risk homes and buildings with lead pipes, the locations of many lead pipes are unknown. Among other things, we recommended that the EPA collect additional data on lead pipes to improve its oversight of the rule.
Military Installations and Drinking Water Contamination
Firefighters on military installations depend on firefighting foam to stop fires, but what happens when drinking water on and around military installations is contaminated with firefighting chemicals?
DOD and EPA have found perfluorinated chemicals in drinking water at or near military installations.  These chemicals are found in firefighting foam along with other items used by DOD, like rocket propellants, and may cause cancer and other health issues. Our recent report looks at DOD's efforts to comply with and report on its compliance with drinking water regulations.
In general, we found that DOD public water systems comply with federal and state health-based drinking water regulations. However, we found military departments did not report all violations of health-based drinking water standards to the appropriate DOD office for at least 16 installations, as required by military policy. These installations serve approximately 180,000 people.
In addition, the military departments identified 391 active and closed installations with known or suspected releases of two perfluorinated firefighting chemicals (called PFOS and PFOA) into drinking water, for which DOD initiated environmental investigations and mitigation actions, and which we describe next.
DOD's Efforts to Cleanup Drinking Water
DOD has taken steps to limit individuals' exposure to some chemicals, including providing alternative drinking water supplies and installing water treatment systems.
Environmental investigations and mitigation activities occurred at about 67% of affected locations, where DOD spent almost $200 million. Shutting down wells, providing alternate water sources, or installing water treatment systems are all ways DOD has responded to elevated chemical levels.
Still, DOD's incomplete internal reporting limits its ability to monitor installation compliance with safe drinking water regulations.
We made 5 recommendations to improve DOD's data, reporting, and oversight of drinking water regulations.
For more information about GAO's work on drinking water, visit our water quality key issues page.
---