Tracking Deliveries and Inventory of DOD Assets
Posted on October 05, 2017
These days, if you order an item online, you can usually track it as it makes its way from the warehouse to your doorstep. It isn't quite so simple for the Department of Defense—which has struggled for years to be able to provide accurate information on the location, quantity, and condition of its assets (e.g., spare parts, food, and fuel).
Since 1990, we have included DOD supply chain management on our biannual High Risk list, which discusses, among other things, federal areas in need of broad-based transformation to improve operations. In 2005, we added "asset visibility" to DOD's supply chain management high-risk area.
Today's WatchBlog explores DOD's recent progress in improving its ability to track items in its inventory, and discusses the challenges that remain.
20+ Years' Worth of Progress
During the Gulf War, military commanders were often unsure of the status of food, fuel, and other critical supplies they'd ordered. Thousands of shipping containers were arriving on base without clear information about their contents.
Since then, DOD has taken steps aimed at improving how it tracks its items.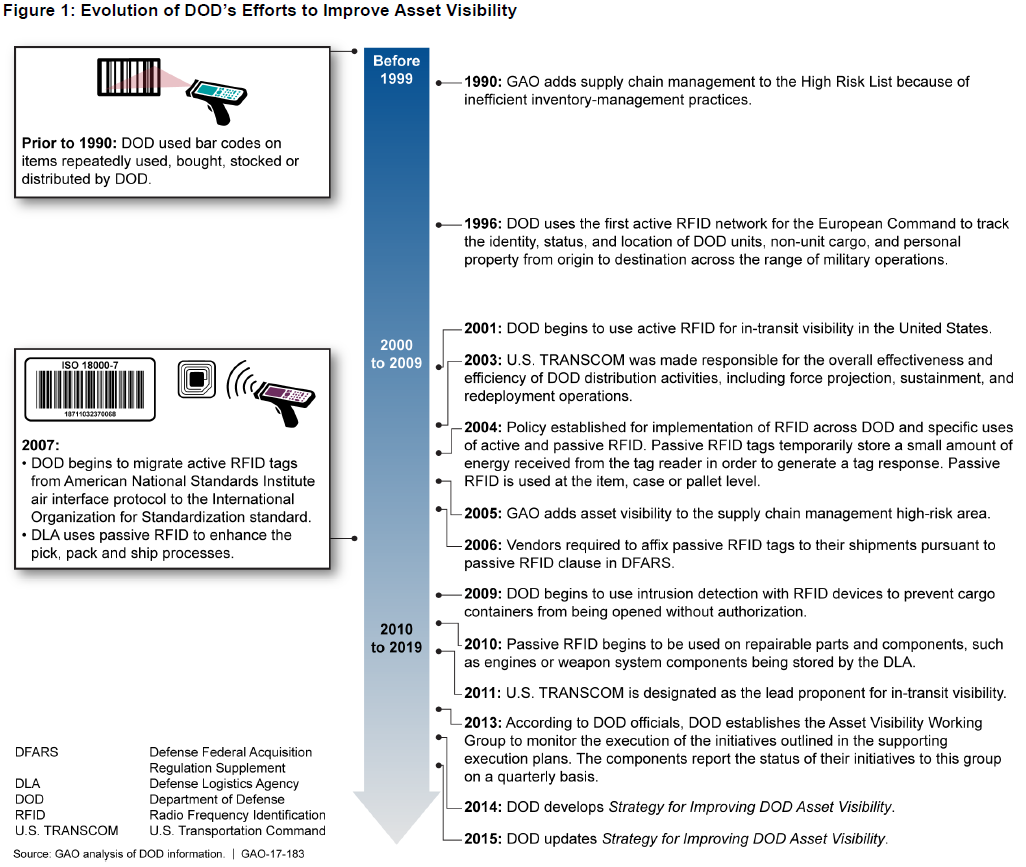 (Excerpted from GAO- 17-183)
Over the past several decades, DOD has made both policy and technological changes aimed at improving accountability over its inventory. More recently, DOD issued—and updated— strategic plans aimed at improving how it tracks and shares information about its inventory. These plans included 30 "asset visibility" initiatives for specific departments and entities to undertake.
Going forward
Although these strategic plans are an encouraging step, we found that DOD couldn't really evaluate whether the specific initiatives identified in the plans were working because the measures developed to evaluate progress were inadequate.
For example, before knowing whether an effort is working, there has to be a good understanding of the problem—a starting point against which to measure progress. Six of the eight projects we reviewed lacked this essential, baseline information. One project involved creating unclassified tracking numbers to allow for the tracking of classified equipment, supplies, and critical commodities without compromising the security of the military operation on the receiving end. But since the extent of the initial tracking problem was never measured, DOD can't evaluate whether the new, unclassified tracking numbers helped address it.
Instead of relying on clear, objective performance measures, DOD relied on experts familiar with the day-to-day operations of specific asset visibility initiatives to inform decision-making—including whether or not to close them. While including the input of subject matter experts in such decisions is important, absent reliable performance measures, DOD can't be sure that closed initiatives achieved their goals.
To address these challenges, we recommended that DOD update its asset visibility strategies to include clear, quantifiable, and reliable measures to evaluate program performance.
---