Human Trafficking in the United States
Posted on August 23, 2016
Human trafficking— using force, fraud or coercion to exploit a person for the purposes of commercial sex or to work against their will—happens in the United States. But it's not always easy to recognize the victims or understand the scope of the problem.
We recently examined some of the challenges the federal government faces in combating human trafficking—and here's what we found.
An underreported crime with many faces
The victims of human trafficking are diverse in terms of race, ethnicity, and sexuality, and include
women, men, and transgender individuals;
adults and children; and
citizens and foreign nationals.
Victims are often already vulnerable, such as missing or runaway youth or someone with a drug addiction.
And the perpetrators can be almost anyone: family members, intimate partners, acquaintances, or strangers. They may act alone or within a criminal network. Traffickers may lure victims with false promises—such as offering a seemingly legitimate job—and force victims to remain in the situation with threats, abuse, or by withholding identification and immigration documents.
But, given the clandestine nature of trafficking, nobody really knows how prevalent it is. While federal efforts are underway to collect data, most of what is known is from information reported to law enforcement or hotlines—and these crimes are likely underreported.
Building cases against human traffickers
Even when trafficking is spotted and reported, law enforcement may not be able to build a case. It is difficult to distinguish human trafficking from legal activities, such as child care or restaurant workers, or from other crimes (such as prostitution). Victims may also distrust law enforcement and be unwilling to cooperate, fearing retaliation from the trafficker or not seeing themselves as victims. In fact, when U.S. Attorney's Offices have had to decline human trafficking cases, the main reason was insufficient evidence.
Awareness about human trafficking can help fight it. So, some groups are taking steps to raise public awareness of the problem. The Department of Homeland Security, for example, is running its "Blue Campaign" to provide information to the public and training to law enforcement.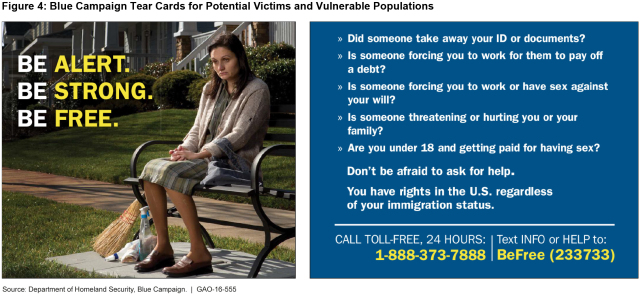 (Excerpted from GAO-16-555)
Collaborating to stop traffickers in their tracks
Federal agencies, state and local law enforcement, and non-governmental organizations have taken a collaborative approach to combating human trafficking in the United States. Federal agencies such as the Departments of Justice, Homeland Security, Labor, and State play a key role in investigating and prosecuting offenders, training officials, and providing public awareness campaigns. At the local level, agencies and organizations help meet victims' short- and long-term needs, such as legal and immigration services, employment and education assistance, food and clothing, and medical and child care.
To see law enforcement data on human trafficking investigations, arrests, and convictions, as well as details on the 42 federal grant programs that combat trafficking or assist victims, check out our full report.
---