Strengthening the Federal Workforce
The first week of May is
Public Service Recognition Week
, honoring the people who serve the country—and the public. It's also a time for us to examine federal agencies and the Office of Personnel Management's efforts to hire, develop, and retain skilled employees. Read on for what we've learned since
last May
.
Making progress
Federal human capital management is
1 of 32 areas on our High Risk list
. It's there because the federal government is facing skills gaps in occupations such as cybersecurity. This is occurring at a time when the nation faces complex challenges, such as protecting national and homeland security, responding to disasters, and addressing privacy and IT issues. To address some of these issues, federal agencies and OPM have been working hard to create an environment that attracts and retains high-performing employees. Since last year, we've found progress in a few areas.
Employee engagement. Each year, OPM surveys federal employees about how engaged they are with their work. Since last year's post, we found these scores have held steady or improved. We believe this reflects both federal agencies' hard work in the face of tough times, and many federal employees' dedication to getting the job done.
Training. In today's fast-paced world, the federal government, like any business, must identify critical and emerging skills needed in its workforce. We recently reported that the Federal Protective Service developed leadership, security technology, and other courses to help fill gaps in employee training, according to service officials.
Inclusiveness. In 2015 we found that some federal agencies were trying to create a more inclusive workplace, which in turn helps create a stronger, more united workforce. For example, the National Mediation Board created a strategic plan to recruit a more diverse workforce and the Federal Trade Commission established Diversity Councils in order to create a more engaged, diverse workforce.
The coming retirements
While progress is being made in some areas, there are still some daunting challenges ahead, such as an anticipated wave of retirements. We often talk about the aging of America as a
federal budget issue
. But it's also an issue for the federal government. Around a third of permanent federal employees on board as of September 30, 2014, will be eligible to retire by 2019.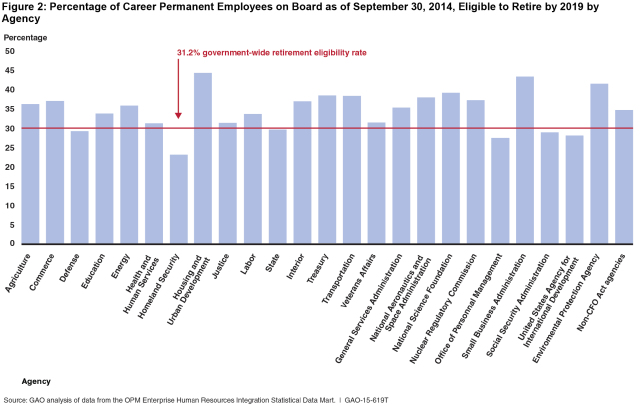 (Excerpted from GAO-15-619T)
This potential wave of retirements could create gaps in leadership as well as loss of institutional knowledge at all levels. To make sure this doesn't happen, federal agencies must keep up their efforts to recruit and retain quality employees. To learn more about the government's efforts, check out the resources on our webpage, including the 
 leading practices in human capital management
 and 
strategic human capital management
 key issue pages. For more information on the human capital issues most in need of transformation, and our recommendations for how to address them, see the issue on our
2015 High Risk list
.
---