Posted on February 11, 2015
As an agency, we focus on improving the operations of a large, complex federal government that is responsible for trillions of dollars in spending and revenue collection. In 1990, we started a program to report on government operations that we identified as "high risk" due to their greater vulnerabilities to fraud, waste, abuse, and mismanagement, or their need for fundamental transformation. Since the beginning of the
High Risk program
, we have updated the High Risk List and reported on the status of progress to address high-risk areas—generally at the start of each
new Congress
. Our most
recent report
, issued today, discusses 32 high-risk areas, including for each
Why it is high risk,
What GAO found, and
What remains to be done.
Watch this video from the Comptroller General of the United States for an introduction to the report.
New, Expanded, and Narrowed Areas
This year's report included several changes. We added 2 areas to the list:
We
expanded
2 areas to include new issues:
We also
narrowed
2 other areas because of improvements made in management and oversight:
New Rating System
This year, we also introduced a new star rating system. The 5 points on the star represent the 5 criteria we track to determine if areas should be removed from the High Risk List. These criteria are (1) Leadership Commitment, (2) Capacity, (3) Action Plan, (4) Monitoring, and (5) Demonstrated Progress. For example, this is the rating for Mitigating Gaps in Weather Satellite Data: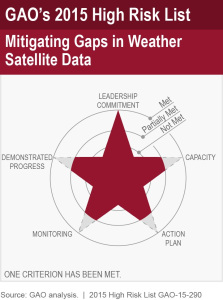 This short, animated video explains more: As described in our podcast, progress in High Risk areas is possible with concerted congressional and executive branch action.   Explore all of our High Risk areas and related multimedia at
GAO.gov
.
---
Questions on the content of this post? Contact J. Christopher Mihm at mihmj@gao.gov.
Comments on GAO's WatchBlog? Contact blog@gao.gov.