Posted on October 16, 2014
In 1979, the Food and Agriculture Organization of the United Nations (FAO) designated October 16th as World Food Day to bring attention to the crisis of global hunger. According to FAO, there are more than 800 million people around the world who are chronically malnourished. The United States is the largest donor of international food assistance, spending about $2 billion per year to provide food assistance to countries where people are facing food shortages and malnutrition. In addition, the United States tries to help with emergency food aid to address humanitarian crises, such as the current crisis in Syria, and with programs that support agricultural development. We have reviewed several of these U.S. programs to address global hunger. Here are some of our key findings:
Feed the Future led to coordination efforts for fragmented programs: As recently as 2010, U.S. global food security programs were fragmented across several agencies and not well coordinated. Since then, U.S. Agency for International Development (USAID) has spearheaded the Feed the Future initiative to increase agricultural productivity and reduce malnutrition among kids in 19 countries with chronic food insecurity. To that end, USAID has taken a whole-of-government approach and made progress in coordinating the various U.S. global food security programs.
Excerpted from GAO-13-809
Positioning emergency food aid in warehouses improved delivery times: Sudden disasters or persistent yearly droughts can necessitate shipments of emergency food. To help ensure that these food shipments get to needy people in a timely fashion, USAID has been storing some food in domestic and overseas warehouses before emergencies happen. Our analysis showed that USAID has indeed reduced the average time it takes to deliver emergency food aid, as illustrated in the figure. However, USAID doesn't collect and analyze data needed to monitor delivery times, which could allow it to improve its delivery times even more. Hear our podcast for more on this report.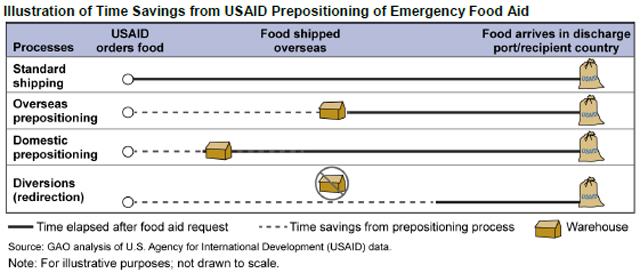 Excerpted from GAO-14-277
Funding food-related development projects by monetizing U.S. food commodities is inefficient: The United States has a long-standing practice of funding development projects meant to help people facing food insecurity by monetizing U.S. food commodities—purchasing, shipping, and selling them in developing countries. However, we found that this practice is inefficient and can actually hurt the domestic agricultural markets in developing countries that are already challenged in meeting the food needs of their people. As shown in the figure, the United States spent $219 million over a 3-year period to cover the costs associated with purchasing, shipping, and selling U.S. food commodities, rather than spending the funds directly on development projects.
Excerpted from GAO-11-636
Buying food close to where hungry people live has advantages over buying food in the United States and shipping it overseas: It can be much more cost effective and allow for more timely assistance, as shown in the figure. This practice can also have the added benefit of supporting the local or regional agricultural sector, rather than undercutting it with imported food.
Excerpted from GAO-09-570
---
Comments on the WatchBlog? Contact blog@gao.gov.
GAO Contacts
Thomas Melito
Managing Director