Indian Health Service:
Spending Levels and Characteristics of IHS and Three Other Federal Health Care Programs
GAO-19-74R
Published: Dec 10, 2018. Publicly Released: Dec 10, 2018.
The Indian Health Service (IHS) provides health care to 1.6 million American Indian and Alaska Native people. We examined IHS's spending levels and characteristics and those of three other federal programs—Medicare, Medicaid, and the Veterans Health Administration.
In addition to varied spending levels, the programs differ significantly in terms of design. For example, IHS provides care through facilities that are often small, rural, and offer mostly primary and emergency care services. In contrast, Medicare pays for a more diverse set of health care services provided in facilities of varying sizes and locations.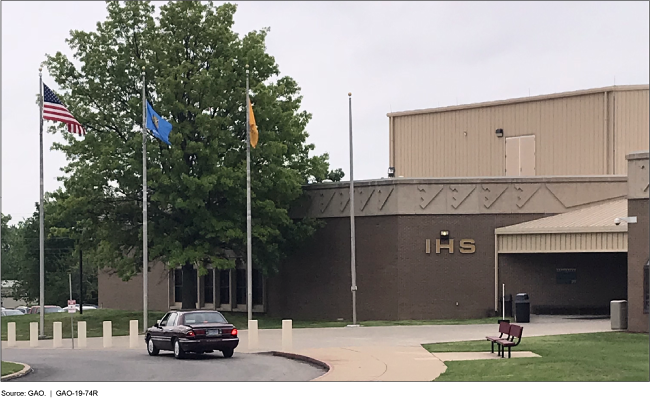 Photograph showing an Indian Health Service facility.
Skip to Highlights
What GAO Found
There are several key differences in terms of design and structure, funding, and populations served, between Indian Health Service (IHS) and three other federal health programs--the Veterans Health Administration (VHA), Medicaid, and Medicare. For example, Medicare and Medicaid are entitlement programs and have no annual spending caps, while IHS and VHA have funding that is largely determined through the annual appropriations process and have specific spending limits.
Other important differences include:
Program Design and Structure: IHS and VHA are direct health care providers that operate health care facilities and employ health care professionals. In contrast, Medicare and Medicaid are entitlement programs that act as public insurers for their beneficiaries and pay health care providers for covered health care services.
Funding Mechanism: IHS and VHA must deliver services within their available appropriations. Thus, any increases in the number of people served could result in reductions in per capita spending, absent increased funding. Medicare and Medicaid, as entitlement programs, have no spending caps. Instead, spending for these programs is controlled by Congress through a modification of benefits or changes to the way providers are paid.
Service Availability: While each of the programs can pay for a wide variety of services, there are differences in the actual availability of certain services. Medicare and Medicaid pay for primary and specialty services in a variety of hospital and other settings in all parts of the country. In contrast, most IHS facilities are smaller, in rural areas, and primarily offer primary and emergency care services. While IHS is able to pay external providers to provide care not available at these facilities, the agency has reported that those funds are not sufficient to pay for all necessary care.
Population Needs and Services Provided: The four programs serve populations with different health needs and issues, and therefore provide or pay for a wide variety of services with varying costs. For example, while IHS has a younger population overall, its users have higher rates of diabetes, alcoholism, and accidental deaths. Medicare users, on the other-hand, tend to be older and need more expensive inpatient care and other costly treatments, such as ongoing kidney dialysis.
Per Capita Spending Levels in 2017 and Selected Characteristics for Four Federal Health Programs—Indian Health Service, Veterans Health Administration, Medicare, and Medicaid
Notes: Some individuals may receive or have services covered through more than one program; however, the reported per capita spending amounts do not account for spending across multiple programs. While IHS and VHA received most of their funding from annual appropriations, they also received mandatory amounts for specific purposes. For IHS, GAO calculated per capita spending as total obligations divided by the number of individuals served. IHS defines individuals served as those who have accessed a federally or tribally operated facility at least once over the past 3 years. For VHA, the per capita spending represents obligations per unique patient (uniquely identified individuals treated by VHA or whose treatment is paid for by VHA). For Medicare and Medicaid, GAO reported on expenditures (including those by states in the case of Medicaid) by the number of individuals served. Spending for Medicare represents total expenditures from the Medicare trust funds and does not include beneficiary cost-sharing spending. The data for IHS, VHA, and Medicaid are for fiscal year 2017, and the Medicare data are for calendar year 2017. The Medicaid data are based on estimates published by CMS's Office of the Actuary, as actual data were not yet available at the time of this report.
Why GAO Did This Study
IHS, within the Department of Health and Human Services (HHS), provides health care services to approximately 1.6 million American Indian and Alaska Native (AI/AN) people through federally and tribally operated health care facilities. Advocates for AI/AN people have longstanding concerns regarding whether IHS has sufficient funding to provide eligible individuals with all needed services. Specifically, they have cited IHS's lower funding relative to other federal health programs for other populations.
GAO was asked to compare IHS program characteristics, including spending levels, to those of other federal health care programs. In this report, GAO presents information on the spending levels and program characteristics for IHS, VHA, Medicare, and Medicaid from 2013 through 2017. To do so, GAO analyzed budget and program documents from the four programs to determine total annual spending levels and spending on a per capita basis. For IHS and VHA, GAO analyzed total obligations per fiscal year. For Medicare and Medicaid, spending is measured by expenditures (including those by states for Medicaid). One inherent limitation to our analysis is that the per capita spending amount for each program does not directly account for spending for beneficiaries who are eligible for multiple federal programs.
We provided a draft of this report to HHS and the Department of Veterans Affairs. Both departments provided us with technical comments, which we incorporated as appropriate.
For more information, contact Jessica Farb at (202) 512-7114 or FarbJ@gao.gov.