Antiterrorism Assistance Program:
State Should Improve Data Collection and Participant Oversight
GAO-18-149T
Published: Oct 04, 2017. Publicly Released: Oct 04, 2017.
The State Department spends more than $100 million a year to provide counterterrorism training, such as hostage rescue techniques, to foreign law enforcement personnel.
However, State's data on training courses and participants are incomplete and sometimes inaccurate. In addition, it doesn't have a process to confirm that participants trained outside their countries return home to use the training. State was thus unaware that some participants failed to go home after training.
In the report on which this testimony is based, we recommended that State improve its data and develop a process to confirm participants returned home after training.
Antiterrorism Assistance Participants in Training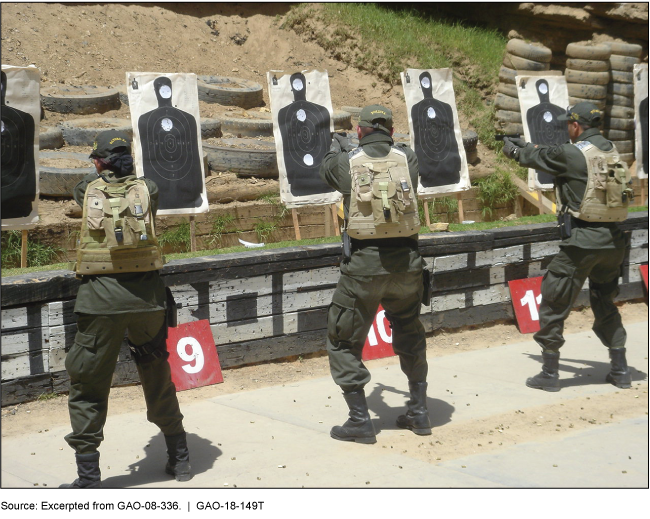 Three people in uniform at a shooting range are pointing pistols at human-shaped targets.
Skip to Highlights
What GAO Found
Weaknesses exist in Department of State (State) Antiterrorism Assistance (ATA) program data and oversight of participants, including those trained in the United States. ATA course and participant data are incomplete and sometimes inaccurate, despite ATA's procedures for the collection of those data. ATA officials told GAO that procedures were not always followed. Without ensuring the implementation of procedures to collect complete and accurate program data, officials may not be able to accurately report the number of participants trained, in line with program performance indicators. Among participants trained in the United States since 2012, ATA has documented 10 participant unauthorized departures from ATA activities and provided related information to the Department of Homeland Security (DHS) for follow-up. In addition to these 10, ATA recently identified 20 ATA participants trained in fiscal years 2012 through 2016 for whom departure from the United States following the completion of training is unconfirmed. ATA officials told GAO there is no formal process to confirm participants' return to their home countries following the completion of training (see fig.). Without such a process, ATA may not be able to assess the extent to which it is using training in line with program goals. Further, State may not be able to provide information to DHS about participants whose failure to depart may warrant enforcement action.
State's Process for Overseeing Domestic ATA Training Participants
State and the contractors who implement ATA training have taken steps to ensure that facilities used for domestic training align with applicable security requirements. State's ATA training contract requires the secure storage of weapons and explosives and that the contractors have the relevant federal, state, and local permits. State reports overseeing the contractors through the receipt of copies of relevant licenses such as those required for possessing explosives; visits to the training facilities, including surveys examining storage security; and frequent meetings. Both of the domestic tactical training facilities that GAO visited had relevant licenses and, during site visits, GAO observed some suggested security measures, including fences, secured gates, and security patrols.
Why GAO Did This Study
This testimony summarizes the information contained in GAO's September report, entitled Antiterrorism Assistance: State Department Should Improve Data Collection and Participant Oversight (GAO-17-704).
For more information, contact Jessica Farb at (202) 512-6991 or farbj@gao.gov.