Democracy Assistance:
State Should Improve Accountability Over Funding; USAID Should Assess Whether New Processes Have Improved Award Documentation
GAO-18-136
Published: Dec 14, 2017. Publicly Released: Dec 14, 2017.
Promoting democracy abroad has been a long-standing U.S. priority.
We examined how much money U.S. agencies pledged for democracy assistance in fiscal 2012-2016 and how they awarded the funds.
We found USAID obligated $5.5 billion, but we could not determine a total for the State Department because some of its bureaus could not provide reliable data. In addition, in our sample we found USAID seldom documented award-related decisions in a complete and timely manner.
We recommended that State improve data reliability and that USAID assess whether its new processes are improving award documentation.
Total Obligations and Number of Awards for USAID Democracy Assistance, by Award Type, for Fiscal Years 2012 through 2016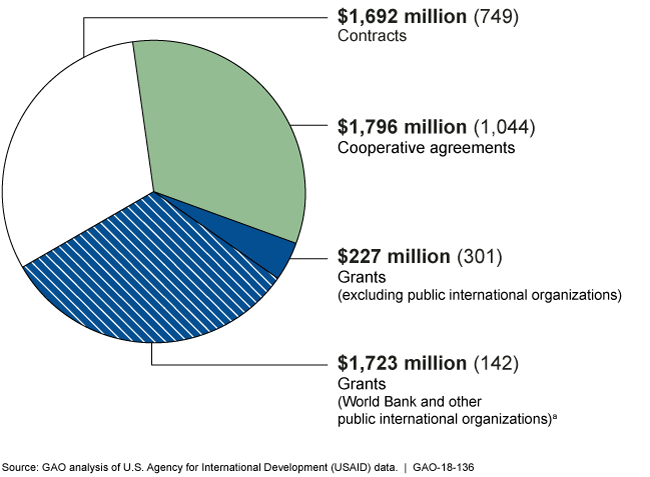 In FY12-16 USAID about evenly split $5.5 billion among contracts, grants and cooperative agreements.
Skip to Highlights
What GAO Found
In fiscal years 2012–2016, the U.S. Agency for International Development (USAID) obligated $5.5 billion and the National Endowment for Democracy (NED) obligated $610.2 million in democracy assistance funding. The total funding the Department of State (State) obligated for democracy assistance could not be reliably determined. One-third of all USAID obligations were provided through public international organizations (PIOs), which under USAID guidance are composed principally of countries or other organizations designated by USAID; 94 percent of PIO obligations were provided to the World Bank for democracy assistance projects in Afghanistan. The remaining two-thirds of USAID obligations were provided through contracts, grants (excluding PIOs), and cooperative agreements. Of the 10 State bureaus providing democracy assistance, 3 were unable to provide reliable funding data for fiscal years 2012–2016. Data from these bureaus were incomplete, nonstandard, or inaccurate. Federal internal control standards call for agencies to use quality information from reliable sources to achieve intended objectives and to monitor activities. Without such data, State cannot effectively monitor its democracy assistance programming and report reliable data externally.
For the awards GAO sampled, USAID generally did not document decisions about whether to award a contract, grant, or cooperative agreement (known as award-type decisions) in a complete and timely manner. According to applicable USAID guidance, agency officials were required to (1) document the final award-type decision with their written determination, including a rationale based on the requirements of the Federal Grant and Cooperative Agreement Act, and (2) complete this documentation before award solicitation occurs or, for noncompetitive awards, before USAID initiated communications with a potential sole-source awardee. However, USAID provided both complete and timely documentation of the award-type decision for 5 of the 41 awards GAO sampled. For the remaining 36 awards, the documentation was either incomplete, not timely or timeliness was indeterminate, or both (see table). While USAID has taken steps to improve documentation for award-type decisions by updating its guidance and templates, it has not assessed whether these updates have resulted in complete and timely documentation. It is important that USAID document these decisions in advance of solicitation because the selection of an award type may affect requirements for administering the award, including competition and oversight requirements and whether or not profit is permissible.
Documentation and Timeliness of Award-Type Decision for Selected USAID Awards
| | | | | | |
| --- | --- | --- | --- | --- | --- |
| Award type | Awards in sample | Awards lacking any documentation | Awards with partial or complete documentation | Timely | Not timely/ timeliness indeterminate |
| Contracts | 13 | 3a | 10 | 2 | 8 |
| Grants | 5 | 1 | 4 | 2 | 2 |
| Cooperative agreements | 23 | 6 | 17 | 2 | 15 |
| Total | 41 | 10 | 31 | 6b | 25 |
Source: GAO analysis of U.S. Agency for International Development (USAID) information. | GAO-18-136
aThree of the contracts in the sample were base awards with task orders issued under them; GAO did not receive documentation of the award-type decision for the base awards.
bOne award that GAO deemed timely did not have complete documentation of the award-type decision.
Why GAO Did This Study
Supporting efforts to promote democracy has been a foreign policy priority for the U.S. government. In recent years, USAID and State have allocated about $2 billion per year toward democracy assistance overseas. Congress required USAID and State to each establish guidelines for and report on the use of contracts, grants, and cooperative agreements for certain democracy programs.
GAO was asked to review U.S. democracy assistance. This report (1) examines funding USAID, NED, and State obligated for democracy assistance primarily through contracts, grants, and cooperative agreements and (2) evaluates documentation of USAID award-type decisions, among other objectives.
GAO analyzed USAID, NED, and State democracy assistance award data for fiscal years 2012–2016. GAO also reviewed relevant regulation and agency policies and analyzed documentation for a nongeneralizable sample of USAID awards selected based on factors such as award type, program area, and country.
Skip to Recommendations
Recommendations
State should improve the reliability and completeness of its democracy assistance funding data, and USAID should assess whether steps taken are resulting in complete and timely documentation of democracy assistance award-type decisions. State and USAID concurred with GAO's recommendations and described actions planned or under way to address them.
Recommendations for Executive Action
Agency Affected
Recommendation
Status
Department of State

Priority Rec.

The Secretary of State should direct the Bureau of International Narcotics and Law Enforcement Affairs to identify and address factors that affect the reliability of its democracy assistance data, such as miscoded or missing data. (Recommendation 1)

Department of State
The Secretary of State should direct the Director of the Office of U.S. Foreign Assistance Resources to implement a process to improve the reliability, accessibility, and standardization of democracy assistance data across the geographic regions of the Bureaus of European and Eurasian Affairs and South and Central Asian Affairs, such as utilizing a centralized database for award data. (Recommendation 2)

U.S. Agency for International Development
The USAID Administrator should direct the Office of Acquisition and Assistance to assess whether current processes and procedures as outlined in revised guidance result in complete and timely documentation of award-type decisions for democracy assistance. (Recommendation 3)