Newborn Screening Timeliness:
Most States Had Not Met Screening Goals, but Some Are Developing Strategies to Address Barriers
GAO-17-196
Published: Dec 15, 2016. Publicly Released: Dec 15, 2016.
Each year, more than 12,000 newborns are diagnosed with conditions that can cause severe disability or death if not treated quickly. To screen for such conditions, health care providers collect blood samples from newborns and send them to labs for testing.
However, states face barriers to timely screening—such as issues with sending samples to labs—that can delay treatment. Most states had not yet met their goal to screen 95 percent of blood samples within 7 days of birth by 2017, although some have improved screening time. For example, one state expanded courier service so all rural hospitals can get their samples to the lab more quickly.
Example of a Blood Specimen Card Used for Newborn Screening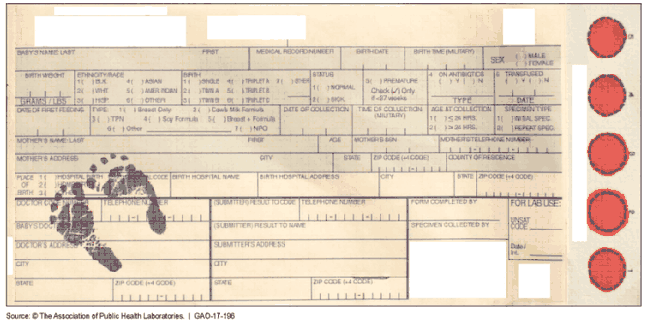 Picture of a sample blood specimen card.
Skip to Highlights
What GAO Found
Most states that reported timeliness data had not screened newborns within recommended goals to detect conditions that may require treatment. The Department of Health and Human Services' (HHS) Advisory Committee on Heritable Disorders in Newborns and Children recommended time-frame goals in 2015 for newborn screening, such as reporting all results within 7 days of birth. Data provided by 38 states for 2012-2015 showed that states generally had not met the committee's suggested benchmark of meeting each time-frame goal for at least 95 percent of specimens, which the committee encouraged states to achieve by 2017. Missing data and variations in data collection limit a full understanding of timeliness trends, but HHS's Health Resources and Services Administration (HRSA) has supported activities to address these challenges. HRSA supports the Newborn Screening Technical assistance and Evaluation Program (NewSTEPs), which collects newborn screening data. NewSTEPs has been taking steps to improve data for future analysis, such as by clarifying data definitions and working with states to help ensure they use these definitions when submitting timeliness data.
Advisory Committee's Newborn Screening Time-Frame Goals and Barriers Identified by States
State newborn screening officials identified numerous barriers to timely newborn screening, and a variety of strategies to address them. Newborn screening officials who responded to the advisory committee's 2014 survey identified barriers, such as a lack of understanding of the importance of timely screening for out-of-hospital births, limited courier availability to transport specimens to a lab, and insufficient lab hours. Selected state newborn screening officials interviewed by GAO reported developing various strategies to address these barriers. For example, one state increased courier service so rural hospitals located far from the state's lab could shorten specimen transport time. HRSA has been providing states with technical assistance, but it is too soon to determine which strategies developed through this technical assistance, if any, will have a measurable impact on timeliness.
In commenting on a draft of this report, HHS generally agreed with the report's findings, but questioned the use of 2017 benchmark goals to measure performance and the exclusion of two conditions. GAO believes its use of the 2017 benchmark and scope were appropriate, as discussed in the report.
Why GAO Did This Study
Each year, over 12,000 newborns are born with heritable or other conditions that require early detection and treatment. Newborn screening is a state public health activity, and includes the collection of a blood specimen from the newborn, specimen arrival at a state's lab, and results reporting. Barriers at any stage of this process can lead to delays in treatment and potential harm to the newborn. The Newborn Screening Saves Lives Reauthorization Act of 2014 included improving timeliness as an explicit goal for HRSA-supported newborn screening programs, which include technical assistance for and data collection from participating states.
The act included a provision for GAO to review newborn screening timeliness. This report examines (1) what is known about the timeliness of newborn screening for heritable conditions; and (2) barriers identified as contributing to screening delays, and strategies used to address them. GAO reviewed time-frame goals from the advisory committee, an August 2016 report from NewSTEPs with an analysis of annual timeliness data from states for 2012 through 2015 (the most recently available data), and a 2014 report on a survey conducted for the advisory committee. GAO also reviewed relevant documents and interviewed officials from NewSTEPs, two advisory committee members who worked on timeliness issues, and newborn screening officials in four states selected because they were focusing on activities related to newborn screening timeliness.
For more information, contact Marcia Crosse at (202) 512-7114 or crossem@gao.gov.