Foreign Assistance:
Selected Agencies' Monitoring and Evaluation Policies Generally Address Leading Practices
GAO-16-861R
Published: Sep 27, 2016. Publicly Released: Sep 27, 2016.
Is the federal government monitoring its foreign aid funds?
The United States plans to spend more than $34 billion on foreign assistance in 2017 to improve health, support democracy, and achieve other U.S. foreign policy goals. To effectively manage these funds, the government needs reliable ways to monitor and evaluate how this money is spent.
We reviewed 6 federal agencies' policies for monitoring and evaluating their foreign aid programs. Except for the Department of Defense, these agencies had policies that addressed most (but not all) of the 28 leading practices we identified, such as using outside evaluators to review program results.
USAID headquarters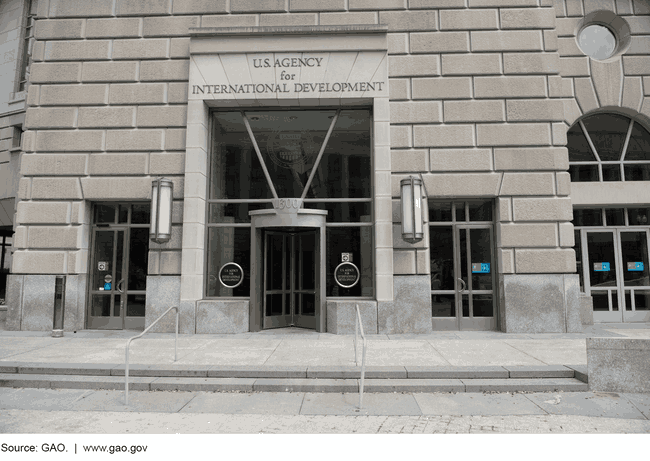 Photo of USAID headquarters
Skip to Highlights
What GAO Found
All the agencies we reviewed, except DOD, have established M&E policies that apply to their major foreign assistance programs. State, USAID, and MCC have agency-wide policies for foreign assistance M&E, while the civilian non-foreign-affairs agencies have policies relevant to their major foreign assistance programs—for USDA, the Foreign Agriculture Service's food aid programs, and for HHS, the President's Emergency Plan for AIDS Relief (PEPFAR). As of August 1, 2016, DOD has not issued M&E policies for its humanitarian and security assistance programs, but DOD is in the process of doing so, according to DOD officials.
The existing foreign assistance M&E policies we reviewed generally address the leading M&E practices we identified. For example, all agencies except DOD have monitoring policies that require the development, collection, analysis, and reporting of data on performance indicators. These policies are intended to help ensure measurement of project implementation and promote timely analysis and reporting of results that could identify needed course corrections. In addition, all agencies except DOD have policies that require documenting an evaluation plan or agenda, assuring evaluation quality and independent evaluators, allowing a choice of methods, and disseminating evaluation findings/results, all of which help ensure that key stakeholders have access to quality information for informed management decisions. Two of the five agencies with existing policies, State and HHS, addressed all 28 practices. We did not discern any meaningful pattern among the five agencies in those practices that their policies did not address.
Why GAO Did This Study
The U.S. government plans to spend approximately $35 billion on foreign assistance in 2017 to improve the lives and health of millions living in poverty, support democracy, enhance global security, and achieve other U.S. foreign policy goals. Managing these funds effectively requires reliable monitoring and evaluation (M&E) systems. We were asked to review foreign assistance M&E policies in the U.S. government. In this report, we determined to what extent (1) agencies administering the most U.S foreign assistance have developed M&E policies and (2) existing M&E policies are consistent with leading practices. We included six agencies in our review—the Departments of State, Agriculture (USDA), Defense (DOD), and Health and Human Services (HHS) Centers for Disease Control and Prevention's Division of Global HIV and TB; the U.S. Agency for International Development (USAID); and the Millennium Challenge Corporation (MCC).
Skip to Recommendations
Recommendations
GAO is not making any recommendations in this report.