Social Security Disability:
SSA Could Increase Savings by Refining Its Selection of Cases for Disability Review
GAO-16-250
Published: Feb 11, 2016. Publicly Released: Mar 14, 2016.
Skip to Highlights
What GAO Found
The Social Security Administration (SSA) selects cases for continuing disability reviews (CDR) using several inputs, but it does not do so in a manner that maximizes potential savings. SSA first prioritizes CDRs required by law or agency policy such as those for children under 1 year old who are receiving benefits due in part to low birth weight. Then SSA uses statistical models to identify the remaining CDRs to be conducted each year. The models also determine which cases will receive an in-depth review of medical records by the Disability Determination Services—the state agencies that conduct CDRs—versus a lower-cost questionnaire sent directly to the beneficiary. As shown in the figure below, a growing number of cases have been set aside for future review (backlogged) over the last 10 years. Although SSA somewhat considers potential cost savings when selecting cases for in-depth reviews, its approach does not maximize potential savings for the government. For example, estimated average savings from conducting CDRs are higher for some groups of Disability Insurance (DI) beneficiaries than others, but SSA's selection process does not differentiate among these groups. As a result, it may be missing opportunities to efficiently and effectively use federal resources.
CDRs Completed and Backlogged by SSA, Fiscal Years 2003-2013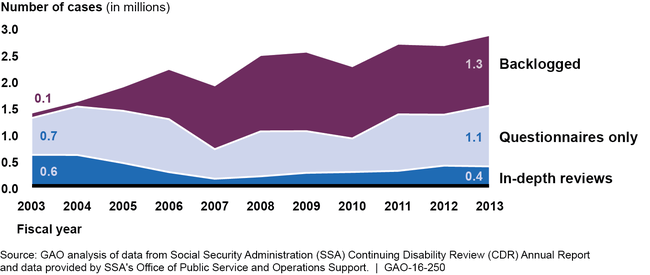 SSA reviews a sample of CDRs for quality, but its analysis and reporting of errors is not comprehensive. Specifically, SSA randomly selects CDR decisions to check for a variety of potential errors. For example, SSA regularly monitors and reports on the frequency of errors that affect whether benefits are continued or ceased. However, contrary to federal internal control standards, SSA does not systematically analyze errors to detect and address root causes. Consequently, SSA lacks information that could help improve the quality of the reviews conducted by the Disability Determination Services. Further, in determining CDR accuracy rates, SSA does not count date errors, including incorrect cessation dates, which can affect disability benefit payments. As a result, decision makers do not have a complete picture of the CDR errors that affect disability payments.
Why GAO Did This Study
To help ensure that only eligible individuals receive disability benefits, SSA conducts periodic CDRs to assess beneficiaries' medical condition. CDRs have historically saved the government money. However, in recent years, SSA has had difficulty conducting timely CDRs resulting in a backlog of over 900,000 CDRs in fiscal year 2014. With this backdrop, GAO was asked to study SSA's ability to conduct and manage timely, high-quality CDRs.
This report evaluates, among other things, how SSA selects which CDRs to conduct and the extent to which SSA reviews the quality of CDR decisions.
GAO analyzed CDR data for fiscal years 2003 through 2013 (the most recent year for which complete data were available); assessed SSA's models used to prioritize CDRs; reviewed relevant federal laws, regulations, and SSA documentation about CDR prioritization and accuracy review procedures; and interviewed SSA and state Disability Determination Services officials.
Skip to Recommendations
Recommendations
GAO recommends SSA, among other things, further consider cost savings as part of its prioritization of CDRs, analyze the root causes of CDRs with errors, and track date errors. SSA agreed with most of GAO's recommendations, but disagreed that there is a need to track date errors and to adjust its approach to sampling CDRs for quality review. GAO maintains actions are warranted and feasible as discussed in the report.
Recommendations for Executive Action
| Agency Affected | Recommendation | Status |
| --- | --- | --- |
| Social Security Administration | The Acting Commissioner of Social Security should direct the Deputy Commissioner of Operations to further consider cost savings as part of its prioritization of full medical reviews. Such options could include considering the feasibility of prioritizing different types of beneficiaries on the basis of their estimated average savings and, as appropriate, integrating case-specific indicators of potential cost savings, such as beneficiary age and benefit amount, into its modeling or prioritization process. | |
| Social Security Administration | The Acting Commissioner of Social Security should direct the Deputy Commissioner of Budget, Finance, Quality, and Management to complete a re-estimation of the statistical models that are used to prioritize CDRs and determine a plan for re-estimating these models on a regular basis to ensure that they reflect current conditions. | |
| Social Security Administration | The Acting Commissioner of Social Security should direct the Deputy Commissioner of Budget, Finance, Quality, and Management to monitor the characteristics of CDR errors to identify potential root causes and report results to the Disability Determination Services. For example, SSA could analyze CDRs with and without errors to identify trends by impairment, beneficiary type, or other characteristics. | |
| Social Security Administration | The Acting Commissioner of Social Security should direct the Deputy Commissioner of Budget, Finance, Quality, and Management to regularly track the number and rate of date errors, which can affect benefit payments (e.g., incorrect cessation dates), and consider including those errors in its reported CDR accuracy rates. | |
| Social Security Administration | The Acting Commissioner of Social Security should direct the Deputy Commissioner of Budget, Finance, Quality, and Management to adjust its approach to sampling CDRs to efficiently produce reliable accuracy rate estimates for continuances and cessations separately in each state. | |
| Social Security Administration | The Acting Commissioner of Social Security should direct the Chief Actuary to conduct sensitivity analyses on SSI and DI's contributions to CDR cost savings estimates and report the results reflecting a range of inputs (e.g., from optimistic to pessimistic). | |
| Social Security Administration | The Acting Commissioner of Social Security should direct the Chief Actuary to better document the methods including data sources, assumptions, and limitations that factor into its estimates of CDR cost savings. | |