Medicaid:
Federal Funds Aid Eligibility IT System Changes, but Implementation Challenges Persist
GAO-15-169
Published: Dec 12, 2014. Publicly Released: Dec 12, 2014.
Skip to Highlights
What GAO Found
Reported spending across all 50 states and the District of Columbia totaled more than $1.8 billion for Medicaid 90/10 funds—funds for eligibility information technology (IT) system changes—through September 30, 2014. Spending has grown steadily, with the most significant increases over the most recent quarters. According to the Centers for Medicare & Medicaid Services (CMS), 34 states used 90/10 funds to implement full system replacements of their eligibility systems, while 17 states used these funds to implement modifications to their existing systems.
State Reported Cumulative Spending of 90/10 Funds by Quarter, Fiscal Years 2011 through 2014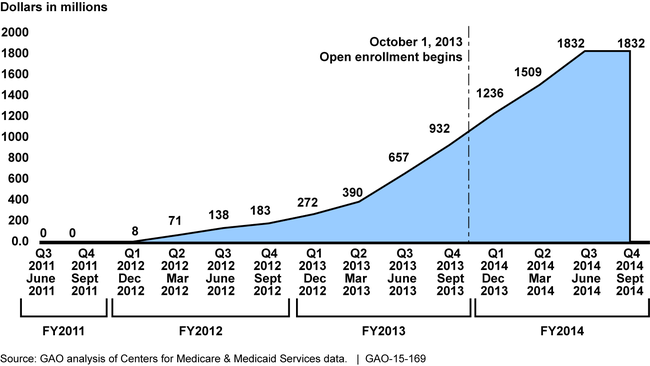 Note: GAO reviewed states' reported expenditures beginning with the quarter ending June 30, 2011, because this was the first quarter for which 90/10 funds were available to states. Three states had not reported finalized spending data for the quarter ending June 30, 2014, and no states had reported any spending for the quarter ending September 30, 2014. States may adjust prior quarter spending on the CMS-64 for up to 2 years after the expenditure was initially reported, but such adjustments must be reported in the quarter that the correction is made. Quarterly reported expenditures are rounded to the nearest million.
Using alternative approaches that reflected unique program aspects, selected states reported implementing most factors identified by CMS as being critical to enrolling individuals by October 1, 2013. However, the requirement that states transfer—send and receive—applications with the federally facilitated exchange (FFE) was the most challenging factor for states to implement, and none of the 36 states using the FFE was able to do so by October 1, 2013. One year later, 4 states remained unable to transfer applications one or both ways, but CMS continues to work with them to ensure implementation as soon as possible.
CMS modified its existing oversight to expedite states' access to these 90/10 funds and to enhance its review of state spending. CMS also followed a new practice for incrementally reviewing IT system changes. While selected states were not always clear on new requirements under the framework, they appreciated such timely reviews, enabling them to make technical changes throughout the process.
Why GAO Did This Study
Medicaid eligibility IT systems play a key role in states' efforts to coordinate eligibility and enrollment processes for Medicaid, the Children's Health Insurance Program, and health insurance exchanges, as required by the Patient Protection and Affordable Care Act (PPACA). However, many states' eligibility IT systems were outdated and lacked the technical capacity to support such efforts. CMS expanded the availability of a federal financial participation matching rate of 90 percent (90/10 funding) to states for costs associated with such IT system changes. With these funds, CMS required states to implement certain requirements—known as critical success factors—by October 1, 2013.
GAO was asked to provide information on states' receipt and use of these funds and related federal oversight. This report examines: (1) 90/10 funding states have spent on eligibility IT system changes; (2) states' use of this funding to implement critical success factors, and whether any implementation challenges remain; and (3) CMS's oversight of this funding and related system changes.
GAO analyzed state-reported expenditures of 90/10 funding from June 30, 2011, through September 30, 2014; interviewed state Medicaid officials from six states, which were selected from states reporting the most expenditures of 90/10 funding; reviewed relevant laws, regulations and CMS guidance; and interviewed CMS officials.
In responding to a draft of this report, HHS concurred with our findings and provided technical comments that were incorporated, as appropriate.
For more information, contact Carolyn L. Yocom at (202) 512-7114 or yocomc@gao.gov.