Retirement Security:
Trends in Marriage, Work, and Pensions May Increase Vulnerability for Some Retirees
GAO-14-272T
Published: Mar 05, 2014. Publicly Released: Mar 05, 2014.
Skip to Highlights
What GAO Found
The decline in marriage, rise in women's labor force participation, and transition away from defined benefit (DB) plans to defined contribution (DC) plans have resulted in changes in the types of retirement benefits households receive and increased vulnerabilities for some. Since the 1960s, the percentage of unmarried and single-parent families has risen dramatically, especially among low-income, less-educated individuals, and some minorities. At the same time, the percentage of married women entering the labor force has increased. The decline in marriage and rise in women's labor force participation have affected the types of Social Security benefits households receive, with fewer women receiving spousal benefits today than in the past. In addition, the shift away from DB to DC plans has increased financial vulnerabilities for some due to the fact that DC plans typically offer fewer spousal protections. DC plans also place greater responsibility on households to make decisions and manage their pension and financial assets so they have income throughout retirement. As shown in the figure below, despite Social Security's role in reducing poverty among seniors, poverty remains high among certain groups of seniors, such as minorities and unmarried women. These vulnerable populations are more likely to be adversely affected by these trends and may need assistance in old age.
Estimated Poverty Rates by Demographic Categories in 2012 for Individuals Age 65 and Over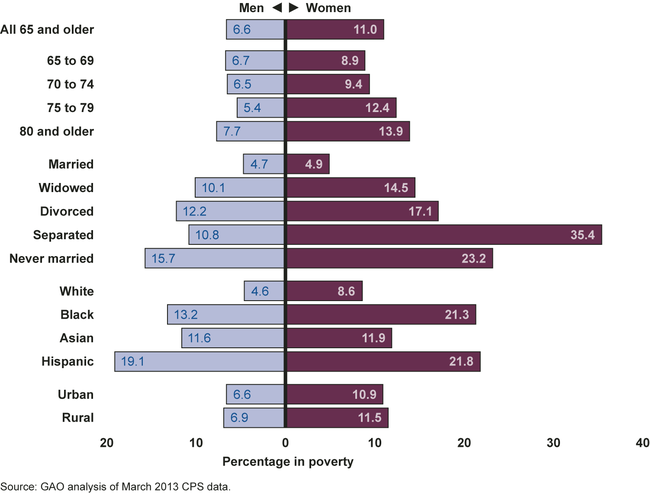 Note: The category "White" refers to people who are white only, non-Hispanic. "Black" refers to people who are black only, non-Hispanic. "Asian" refers to people who are either Asian only, Pacific Islander only or Asian and Pacific Islander, and are non-Hispanic. Hispanic people may be any race. Percentage estimates for poverty rates have margins of error ranging from 0.6 to 8.6 percentage points. See the hearing statement for more information on confidence levels and the data.
Why GAO Did This Study
Over the past 50 years, poverty rates among older Americans have declined dramatically, in large part due to the availability and expansion of Social Security benefits. Social Security is now the most common type of income for retirees. Social Security retirement benefits are available not only to those who qualify based on their own work history, but also to spouses, widows/widowers, and in some cases former spouses of workers who qualify. However, in recent decades, marriage has become less common, women have entered the workforce in greater numbers, and many employers have shifted from offering DB to DC plans.
In light of these trends, GAO is reporting on: (1) the trends in marriage and labor force participation in the American household and in the U.S. retirement system, (2) the effect of those trends on the receipt of retirement benefits and savings, and (3) the implications for vulnerable elderly populations and current challenges in assisting them. This statement draws from previously issued GAO work and a recently issued report, which was based on an analysis of nationally representative survey data including the Survey of Consumer Finances, the Survey of Income and Program Participation, and the Current Population Survey (CPS); and a broad literature review. GAO also interviewed agency officials and a range of experts in the area of retirement security.
GAO is making no recommendations.
For more information, contact Barbara Bovbjerg at (202) 512-7215 or bovbjergb@gao.gov.