What Financial Aid Offers Don't Tell You About the Cost of College
Opening college financial aid offers can be a moment of both excitement and confusion for students and their families. As College Decision Day approaches on May 1, families are looking for a bottom line price tag they can use to determine whether they can afford college and to compare competing offers.
We recently examined financial aid offers from colleges across the U.S. and found that most do not provide the important information students need about the cost of attending college. Today's WatchBlog post looks at our report on financial aid offers, and what students need to know when making their college decision.
What financial aid offers should include about college costs
We estimated 91% of colleges do not provide students accurate information in their financial aid offers about how much they will have to pay to attend their school. According to best practices developed by financial literacy experts, colleges should include a net price—a price tag that tells students how much they will need to pay to attend that college. To do this, they should include all key costs and subtract only grants and scholarships. Many colleges do not include information on books, off-campus housing and meals, and other living expenses in their financial aid offers. They also make their net price seem cheaper by factoring in loans that students will eventually have to repay. And about a quarter of colleges don't include any information on tuition and fees.
Percent of Colleges Estimated to Follow Best Practice for Explaining How Much Students Need to Pay for College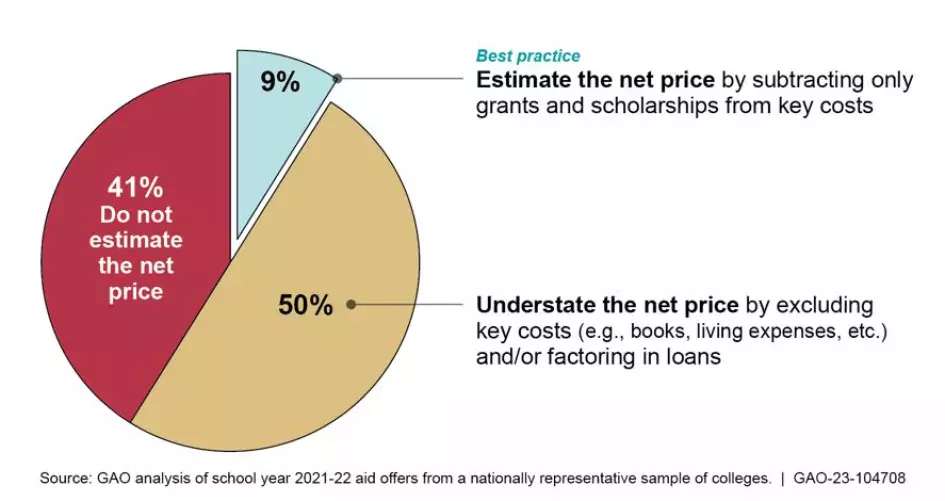 What can happen when students don't get the information they need in their financial aid offers?
Colleges are not required to provide students with clear or standard information about the cost of attending their schools or other critical information in their financial aid offers. As a result, colleges do not present information in financial aid offers in the same way. This makes it difficult for students to compare offers and assess college affordability. Students may not understand how much they would need to pay to attend college, and may choose an unaffordable one as a result.
Choosing an unaffordable college can lead to both short-term and lifelong consequences for students, their families, and the broader economy. For example, students who choose a college they cannot afford may have difficulty paying for their basic needs on campus, have trouble completing their program, and have to rely more heavily on student loans to fund their education. People with higher levels of student loan debt are less likely to become homeowners and have more difficulty saving enough for retirement.
That is why we asked Congress to require colleges to provide clear and standard information in their financial aid offers.
Example of Different Ways Colleges Present the Same Cost Information to Students
How can students estimate a college's net price?
Without accurate college cost information in financial aid offers, students may need to calculate college costs themselves to determine affordability. Here are some steps to help:
Calculate the total cost of attendance. This total is comprised of two types of key costs:
Direct costs: Costs colleges typically bill directly—for example, tuition, fees, and on-campus housing and meals.
Indirect costs: Costs students pay to other parties throughout the academic term—for example, books, academic supplies, off-campus housing and meals, and transportation.
If your financial aid offer doesn't include information on these key costs, you can find them on the Department of Education's College Navigator.
Add up your gift aid. Gift aid consists of grants and scholarships, which do not have to be repaid. Loans, which must be repaid, are not gift aid.
Subtract the gift aid from the total cost of attendance. The remaining amount is the net price—how much you would need to pay out-of-pocket using savings, earnings, or loans.
What else should students know about their financial aid offers?
According to best practices, colleges should also let students know:
The differences between gift aid, loans, and work-study,
That some loans are for parents, not students. This type of loan has fewer protections and requires a credit check,
The conditions for keeping a scholarship or grant,
The next steps to take to accept, decline, or adjust the aid in the offer.
We found that most colleges are not providing students with this information either.
To learn more about what information is, and is not, included in college financial aid offers, read our recent report and listen to our podcast with GAO's Melissa Emrey-Arras:
---