Mapping Global Food Insecurity (Interactive Map)
Posted on November 23, 2020
Nearly 690 million people in the world are undernourished. Poor nutrition can cause a number of health complications including stunting—a condition where poor nutrition in-utero or in early childhood causes a child to be too short for their age. Stunting affected more than 140 million children under the age of 5 globally in 2019.
Today's WatchBlog explores our new report on efforts to achieve global food security and improved nutrition around the world. The report also provides an interactive map showing how global food security assistance funds were disbursed throughout the world from 2014-2018.
What causes global food insecurity?
Conflict, climate variability, and economic downturns are just some of the factors that may contribute to global levels of food insecurity. For example, climate-related disasters such as floods, droughts, and tropical storms have increased food insecurity by undermining food production.
The economic impacts of the COVID-19 pandemic is expected to further exacerbate global hunger. The pandemic has increased the risk of poverty and therefore hunger and malnutrition for families around the world. The UN estimates that 83 million to 132 million people could become undernourished in 2020 due to the pandemic.
How is the world addressing global food insecurity?
From 2014 through 2018, the United States and other international donors spent an estimated $75 billion to combat global food insecurity. The United States accounted for more than $22 billion of this total. Other major bilateral or country donors included Germany, the United Kingdom, Japan, Canada, France, and the United Arab Emirates.
Figure: Estimated Bilateral Disbursements for Global Food Security Assistance, 2014 through 2018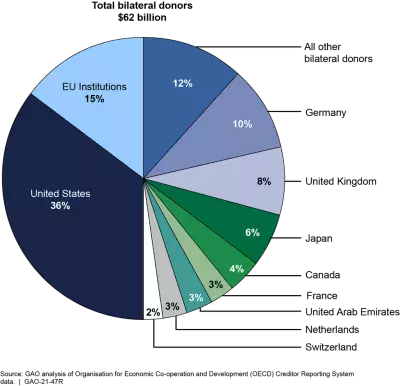 Multilateral donors (including international organizations and institutions with government membership) such as the World Bank, the Asian Development Bank, World Food Program, and Food and Agriculture Organization provided more than $13 billion of this assistance from 2014 through 2018.
Which sectors and recipients have received global food security assistance?
Donors have provided funding to 8 sectors that directly support global food security, including agriculture, agro-industries, nutrition, developmental food security assistance, emergency food assistance, fishing, school feeding, and food security and safety management.
For example, donors have spent an estimated $37 billion in agriculture assistance, such as supplying seeds and conducting land surveys, and about $5 billion on nutrition activities, which include, for example, managing acute malnutrition.
We developed an interactive map that shows how global food security assistance funds from donors around the world were disbursed from 2014-2018. The figure below demonstrates how the graphic works. Access the complete interactive graphic at GAO.gov or by clicking on the below image.
As the largest bilateral donor of this assistance, the United States uses various programs to administer its food assistance. These programs have supported emergencies, for example, by providing food assistance to populations living in or displaced from conflicts like those in Syria and South Sudan. The United States has also supported nonemergency development activities with programs related to agriculture and water, sanitation, and hygiene, among others.
Warehouse Workers Packaging Food Aid for Beneficiaries in Haiti
Want to learn more about our work on global food security? Check out our key issues page on International Food Assistance.
---