Got an auditing question? We wrote the book on auditing!
Ever wonder what makes for a good audit? If you did, you'd want to check out the Yellow Book. It is the book of standards and guidance for government auditing—outlining the requirements that make for good audits when reviewing government programs and spending. It's used by our federal government auditors here at GAO, federal, state and local auditors, inspectors general, and auditors of entities that receive government awards. 
We wrote these "gold" standards! And in today's WatchBlog post, we'll take a look at how they can provide greater accountability and transparency in government work, and how we (GAO) help other auditors use and understand them.  We'll also discuss some of the proposed changes to the Yellow Book, and how the public can comment on these revisions (by April 28).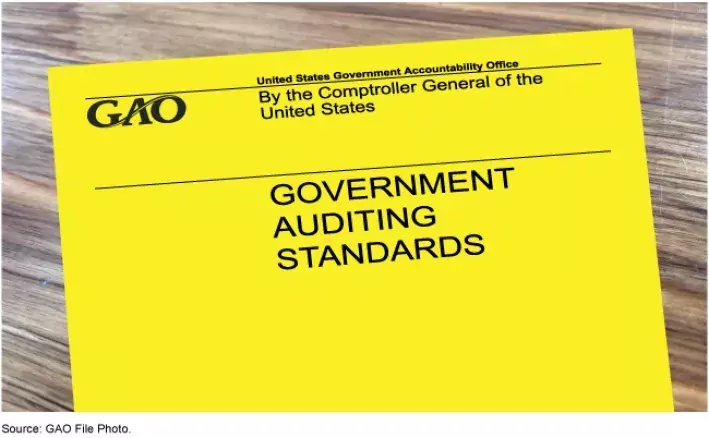 Our high standards
Government Auditing Standards (known as the "Yellow Book") provide a framework for performing high-quality audit work—helping ensure work is conducted with integrity, objectivity, and independence. Auditing using the Yellow Book leads to greater accountability within government and improved government operations and services.
Integrity ensures that auditors perform their work with an attitude that is objective, fact-based, nonpartisan, and nonideological. Integrity means that auditors make decisions consistent with the public interest. For example, during an audit, auditors may encounter pressures and incentives to change procedures or reports for personal gain. In resolving these conflicts and pressures, acting with integrity means that auditors place priority on serving the public interest.  
Objectivity and independence are closely related. Objectivity includes independence of mind and appearance when conducting engagements, maintaining an attitude of impartiality, having intellectual honesty, and being free of conflicts of interest. Independence ensures that people working on audits do not have personal interests in an audit outcome. For example, if an auditor is enrolled in a federal program (such as a small business loan program), they should not be auditing that program. To ensure independence here at GAO, we ask our analysts and auditors to attest to their independence on a biweekly basis.
The Yellow Book's quality requirements focus on actions that ensure that the audit organization complies with professional standards and applicable legal and regulatory requirements.
This year, we are proposing a revision to update Yellow Book Chapter 5: Quality Control and Peer Review. The proposed revision reflects enhancements to strengthen an audit organization's system for conducting high-quality engagements through its system of quality management. We are also proposing guidance to address key audit matters in financial audits.
We are seeking public comment on this revision through April 28. Please send your comment letters to YellowBookComments@gao.gov no later than the end of the review period.
How do we help other auditors?
The Yellow Book standards are used by a wide range of auditors and audit organizations, but sometimes it isn't always clear how to proceed in special situations. So we offer a technical assistance service, too. We hear from all types of users, but the majority of the questions we receive come from federal Inspectors General, certified public accounting (CPA) firms, and city and local government auditors. The most common inquiries we get are about training and training requirements for auditors, the peer review process (when an audit organization is audited by an outside entity), and individual's questions about ensuring their independence.
Need help?
We welcome questions about the Yellow Book from any user or interested parties. While we won't approve or endorse any specific course of action related to your question, we can guide you through the auditing standards so you can make an informed, professional decision.
If you have any questions related to the Yellow Book please call 202-512-9535 or e-mail YellowBook@gao.gov.
If you need help or have a question about our Green Book (Standards for Internal Control in the Federal Government), we can help there too! Just contact us at GreenBook@gao.gov or 202-512-9535.
---