The Department of Veterans Affairs Served Civilians in Battle Against COVID-19
With 170 medical centers and 1,074 outpatient clinics, the Department of Veterans Affairs (VA) runs the largest integrated health care system in the U.S. Its size, resources, and place within the federal government well position VA for responding to large-scale public health emergencies. While the VA's first priority is to care for veterans and their eligible dependents, during the COVID-19 pandemic, the department was mobilized in a big way to also serve civilians.
Today's WatchBlog explores our new report about the important role of VA as part of the country's response to the COVID-19 pandemic, and how this emergency differed from the ones that came before.
VA's role in the federal response to COVID-19
From March 2020 to February 2021, VA conducted 117 COVID-related missions. The majority of these missions (104) provided civilians with inpatient hospital care at VA facilities, or provided staff and other resources to community, or non-VA, medical facilities. These missions were conducted in 38 states, 1 territory and 4 tribal communities. The remaining 13 missions were to assist other federal agencies. The estimated cost of these missions is $270.3 million.
The Geographical Distribution of COVID-19 Assistance by VA from March 2020 to February 2021
During 25 COVID-related missions, VA treated civilian patients in its facilities to help communities experiencing hospital capacity issues because of COVID-19 outbreaks. This included providing hospital beds and treatment for both COVID-19 and non-COVID-19 patients. Through these 25 missions, states and tribes requested a total of 692 VA beds for civilian patients at an estimated cost of $220.6 million. This included VA providing 15 intensive care beds and 45 acute care beds at 3 VA facilities in Chicago, Hines, and Marion, Illinois.
VA staff, testing, vaccination support, and supplies were deployed for 79 COVID-related missions to help community medical facilities—including hospitals, state veterans homes, community nursing homes, and medical facilities in tribal communities. For example, VA deployed medical staff to 5 medical facilities in Arizona where staffing levels were critically impacted from COVID-19. Overall, VA conducted:
58 missions to provide 2,934 staff, including medical care providers and administrators.
8 missions for testing support in community medical facilities, which included the collection and processing of COVID-19 tests
7 missions to support vaccination efforts, including pharmacy support and support teams at vaccination sites.
6 missions to provide supplies like ventilators and mobile pharmacy units.
The below figure shows the use of VA resources for civilian assistance during the pandemic.
Number and Estimated Costs of VA Assistance to Localities from March 2020 to February 2021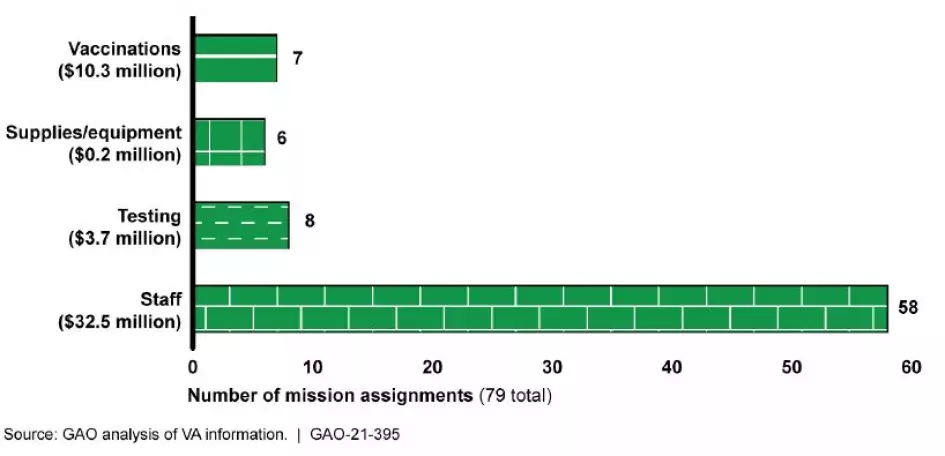 How VA played a new role during the COVID-19 emergency
VA officials told us that the agency's response to COVID-19 emergency was unprecedented in terms of the magnitude, duration, and scope.
Also under COVID-19, VA received mission assignments directly from the Federal Emergency Management Agency for the first time. Prior to the pandemic, VA generally received its civilian emergency response missions from the Department of Health and Human Services.
VA continues to accept assignments to provide civilian health care assistance. To learn more about VA's role serving civilians during COVID-19, check out our new report.
---