Continued Surge in COVID Cases Highlights Need for Urgent Federal Action
Posted on November 30, 2020
COVID-19 cases have been increasing since mid-September, further highlighting the importance of federal public health and economic response efforts.
Today's WatchBlog looks at our fourth report on the federal pandemic response, which describes the status of ongoing efforts and outlines ways to improve the response and prepare for future challenges in these areas:
medical supply shortages
vaccines and therapeutics
COVID-19 testing guidance
unemployment insurance
stimulus payments
nursing home care
Read on to learn more about what we recommended. You can also tune in to our latest podcast on this work, which features two of the directors leading our pandemic response review.
Medical Supply Shortages
The Department of Health and Human Services (HHS) and FEMA have made numerous efforts to mitigate supply shortages. But in our national survey, one-third to one-half of states and territories reported ongoing shortages of some testing-related and other medical supplies.
Most states reported certain PPE supplies (e.g., nitrile gloves) remain scarce, and about one-third of respondents were "greatly" or "completely" concerned about having enough supplies to administer vaccines in the future. Given the surge of COVID-19 cases and these reported medical supply shortages, we believe it is critically important that our previous recommendations on better managing the supply chain be implemented.
Safety and Effectiveness of Vaccines and Therapeutics
Through Operation Warp Speed, the federal government has made a concerted effort to speed the development of vaccines and therapeutics, which we detailed in our November 17 report. The FDA's Emergency Use Authorizations allow for the emergency use of medical products without full FDA approval or licensure. As of November 9, FDA had used that approach to make four COVID-19 treatments available.
But there are concerns about the safety and effectiveness of these treatments and vaccines. We recommended that the FDA find ways to be more transparent about its scientific safety and effectiveness reviews when issuing Emergency Use Authorizations for therapeutics and vaccines.
Changes in CDC Guidance on COVID-19 Testing
Guidance on COVID-19 testing is expected to evolve as new information about the coronavirus emerges—and it has, frequently. For example, in August, the Centers for Disease Control and Prevention (CDC) changed its stance on the testing of asymptomatic people who had close contact with an infected person.
Changes like these, however, haven't always been communicated with a scientific explanation—which increases the risk of confusion and could affect public trust in government. We recommended that HHS ensure that the CDC clearly discloses the scientific rationale for any change to testing guidelines at the time the change is made.
Unemployment Insurance and the Economy
The Department of Labor's weekly news releases don't accurately estimate the number of individuals actually relying on unemployment insurance. To better understand the role unemployment insurance benefits are playing in the economy, reliable data are needed on both the number of new claimants each week and the number of claimants who continue to rely on unemployment insurance benefits. We recommend that DOL consider options to report the actual number of distinct individuals claiming benefits.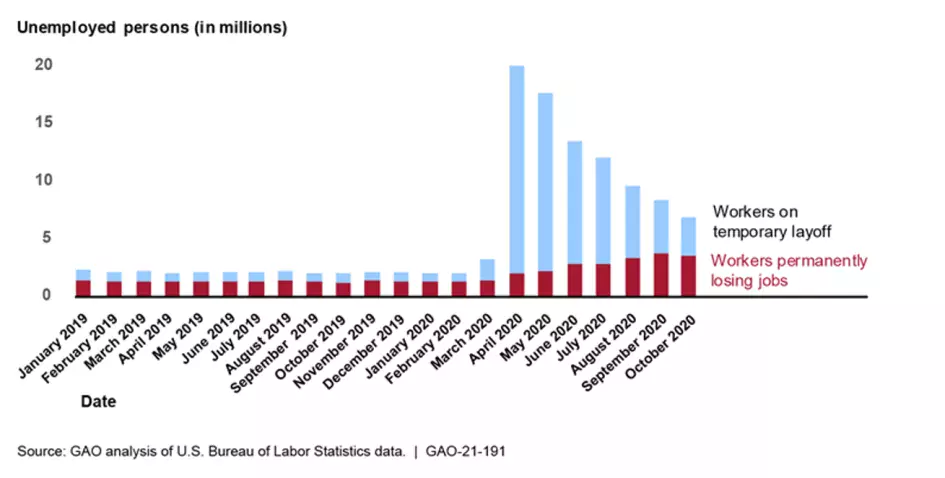 Stimulus Payments
As of September 30, the Department of the Treasury and IRS had disbursed $274.7 billion worth of economic impact payments to individuals. However, not everyone received a payment who was supposed to. Starting in September, IRS sent notices to nearly 9 million people who had not yet received a payment. Treasury and IRS did not plan to track and analyze the results of that mailing effort until next year. We recommend that they do so promptly and publicly report that information.
Nursing Home Care
In September, the Coronavirus Commission on Safety and Quality in Nursing Homes made 27 recommendations to the Centers for Medicare & Medicaid Services (CMS) in such areas as testing, PPE, and visitation. We recommend that CMS quickly develop a plan that more completely explains how it intends to respond to and implement the commission's recommendations.
In March, VA instructed its contractor to stop in-person inspections due to concerns about COVID-19. We recommend the VA develop a plan to resume inspections of state veterans' homes, which may include using in-person, a mix of virtual and in-person, or fully virtual inspections. 
---