Back to School for the Third Year Affected by the Pandemic
Posted on August 17, 2021
This year, students and teachers across the nation will head back to school for a third school year under COVID-19 restrictions.
In today's WatchBlog post, we look at our ongoing work on how the pandemic has affected K-12 public education, as well as our recent work on:
Federal spending on education, including how the Department of Education can improve its oversight of almost $200 billion in COVID-19 relief funds;
How school districts adapted remote services for students with special needs, such as English Learners and students with disabilities; and
How COVID-19 complicated response to and recovery from natural disasters for some school communities.
Our ongoing analyses of COVID-19's effects on education
Last year, we put the spotlight on how states and local governments were grappling with how to bring K-12 students back to school safely amidst the COVID-19 pandemic, including considerations for building conditions, funding inequities, and reliable at-home internet access.
Given the significant and ongoing challenges to educating students during COVID-19, we have several relevant reports that will be issued in the next few months, including those about:
Barriers that especially affect vulnerable students engaging in virtual instruction,
Pandemic-related learning loss and the approaches educators are finding most effective to address it, and
Academic and financial oversight of virtual charter schools.
Incomplete data on COVID-19 relief funds for education may have impeded transparency
Federal COVID-19 relief laws provided almost $200 billion for states' and territories' COVID-19-related education needs. While the Department of Education (Education) has tracked spending of these funds, we found that Education's data presented an incomplete picture of the rate at which school districts and states are using funds for K-12 education purposes.
In March, we recommended that Education improve its data collection and reporting efforts to provide policymakers with an accurate, complete picture of the spending, and better information on how these funds are being used to address the pandemic-related education needs of America's schoolchildren.
Support for English learners and students with disabilities
In November 2020, we reported how districts tried to address the logistical and instructional challenges of distance learning for English learners and students with disabilities—two subgroups of students who have historically faced persistent achievement gaps.
For English learners, some districts tried to increase access to laptops and internet, and translated materials like instructional videos. However, school officials told us that major challenges of limited technology and language barriers remained.
For students with disabilities, some districts modified instruction methods and the services provided to account for shorter school days or the inability to provide in-person services. Though this posed challenges, districts said new procedures—such as virtual meetings with parents about their students' individual educational plans—were successful and may inform how they support students with disabilities moving forward.
To learn more about our findings on distance learning for English learners and students with disabilities, check out our report, or listen to our podcast with GAO's K-12 education expert Jackie Nowicki.
COVID-19 compounded disaster recovery challenges
There have been about 300 major natural disasters in the U.S. since 2017, many of which had devastating effects on K-12 schools and students.
In October 2020, we reported that schools were experiencing compounding challenges of recovering from disasters, while managing the ongoing pandemic.
Officials in every district we interviewed said that students' mental health was a top priority, but that COVID-19 added to the emotional trauma that students were already experiencing. Many also said that the services needed to treat disaster-related mental health issues were not readily available, and that COVID-19 made it even harder to provide such services.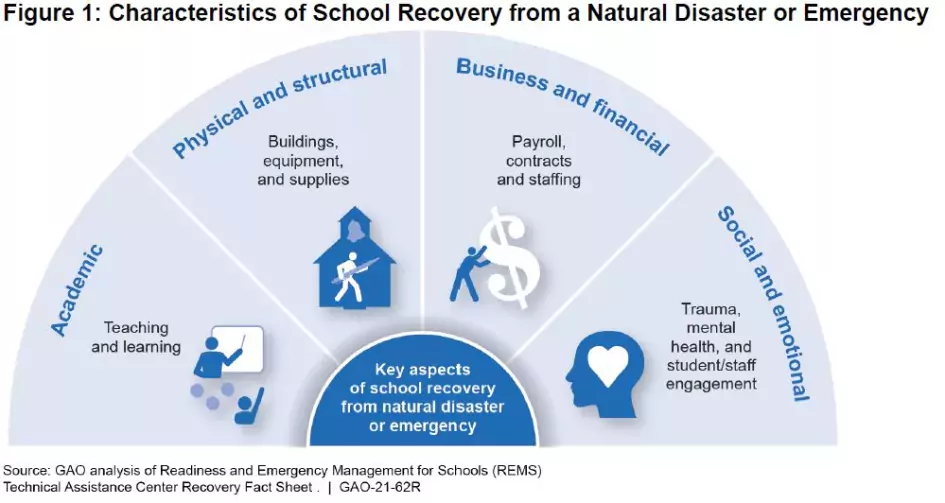 ---