Helping Serve Those Who Have Served
Posted on November 07, 2019
Approximately 200,000 servicemembers transition from military service to civilian life each year. Part of the government's commitment to military members is helping them achieve their education and career goals. This investment in servicemembers continues after they leave the military and includes their families, who are also affected by their loved-one's transition to the civilian workforce.
For Veterans Day this Monday, as we honor those who have served, we revisit some of our work on federal programs that help ease the return to civilian life.
Many programs, now in one place
Multiple federal agencies provide education and employment assistance to servicemembers, veterans, and their families—both independently and together. This can make navigating the different options difficult. In fact, we found there was no inventory of federal programs that could easily give potential participants a complete picture of available benefits.
We compiled a comprehensive list and found 11 agencies offering 45 programs. A 12th agency also administered a tax exclusion for GI Bill benefits, which allows recipients to exclude these benefits from their taxable income. More than half of these programs served veterans, while others served servicemembers and their families.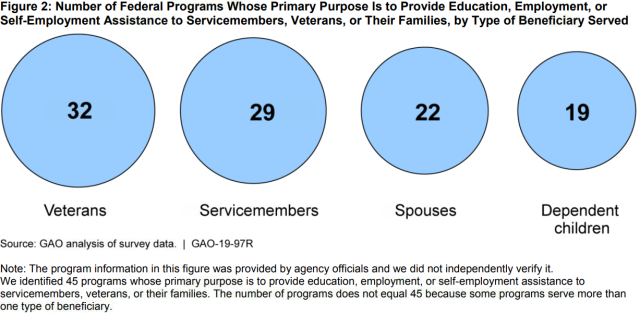 Translating military skills to the civilian world
Although servicemembers often learn and master skills during their service, some may have a difficult time finding employment after they leave the military. One contributing factor: it can be difficult to translate skills learned in the military—such as maintaining a ship's navigational radar—into civilian jobs. To help with this issue, the Department of Defense and the Coast Guard have over 300 employment centers at military installations worldwide.
These centers operate the mandatory Transition Assistance Program (TAP), which provides counseling, employment assistance, and information on veterans' benefits for separating servicemembers. Other employment and family support services are also available at the centers. The TAP curriculum, which was recently altered for the first time since 2011, now provides
Individualized initial counseling between the servicemember and a TAP counselor
Pre-separation counseling on benefits, entitlements, and resources
DOD-required coursework on financial planning, resiliency, and a crosswalk of military and civilian occupations
Briefings on VA benefits and services
A required one-day Department of Labor brief on preparing for employment
Two days of additional instruction in at least 1 of 4 topics, such as vocational skills or entrepreneurship
A capstone event, where commanders verify that servicemembers have achieved career readiness standards and have a viable individual transition plan
Keeping servicemembers informed
A key component of smoothing the transition from military to civilian life is making sure servicemembers are aware of their education and employment support options before they exit the service, so they have the freedom to explore and choose what works for them.
According to servicemembers and DOD staff we interviewed, information about employment and education opportunities is most useful early in the year preceding a servicemembers' discharge date, as it takes time to craft a strong resume and search for jobs or colleges. However, in 2017, we found that fewer than half of eligible servicemembers completed the required transition workshops 90 days or more before leaving the service.
New TAP requirements established by the FY 2019 John S. McCain National Defense Authorization Act now require DOD to ensure servicemembers begin TAP no later than 365 days before they separate or retire from the military. Servicemembers who are retiring are recommended to begin the transition process at least 2 years in advance.

More information on federal programs to help transitioning service members can be found here.
---