Our Innovation Lab: Building a Sandbox for Audit Tech
Posted on October 29, 2019
Note: This blog was updated to clarify that the prediction of more than a trillion dollars in improper Medicare payments was made by GAO teams that examine those issues.
As our world becomes increasingly digitized, being able to quickly make sense of patterns, correlations, and behaviors from huge amounts of data is vital. This is especially true for federal agencies and the audit community.
As Taka Ariga, GAO's first Chief Data Scientist and Director of the Innovation Lab, rolls up his sleeves and gets to work, his focus will be on transforming the way that GAO thinks about and uses advanced analytical capabilities. With extensive hands-on experience working with audit, legal, and other organizations in the public and private sectors, he has a good idea of what lies ahead.
Taka Ariga, GAO's first Chief Data Scientist and Director of the Innovation Lab, discussing his vision for Innovation Lab with Innovation Lab staff. | Source: GAO.
In today's WatchBlog, we take a closer look at the Innovation Lab and what's in store for the future.
"Data analytics is the tradecraft of distilling hidden insights and enabling people to rapidly act on those insights," says Mr. Ariga. "Think about looking at your bank statement with a list of transactions. Being able understand spend patterns and spend relationships quickly is tremendously empowering when it comes to managing personal finances. If we ask increasingly sophisticated questions across multiple sets of data, we can now infer how the data might behave. In the user-centric environment of the Innovation Lab, by applying data science at scale and exploring emerging technologies such as machine learning and digital ledger, we will help the audit community address grand challenges."
What is GAO's Innovation Lab?
We launched our Science, Technology Assessment, and Analytics team earlier this year to meet Congress's need for more and deeper analysis of science and technology and their policy implications. Part of the plan for this team was to create a lab for new advanced analytics and emerging technologies that will revolutionize how auditors and other government employees work.
Data scientists in our Innovation Lab will use emerging technologies such as artificial intelligence and distributed ledger technology—which allows things like Bitcoin to function—in a "sandbox" testing environment to explore and deploy cutting-edge methods.
Here's an example of the future impact of Innovation Lab: GAO has previously predicted that more than a trillion dollars of improper Medicare payments—such as overpayments incorrectly made to people or for services not actually provided—will be paid over the next decade. When GAO conducts audits of programs like Medicare, we typically identify improper payments within one data set.
What if the Innovation Lab could help auditors analyze multiple large data sets simultaneously to identify deceased individuals who are continuing to receive Medicare payments? The Innovation Lab will be able to use data science techniques like advanced search and data mining analysis to do just that.
Saving taxpayer money with advanced methods
The techniques that emerge from the Innovation Lab have the potential to save billions of dollars for taxpayers across the full spectrum of federal programs.
Imagine, for example, being able to throw the analytical power of AI and machine learning at the billions of data points in the Department of Treasury's general fund and getting to the point where you could identify every improper payment without the need for any statistical sampling at all.
Understanding the opportunities, challenges, and implications of emerging technologies such as AI plays an important role in informed decision-making. In July, 2017, GAO brought together representatives from industry, government, academia, and nonprofit organizations during the Forum on Artificial Intelligence to consider the potential implications of AI developments. Participants highlighted several areas that they believe warrant further research (below).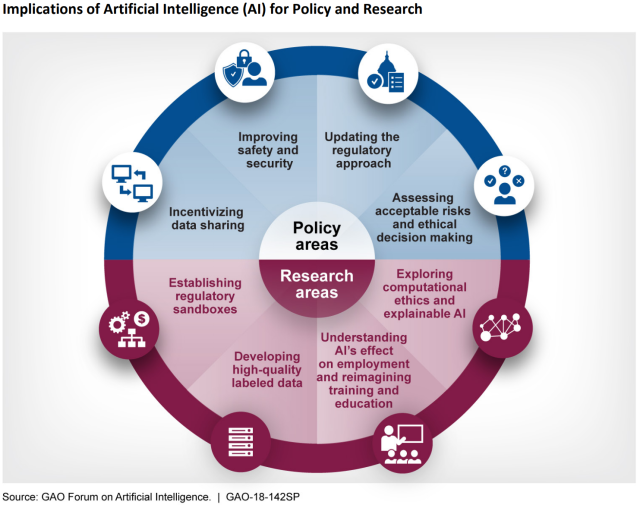 As lessons emerge in the Innovation Lab's work, staff will share any best practices it finds with the larger audit community.
In the meantime, progress in ramping up operations continues. The Innovation Lab is focused on hiring highly-skilled staff, making sure they have the right tools for the job, and establishing business processes that will deliver exceptional work.
"Innovation Lab will help us collectively move the needle of the federal government, creating a space where we de-risk the use of innovative solutions and people can think about tackling challenges differently, allowing them to make better-informed decisions," says Mr. Ariga.
---
GAO Contacts
Timothy M. Persons
Chief Scientist