How Much Is That Doggie in the Cabin?
Posted on November 21, 2017
If you're one of the millions flying this holiday season, you may be wondering whether you'll have to pay fees for services that aren't included in your ticket price. Want to bring Fido? There's a fee for that. Want to bring a carry-on and get a cup of coffee? There may be
new
fees for that. Today's WatchBlog explores
airlines' new fees for optional services and what the Department of Transportation is doing to protect consumers
.
New fees
Since 2010, airlines have added new fees, some for services that were previously included in the ticket price. For example, some airlines now charge for carry-on bags and for soft drinks. And there are fees for services that weren't available before, such as internet access. You may have also noticed airlines selling "preferred" seats. These seats generally have more legroom than standard seats and may come with other features—such as priority boarding or food and drink—depending on the airline. While some customers choose to pay extra for more, others are opting to pay less for less. Since 2015, American, Delta, and United have offered Basic Economy fares. Passengers who buy these tickets may board last, and may not be able to change flights, choose seats, or use the overhead bins.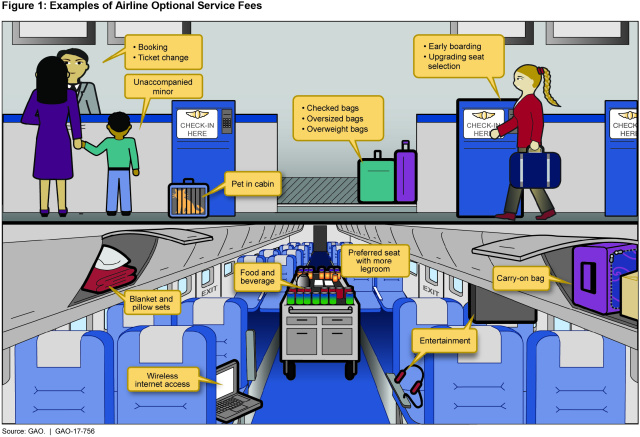 (Excerpted from GAO-17-756)
The Department of Transportation is monitoring how these changes affect consumers
Transportation officials told us that they:
Inspect U.S. airlines' websites to monitor compliance with regulations intended to benefit consumers,
Collect and review consumer airline complaints submitted via the Aviation Consumer Protection website,
Post information to educate travelers, including a monthly "Air Travel Consumer Report," on the Aviation Consumer Protection website.
Consumer advocates want more transparency
Although several consumer advocates told us that fares are more transparent than they were a few years ago, they highlighted several areas in need of improvement. Some consumer advocates said that it's difficult for people to compare services and products across websites. Advocates said this is a growing problem because of the increasing number and type of products available for purchase. For example, when an airline is offering standard, preferred, and basic economy products, it can be difficult for consumers to understand how these products differ. Also, according to some consumer advocates, full fare transparency can be particularly difficult to figure out when booking through online travel agents (e.g., Expedia or Priceline). Consumers can't always view and purchase optional services through these sites, making it harder for them to figure out their total travel price. And Fido? Depending on the airline, it could cost you $75 to $199 to have him under your seat. To learn more about airline optional service fees, check out our
full report
.
---