Sorting Out the Federal Government: Creating an Inventory of Programs Using Information Architecture
Posted on November 07, 2017
Have you ever bought shoes online? Did you search for hiking boots? In mud brown? Size 10? The database you used likely allowed you to search for a specific color, size, style, and other features. It may have given you a wide variety of shoes to choose from that matched the characteristics you were looking for. When it comes to information about federal programs, though, there is no way to do a similar search—although there is a requirement that executive agencies develop such an inventory. Today's WatchBlog post explores our recent review of
one approach to developing a useful inventory of federal programs
.
Eliminating wasteful federal redundancy
Let's say you purchased those boots, discovered you already had a closet full of similar footwear, and there were no refunds. What a waste of money; if only you'd known what was in your closet. Well without fully knowing what federal programs exist, your tax dollars may be unnecessarily funding
similar, overlapping, or duplicative programs
. Although a 2010 federal law calls for the creation of a comprehensive inventory of all federal programs,
in 2014 we found
that the initial effort to develop one wasn't useful because the information included in it was inconsistent and not comparable. A useful inventory of federal programs could help better highlight instances of wasteful redundancy, and would include information about program budgets and performance. It could also include information about program activities, the services they provide, and the beneficiaries they serve. So how might federal agencies get there?
Information architecture may help
We found that the principles and practices of information architecture—a discipline focused on how information is organized, structured, and presented—could be used to develop a transparent and accessible inventory of federal programs. Using a systematic approach would create an inventory that was consistent across agencies and programs, addressing some of the limitations we found in the initial effort. Using an information architecture approach to develop a federal program inventory would provide the ability to combine, sort, and filter information across multiple types of program information. The figure below illustrates how this information could be used to identify programs that provide similar services—in this case, early learning and child care services.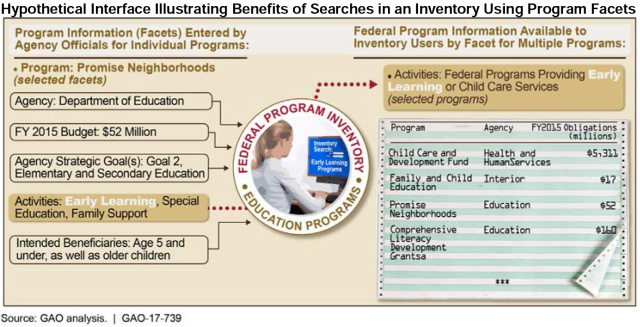 (excerpted from GAO-17-739)
We identified initial actions the Office of Management and Budget and other federal agencies could take to develop such an inventory based on the principles and practices of information architecture. To learn more about information architecture and its potential to serve as a framework for the development of a federal program inventory, check out our
full report
.
---
Questions on the content of this post? Contact Elizabeth Curda at CurdaE@gao.gov
Comments on GAO's WatchBlog? Contact blog@gao.gov.