Helping Youth with Autism
About half a million youth with Autism Spectrum Disorder will leave high school over the next decade—and will face unique challenges as they transition to adulthood. We looked at the services and supports that these youth (ages 14-24) need to attain their goals for adulthood, which may include advanced education, employment, living independently, health and safety, and integrating into a community. For April's Autism Awareness Month, we're sharing what we learned. Read on for
results from a 2016 roundtable discussion
held with adults with autism, service providers, employers, researchers, and parents of youth with autism.
Characteristics of autism
Some say that when you meet one person with autism, you've met one person with autism. That's because autism is a highly individual condition that encompasses a range of characteristics, each of which can vary in severity, as illustrated below.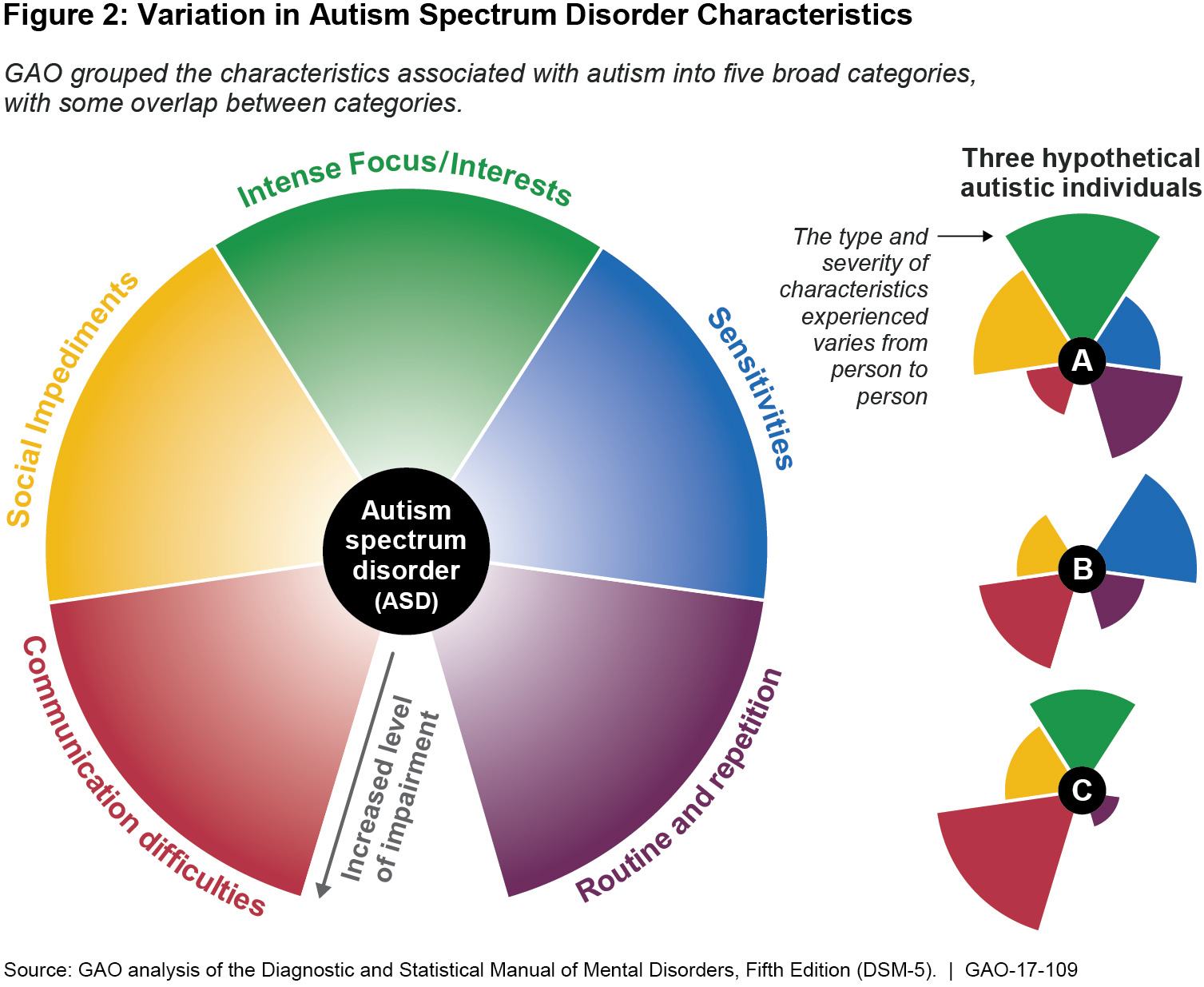 (Excerpted from GAO-17-109)
Services needed
Youth with autism can have a meaningful life and achieve the goals they set for themselves. The key to doing so appears to be receiving services that are individualized, timely, equitable, and community- and evidenced-based. Youth also need timely access to services regardless of race, gender, family income, or location. For example, girls and minority youth may be diagnosed at a later age, receive fewer services during school, and need additional help planning their transition to adulthood. The mix of services needed varies depending on the type and severity of an individual's autism characteristics, and may include
Communication assistance
Life skills training
Behavioral interventions
Mental health care
Social and vocational supports
Societal changes
Widespread knowledge of autism could also help communities better understand the potential of autistic youth and help them achieve their potential. For example, while autistic youth need to learn social expectations in a workplace, employers also need to be aware that some social rules, such as smiling, can be difficult for autistic people. To learn more, check out our
report
. And stay tuned for the release later this spring of our second report on this issue that will examine services provided to assist youth with ASD transitioning to adulthood, challenges they face in receiving services, and federal collaboration to assist the transition.
---
Questions on the content of this post? Contact Jacqueline M. Nowicki at nowickij@gao.gov.
Comments on GAO's WatchBlog? Contact blog@gao.gov.