Prepping for the 2020 Census
The Census Bureau gets just one chance each decade to count the country's population—and this week marks 3 years until the next one. The Bureau has planned a number of innovations for the 2020 census that are intended to cut costs, but they also introduce new risks. To highlight these issues, we added the
2020 Decennial Census
to our
2017 High Risk List
earlier this year. Today's WatchBlog explores some of the innovations and risks we are monitoring.
Innovations that save money…
The Bureau intends to conduct the 2020 census differently than the 2010 census, in part by using new methods and technologies that it estimates could save
$5.2 billion.
Some of these new innovations include:
Optimizing responses by communicating the importance of the 2020 census to the public, and encouraging use of the Internet for follow-up;
Maximizing the use of other data sources that households have already provided to the government to reduce the need for costly follow-up;
Increasing the use of technology to more efficiently and effectively manage fieldwork; and
Eliminating nationwide door-to-door operations and identifying housing addresses using in-office procedures, as opposed to fieldwork, as shown in the figure below.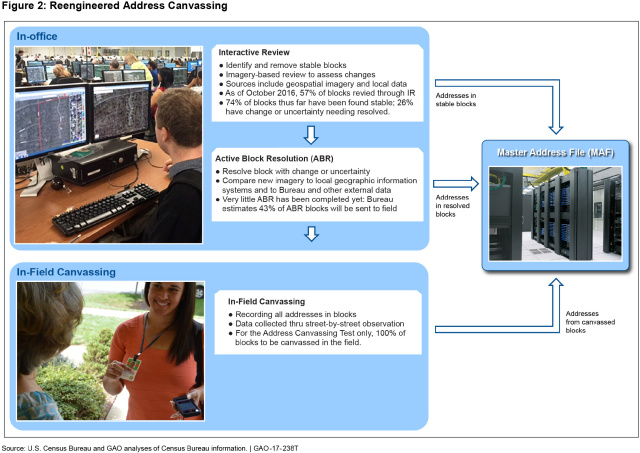 (Excerpted from GAO-17-238T)
…could bring new risks
However, these innovations come with their own set of risks. For example, the Bureau will need to manage how it
acquires, develops, and secures
the numerous IT systems it will need for its new methods. It will also need to test its operations in tandem with these new systems. The Bureau plans to conduct a dress rehearsal in 2018 for the 2020 count. However, it needs to
have its systems and operations
in place by then to conduct an effective and accurate test. The Bureau also needs to better assess its costs, which have been escalating over the last several decades. We found that
it did not use best practices
for developing its cost estimates—as a result, its $12.5 billion estimate for the 2020 census is unreliable.
Ways to improve
Over the past 3 years, we have made 27 recommendations to help the Bureau design and implement a more cost-effective 2020 census. However, only 6 of these recommendations have been fully implemented as of January 2017. See what's left to be done by checking out our
open recommendations to the Bureau
or watching the video below. And be sure to check out our
entire High Risk list
for areas across the government that are vulnerable to fraud, waste, abuse, and mismanagement, or are most in need of transformation.
---